Looking for escape from chilling cold or respite from the scorching sun? Our list of top places to visit in India in winter is for those looking for warm weather escape as well as for those looking to enjoy the snow and cooler climes. We have compiled both where is hot in October, November and December stretching on till March as well as places where one could enjoy snowfall in India and winter sports.
Winter heralds the beginning of the peak season for tourism in India. Whereas the tropical beach destinations like Goa become top places to visit in December in India; Kerala and Tamil Nadu are popular tourist places to visit in January and February in India. Up north snowfall in destinations in Himachal, Uttarakhand and Jammu & Kashmir makes Gulmarg, Shimla and Auli as top ski destinations in India from December till early March. Rajasthan, Delhi and Madhya Pradesh along with golden triangle and Bodhgaya are best visited from November till March.
Note: Due to Covid-19 restrictions, some of the destinations have not opened up completely. As of now, Uttaranchal, Himachal, Rajasthan, Goa and Kerala are opened without restrictions. But there are some SoPs in place about which you should know about before you plan your travel. Other destinations which are now open includes, Darjeeling, Kalimpong and Sikkim in North East are also open. Down south Kabini, Coorg, Coonoor, Kodaikanal etc. are also open for tourism. All of the wildlife national parks and sanctuaries are now open and so are ASI protected monuments. Most places of worships are also open.
With festive season approaching, more and more people are planning a trip soon. However, we request you to follow all safety guidelines and SoPs so that you travel safe and you keep others safe when you travel.
Without further ado, we give you places in India to visit in winter.
Top 30 Winter Holiday Destinations in India
1. Kerala
2. Goa
3. Varanasi
4. Tamil Nadu
5. Auli
6. Rann of Kutch
7. Kashmir
8. Rajasthan
9. Andaman
10. Jim Corbett
11. Lakshadweep
12. Kullu Manali
13. Shimla
14. Dharamsala and Mcleodganj
15. Delhi
16. Khajuraho & Orchha
17. Gujarat
18. Nagaland
19. Lucknow
20. Aurangabad
21. Ahmedabad
22. Gangtok
23. Wayanad
24. Hyderabad
25. Nainital
26. Jaisalmer
27. Agra
28. Alleppey
29. Mumbai
30. Pondicherry
And while you are surfing for best winter holiday, did you know that it is also the high time for honeymoons in India. So, if you are looking for the same, think of this post also as a list of some of the best places to go for honeymoon in India in winter or check out this one.
So here goes our list of top 30 places to visit in India in winter that include months of October, November, December, January and February and to some extent March in no particular order.
Kerala: God's own Country
A treat for all seasons, it's when the monsoon departs that Kerala true natural splendor reaches its zenith. Western Ghats and brackish lagoons or the backwaters bestow a unique charm on Kerala's appeal.
You name it and Kerala has it: backwaters, beaches, spice gardens, tea plantations, Ayurveda, ecotourism and abundant wildlife. That's why we have chosen Kerala as one of the top winter holiday destinations in India.
[Also check out the top places to visit in Kerala]
For beach lovers its the Kovalam and Varkala or even Marari; for backwaters its Alapuzza, Kollam, Kumarakom and Vembanad lake. Then there is Munnar's lush tea plantation and salubrious weather.
[Check out things to do in Munnar]
If you are in for wildlife there is a bird sanctuary in Kumarakom, tiger reserve in Periyar and the world's most bio diverse ecosystem Silent Valley National Park which is home to the largest population of Lion-tailed macaque.
Kerala also happens to be the top destination in India for health and rejuvenation. You could find a number of authentic and world class Ayurveda center that offer therapeutic massages and treatments based on 3000 years old science of healing: Ayurveda. In fact, Kerala is one of the top destinations for authentic Ayurveda in India
See also:
Goa: Susegado and Siesta
Travelers often find it impossible to believe that Goa, a tiny emerald ensconced between the Arabian Sea and the Western Ghat, is a part of India.
Winter is the time when the tiny emerald that is Goa is teeming with visitors. Renowned as one of the finest beach destinations in the world, Goa is very unlike the rest of India. Its cosmopolitan culture, eclectic cuisine, vibrant nightlife, and vast stretches of sandy beaches make it one of the most popular tourist destinations in India.
Visit the city in winter and join in the festivities in the city. With the arrival of Christmas and New Year, Goa is at its vibrant best. Parties, music, and scrumptious cuisines along with cultural events make it the high time to visit Goa in winter especially from November till February.
Since winter also heralds the wedding season in India, this is the time when newlyweds visit Goa for honeymoon. Couples could enjoy their honeymoon at some of the finest luxury hotels in Goa that boast of private beaches. Other activities could include water sports, wildlife, and a sussegado on Goa's famed beaches.
For families to there is much to do in Goa in winters. Beaches, waterfalls, wildlife and adventure sports are some of the top things to do in Goa along with visit to World Heritage churches and cathedrals and evening river cruises.
Winter also rocks as it is the time for Christmas and New Year in Goa and people of Goa celebrate both these occasion with great gusto.
If you are planning your trip to Goa during winter, keep in mind that it is the peak season for tourism and hotels and accommodations – whether 3 stars or 5 stars – fill up in advance and even sold out during December-January. It's always wise to book your winter holiday packages in Goa in advance so that you don't have to compromise with your holiday.
See also:
Varanasi: Foundations of Faith
Today the most iconic symbol of Varanasi is the evening arti performed at the Dashwamedh Ghat which is a highly choreographed performance. Varanasi is also known for its secular fervor. Many saints and poets of India are associated with this city including Kabir and Tulsidas. However a word of caution if you are traveling here. The city is chaotic is to say the least and the city extends from the ghats of Ganges in a maze of alleyways which are rather crowded and too narrow for traffic.
Apart from Monsoon, the city could be visited anytime of the year but as with other destinations in North Indian plains, winter is the best time to visit the city which is considered beating heart of Hinduism. The cooler clime and absence of humidity makes Varanasi one of the best places to visit in India in January.
See also:
Tamil Nadu: Tale of Temples
With over 3300 temples, Tamil Nadu truly is the cradle of the Dravidian culture. No wonder it attracts the second highest footfalls of overseas tourists in India. Several of the magnificent temples of Tamil Nadu have been inscribed as World Heritage Sites by UNESCO that includes the Great Living Chola Temples, Group of Monuments in Mahabalipuram and the Nilgiri Mountain Railways.
There are so many things to do in Tamil Nadu for the activities include tours to some of the finest beaches down southern coast, temples, monuments and hill stations. The most popular hill station in Tamil Nadu and one of the top places for honeymoon in South India is Ooty which is also referred to as the Queen of the Hills in South.
[Explore Ooty tour packages or view best luxury hotels in Ooty]
However, if you are tired of the rush of Ooty, try out the more relaxed, soothing and tranquil sister hill station Kodaikanal in Tamil Nadu. Pretty lake, awe inspiring sun set points and verdant landscape makes it one of the most popular honeymoon destinations in South India.
[View our collection of Tamil Nadu tour packages]
Auli: Carpet of Snow
India's premier ski resort destination, Auli in Uttarakhand is located at an average altitude of 2800 meters in the Chamoli district. Offering awe inspiring views of the Himalayas and covered in coniferous forest and slopes dotted with oak, apple orchard and deodar trees, Auli during winters becomes India's hottest ski destination.
Auli is considered to be one of the best places to visit in India in January and February if you are an adventure enthusiast looking for fun in snow and skiing activities. Every year from January till March, several national and international ski festivals are arranges in Auli.
If you are a novice or someone looking to learn skiing, GMVN arranges 7-14 days skiing courses at Auli. An 800 meter long chair lift and a 500 meter ski lift links the lower slopes of Auli to the upper one from where ski professional embark on an adrenaline rushing dash down the enthralling slopes covered in sheet of snow.
[Browse through our collection of Auli packages at IndianHoliday.com ]
Rann of Kutch: An Ode to Vast Nothingness
Rann of Kutch in Gujarat is the largest salt desert in the world. Vast expanse of white nothingness over 100 miles in length and 200 miles in breadth,Rann of Kutch is sweltering patch of vast nothingness that interestingly remain submerged under water during monsoon season in India.
Dhorado, located 86 kilometers from Bhuj is the nearest town located on the edge of the Rann of Kutch. Most of the good quality accommodation are found in Dhorado. In fact the state tourism department is developing Dhorado as the gateway to the Rann of Kutch. The tourist season in Kutch runs from late October till March. The best time to visit this region is the month of December when the Rann Utsav is in full swing.
Every year, Gujarat Tourism organizes Rann Utsav which begins in December and last till March. The festival is celebrated on the grandest scale on the full moon night in December. Scores of luxury tents are set up in Dhorado along with food stalls and arcades for handicrafts and cultural performances. Dance, music, festivities and cultural celebrations of the region are performed all over the district. The full moon safari ride is one of the most surreal experience one can have in the vast salt desert of the Runn of Kutch during this time of the year.
[Explore collection of Kutch tour packages at IndianHoliday.com]
Kashmir: Paradise on Earth
Tourism is back in Kashmir making it once again the most preferred honeymoon destinations in India. People go to Kashmir for even during summer, but its the winter time when the combination of snow capped mountains and lush valleys makes it the top honeymoon destination in India.
Kashmir, fondly referred to as the "paradise on earth", offers scintillating natural beauty. A mesmerizing jewel in the crown of Himalayas, Kashmir is renowned for its lush Mughal Gardens, glittering Dal Lake and picturesque environs.
Some of the most popular destinations in Kashmir include Pahalgam, Gulmarg, Srinagar and Sonamarg.You can see many a newly married couples sailing the Dal Lake in shikaras holding hands in Srinagar or throwing snow balls at each other or making snowmen in Gulmarg and swinging in each other arms as would the newly engaged couple in a Bollywood movie in Pahalgam.
Mughal Gardens in Srinagar are also a major draw among tourists from all part of the world, whereas the Gondola Ride in Gulmarg is favorite activity of couples and families. Adventure enthusiasts from around the globe also head to Gulmarg for excellent skiing opportunity and world class facilities. From December till April is best time for skiing and snow adventure in Gulmarg. In fact the first ever National Winter Games of India was held in Gulmarg Ski Resort between January and February in 1998.
See also:
Rajasthan: Land of Maharajas
An amazing concoction of colors, royalty, tradition and romance, Rajasthan is a favorite haunt of overseas tourists in India. There is so much to see and do in Rajasthan that even seasoned travelers find it hard to pick and choose from the plenty of options at hand.
Maharajas held sway in Rajputana a century ago. They were great patrons of art and culture. All their idiosyncrasies as well as respect for tradition and art are today evident in numerous mighty fortresses, scintillating palaces, traditional dance and arts.
One of the reasons why Rajasthan is our top picks is the annual Pushkar Fair which is held in November. Puskar Fair is the largest cattle fair on the planet. Besides cattle trade, there are several activities like camel race, best decorated camel, longest mustache competition, tug of war, shopping and hot air ballooning to keep the visitors entertained.
The capital Jaipur is the most popular place, visited by millions every year. It is closely followed by major tourist places such as Udaipur, Jodhpur, Jaisalmer, Ranthambore and Bikaner.
Festivals held during winter months in Rajasthan is another reason why it is considered one of the best places to visit in India in winter. Pushar Mela needs to introduction as it has become of the major draws among visitors from overseas. Jodhpur Riff is an another recently introduced cultural fest that draws musical talents from around the world. Then there are several other camel festivals which are celebrated between November and March.
For the lovers of heritage Bundi is a great escape during winters whereas the honeymooners prefer it at the Mount Abu which is the only hill station in the desert state.
Our honeymoon tips for people looking for winter destinations in India is to head for the sand dunes in Jaisalmer or Bikaner. Imagine the romance in the ambiance as you sit by the campfire holding each others hand gazing at starlit sky.
Palace which have been turned into heritage hotels are also a big draw when it comes to winter vacations in India. Whereas the Taj Lake Palace in Udaipur has been adjudged the best romantic hotel in India, nearby Devigarh by Lebua is a heritage cum boutique hotel which attracts who's who in the world by virtue of its architectural appeal.
If you happen to be visiting Bikaner and want to get a taste of royalty as did Maharajas of yore, then we'd like to recommend Gajner Palace in Bikaner.
Here are our compilation of the 5 best heritage hotels in Rajasthan if you are interested to relive and experience the grandeur and opulent lifestyle of erstwhile Rajput warrior princes and chiefs.
See also:
Andaman Island: The Deep Blue Sea
Recently opened up for tourism, the pristine islands of Andaman and Nicobar are a veritable oasis for tourists and naturalists alike. If you are looking for honeymoon destinations in India in winter, Andaman and Nicobar group of islands are strong contenders in the race.
The islands of Andaman and Nicobar are hilly in places fringed with coconut palm, covered with tropical jungle and interspersed with flat stretches of crescent shaped beaches offering a serene retreat to the travelers.
For those interested in water sports, snorkeling and scuba diving, Andaman is one of the best place in India to go to. Try Barefoot at Havelock for the best experience of snorkeling.
Enjoy serene moments with your spouse or family or have frolic with kids at the beaches. The beaches and islands of Andamans are the most pristine ones in India. The tropical climate makes it one of the best places in India to visit in winters.
[ Interested? Check out these Andaman Island Tour Packages]
Jim Corbett: Lure of the Jungle
Just as the monsoon retreats, Jim Corbett open its door to the visitors to experience the diversity of fauna and postcard perfect landscape, lush forest cover and gurgling water streams. Jim Corbett National Park is the first national park to be established in Asia. There are several zones where jeep safaris are allowed to sight the wildlife. Other than jeep safaris, you can also do elephant safari in Jim Corbett to rendezvous with tigers from close proximity.
Besides mammals which include tigers, elephants, Asiatic Black Bear, Sloth Bear, Barking Deer, otters and more. Yet another appeal of Jim Corbett is the wide variety of bird species that could be spotted here making it one of the best places for bird watching in India. Over 600 species of birds have been recorded inside this park including great pied hornbill, white-backed vulture and Pallas fish eagle.
With extreme winter not setting yet, Jim Corbett becomes one of the best places to visit in India in October and March if you are a wildlife enthusiast. Make sure that you get your accommodation in Dhikala range where the chances of tiger spotting are maximum.
See also:
Lakshadweep: Romance of White Sandy Beaches
Lakshadweep is one of the world's most spectacular tropical island systems. 32 sq. km of land spread over 36 islands surrounded by 4200 sq. km of lagoon rich in marine wealth. This
Dotted with swaying coconut groves, turquoise lagoons, coral reefs, friendly hospitality and salubrious climatic conditions, Lakshadweep is fast becoming a global beach destination in India. This pristine island is ideal for honeymoon, marine exploration and water sports.
[Check out this awesome 6 days Lakshadweep tour package at IndianHoliday.com]
Kullu Manali: Himalayan Hinterlands
If you are looking for honeymoon destination in India during winters, then look no further. Kullu and Manali offer one of the best romantic setting to kindle the romance.
Whereas Kullu is relatively low lying area with lush natural surroundings, Manali is a place where couples could enjoy adventure sports and frolic in snow.
Then there are ancient temples, opportunity for paragliding etc and picturesque ambiance that makes Manali a favored destination even during winters.
Honeymooners in Manali also prefer to head for Rohtang Pass nearby where there's ample opportunity for snow sports.
Kullu is one of the best places in India to visit in October as the Dussehra festivities add to the fun of holiday. To experience snowfall, Manali is one of the top places to visit in in November, December and January.
See also:
Shimla: Queen of Hills
A short ride from Delhi, Shimla is one of the most popular honeymoon destinations in India during summers as well as winters. The major pull factors are the altitude, ambiance and bearable snow fall and cool weather. In Shimla even if you do nothing, you have done all that you have come for.
Considered one of the best hill stations in India, Shimla could be visited anytime of the year. Winters are fun in Shimla as there's snowfall which add to the romantic appeal of the place. It also gets bit cold which keeps of the crowd making it the best time and one o the best places for honeymoon in India with some sense of privacy and thrill and adventure of snow.
The Mall Road in Shimla is packed with couples during winters. Adventure enthusiasts also head to Shimla for hiking activities which is one of the things to do in here. Then there are people who visit Shimla for its colonial charm and to explore the seamless blend of tradition and modernity.
The luxe lovers visit Shimla for the award winning Wildflower Hall located at Mashobara. One of the finest luxury hotels and spa destinations in India, Wildflower Hall is one of the best heritage hotels in India. The most alluring factor is that this hotel is located in Himalayas and offer breathtaking views and serene escape and one of its king luxury in the lap of Himalayas.
[Browse through our collection of Shimla tour packages]
Dharamsala and Mcleodganj
Nestled in the Dauladhar range of Himalaya, Dharamsala is renowned as the seat of Dalai Lama and the Tibetan Government in Exile. A little ahead of Dharamsala is McLeodganj at a bit higher altitude and a different world altogether. Dharamsala and Mcleodganj are especially popular among the foreign tourists as one of the top places for volunteering in India.
As soon as you arrive in McLeodganj, everything changes. The weather, ambience, the crowd and the culture. McLeodganj is thronged by Lamas, foreigners both resident and visitors and tourists from India.
The snowcapped mountain paks of Dauladhar creates breathtaking scenery and there are plenty of hiking trails that begins with McLeodganj as the base.With increasing popularity, McLeodganj has become touristy these days but is a very good option as a winter holiday destination in India.
Lesser people visit during winter. And you may try staying at Naddi or Dharamkot for serenity and proximity to nature. This 2 relatively unknown places are the haven for honeymooners looking to have a memorable beginning of their married life.
If you are traveling to Dharamsala in winter, why not try the hike to Triund and spend the night in the camps surrounded by snow. We promise that the first rays of sun would leave you with indelible memories.
Winter could be fun any where in Himachal Pradesh as there so many places to visit and numerous things to do. Check out our travel tips on things to do in Himachal Pradesh.
[Check out Himachal Tour Packages at IndianHoliday.com]
Delhi: A Tale of Two Cities
Sprinkled with spectacular monuments, lush gardens and an array of architectural marvels, New Delhi is best visited during winters.
Delhi also houses 3 fascinating World Heritage Sites: Humayun's Tomb, Red Fort and Qutb Minar Group of Monuments. A city of contrast, Delhi's diversity manifests itself in the old world charm of the walled city and modern Lutyen's Delhi.
Delhi is also known for some of the top hotels by international brands which offer great venue for business as well as a refuge from the din of the city to let you rejuvenate. So if you are looking for that oomph factor and exclusivity, here are our recommended 5 best luxury hotels in Delhi.
Akshardham Temple is opening on 15th of October post-Covid-19 pandemic. It is one of the most visited places in Delhi and an amazigly spectacular monuments high on the list of to do things in Delhi. Metro is also running thus making it easier and safer for inter-city travel. All of the ASI protected monuments are also open but do follow safety and hygiene guidelines when you are visiting any monuments, museums or temples.
See also:
Khajuraho and Orchha
Inscribed by UNESCO as World Heritage Site, Khajuraho Group of Monuments are recognized across the globe for their carved temples. The carvings and sculptures are considered to represent the motif of Kamasutra, the legendary Indian text on consummation.
However the erotic carvings are just the outward appearance as the inside depicts yet another world of spirituality and abstinence. It is believed that the temple architecture represents the phases of life and that one should have all the worldly pleasure before he could be wise to abdicate them and step into a more enlightened state and be one with god…something that is very close to how Siddhartha become Buddha.
Nearby, Orchha is a veritable pastoral delight. The claim to fame of this tiny little hamlet in Madhya Pradesh is temple spires and chattris (cenotaphs) along with the exquisitely carved Jahangir Mahal, a specimen of finest art of Bundela paintings.
[Plan your trip with these Khajuraho tour packages at IHPL]
Gujarat: Cultural Capital of India
Gujarat is yet another place in India which is best to travel during winters. What makes Gujarat special as a tourist destination in India is its rich heritage and culture. An array of archaeological sites, baolis or vavs, prominent temples, tribes, Great Runn of Kutch and one and the only Gir National Park that is home to Asiatic Lions and more makes Gujarat one of the most desirable places to visit in India in winter.
[Gujarat is also renowned for its International Kite Festival]
To have the best experience of holiday in Gujarat we recommend that you visit this cultural capital of India during the great Runn Mahaotsav to catch a glimpse of the state in its microcosm.
[Also check out Places to Visit in Gujarat]
One of the major draws of Gujarat are some of the most prominent Hindu temples that include Somanath Temple, one of the 12 Jyotirlingas revering lord Shiva and the Dwarkadhish Temple which is one of the 4 revered Hindu shrines encompassed during Char Dham Yatra. The best time for temple and pilgrimage tours in Gujarat is from November till February when the weather is ideal to explore the temples and religious sites which involve some physical activity in outdoors.
[Explore more things to do and Gujarat tour packages]
Nagaland: Tribal Treasure Trove
Hornbill Festival in Nagaland
The wild wild east of India, Nagaland is one of the most unspoiled places in India where you could still encounter tribes living exotically as could only be found in the archives of National Geographic. It was not a long time back that the warring tribesmen of Nagaland kept intruders at bay from encroaching into their territory.
Nagaland of today is hardly its savage self but it is still a place of primeval splendor with its rolling hills and lush valleys. The tribes of Nagaland celebrate Hornbill festival with great gusto each year which is celebrated at Kisama Heritage Village which is located 12 kilometers away from capital Kohima. That is one of the reasons why we recommend Nagaland as one of top places to visit in India in December.
[Browse through our collection of Nagaland Tour Packages]
Lucknow: City of Nawabs and Shabab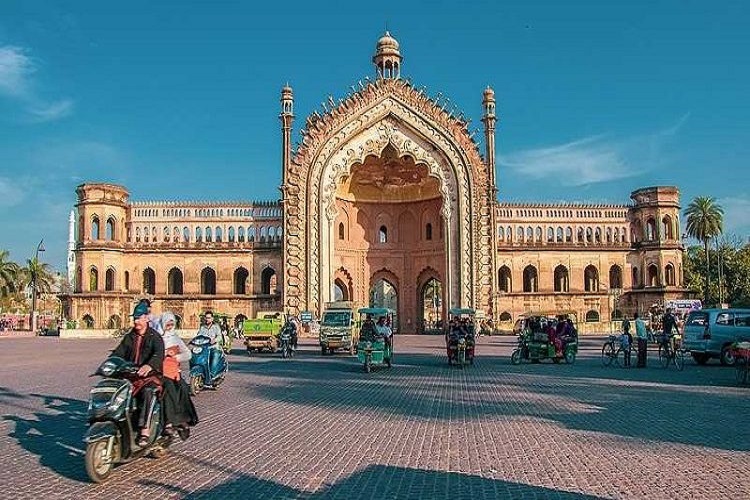 Home of the Nawabs of the Oudh (Awadh), Lucknow is renowned for its sumptuous cuisines, dance and music, thanks to the Nawabs who were great patron of art. An important political center for a long time Lucknow is dotted with Raj era building some stunning mausoleums. But above all the reason you should visit Lucknow is to witness firsthand the city's reputation as the land of 'Nawabs, Kebabs, Adaab (respect) and shabab (beauty).'
One of the reasons to visit Lucknow at this time of the year is to attend the Lucknow Mahotsav, a cultural extravaganza that celebrates the 'tezjib' and nawabi cuisine of the region, the reason why we recommend Lucknow as one of the best places to visit in India in November December.
[Plan your trip to Lucknow with IHPL special Packages]
Aurangabad: Rock of Ages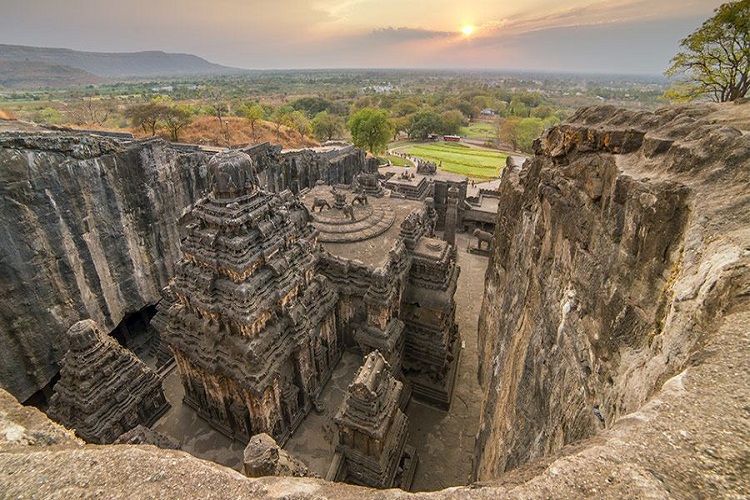 Aurangabad is the base to travel to 2 of the finest specimens of ancient Indian architecture: Ajanta Caves and Ellora Caves. This rock cut caves stand testimony to the harmony of Buddhism, Jainism and Hindu religion. Carved out of rocks entirely using hammers and chisels, these caves are now recognized as World Heritage Site by UNESCO for their cultural significance.
Whereas the caves of Ajanta are mainly Buddhist depicting the life of Buddha and Jataka tales, the caves of Ellora consist of Buddhist, Jain as well as Hindu temples. Whereas the Ajanta caves are renowned for their rock painting, Ellora Caves are greatly admired for their exquisitely carved architecture. One of the reasons we would recommend Aurangabad as one of the best places to visit in India in February and March is the fact that the weather is at its most favorable at this time of the year and with the spring in the offing, the landscape is at its charming best.
[Browse through our collection of Aurangabad tour packages]
Ahmedabad: Land of Mahatma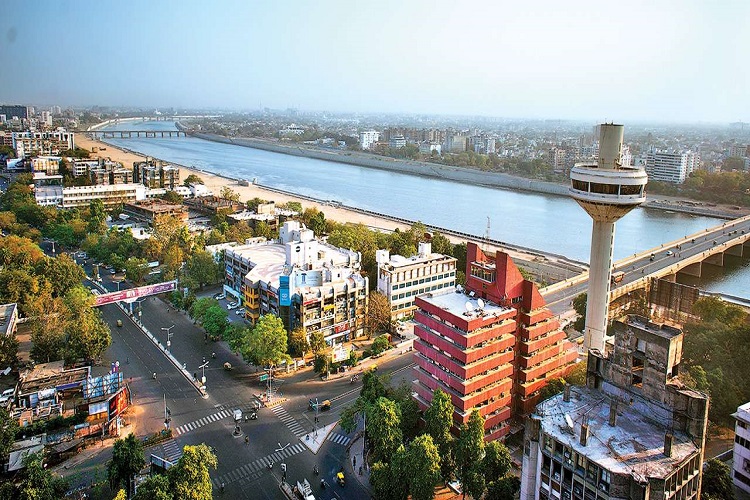 Best known for Sabarmati Ashram and its association with Mahatma Gandhi, Ahmedabad is a modern city still redolent with its cultural heritage. Delectable Gujarati cuisine, textiles and festivals are the major draws of this rapidly growing city. Things to do in Ahmedabad include visits to several mosques and temples which are fine specimens of Indo Islamic architecture. However the top things do in Ahmedabad is definitely a visit to Sabarmati ashram to get a peek into the times and life of Mahatma Gandhi.
The grand celebrations associated with Uttarayan or the International Kite Festival makes Ahmedabad one of the best places to visit in India in January for cultural interactions.
[Browse through our Ahmedabad tour packages]
Gangtok: A Pastoral Retreat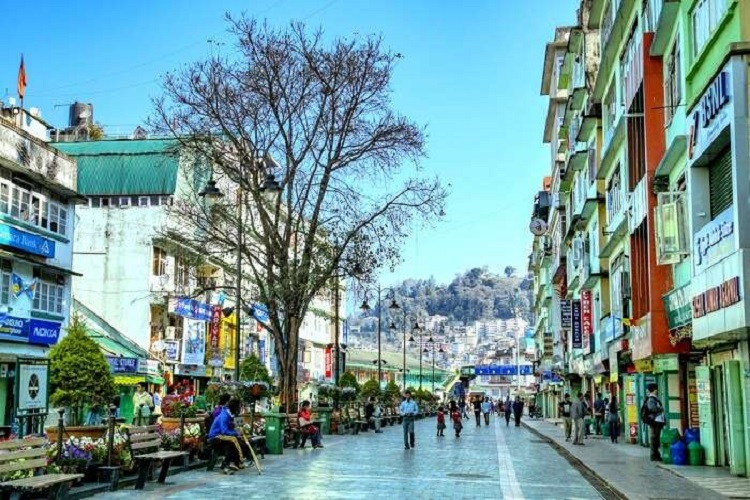 Sitting atop the Shivalik hills of the eastern Himalayan ranges, Gangtok gets its mystic charm released in the months when the sun goes on a holiday. At first, the chill can make you doubt your decision to land at this place during such a time of the year. But in no time, the misty sight of the snowcapped mountains rising high above the panoramas, and the cold, raw Himalayan wind will find out the lost adventurer from inside you. Suddenly, the forest covered valleys and nature trails, all covered in blankets of fog and snow, would be friendlies. Snow trekking and skiing would be the next couple of things you will find yourself actively indulged into.
[Browse through our collection of Gangtok tour packages]
Nainital: The Land of Lakes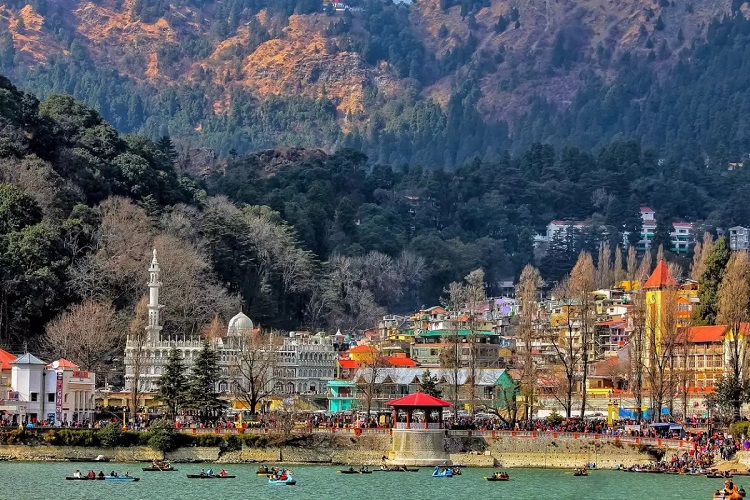 If you happen to travel to Nainital, and that too at the time of winters, you dare would not ask for more. A moment to discover yourself, whether it is by spending a solitary time with your special one as the snowflakes gently fall on both of you, or by breathing high in the adrenaline rush of the snow adventure sports, winters are the exceptions, Nainital can make up for you. And you need not worry about the access you can have at that time, as Nainital is amongst the few places in India which is open in every direction throughout the year (Major tourist destinations remain open during winters).
[Browse through our collection of Nainital tour packages]
Wayanad: A Rustic Oasis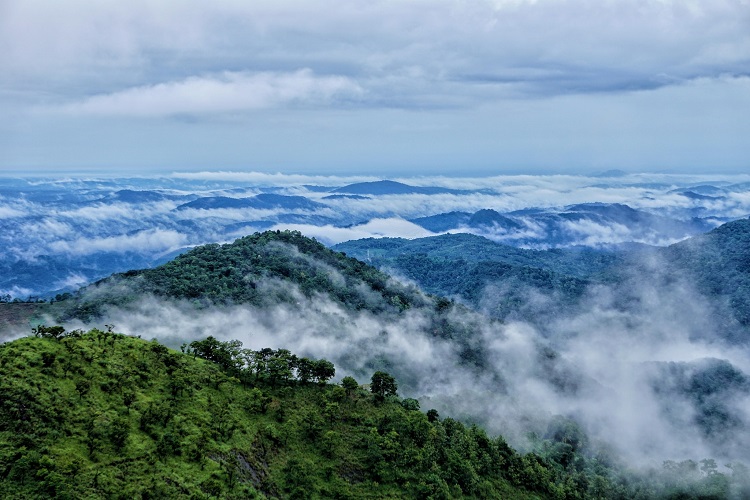 For some, winters are the getaways to Himalayas, while others prefer going down south. However, the idea remains the same; nature's communion. If winter chills are not the thing for you, try the pleasing temperatures of Wayanad. Unlike the other hill stations of South India, Wayanad remains cool and comfortable throughout the year; even during the prime winters. Many of the travelers rate Wayanad as the most beautiful and fantastically unspoiled. And why would not they? The hill station has landscapes combined with mountain sceneries, coffee plantations that are as fresh and alive as the taste they brew, and this is all dictated by a remote ambience.
[Browse through our collection of Wayanad tour packages]
Hyderabad: The Land of Nizams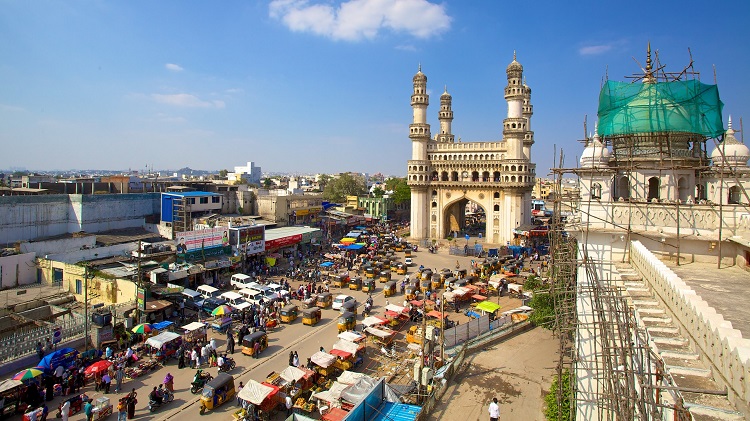 The city that was once ruled by the Nizams, Hyderabad has a lot to offer. Its heritage and culture is so vibrant, the city has become a tourist hub in the southern part of India. However, the cacophony of this urban world would get on to your nerve with the summer heat being so stubborn here. Thus, make your plans of exploring its citylights and the thought of gorging on that mind blowing biryani, scheduled for the winter months. Being down south, Hyderabad has comfortable and pleasing winters with no extreme temperature readings.
[Browse through our collection of Hyderabad tour packages]
Jaisalmer: Of Dunes and Kingdoms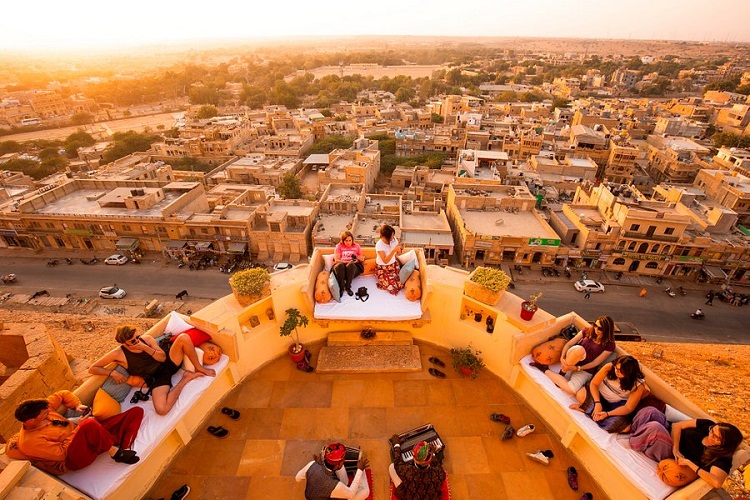 Fused in the dusty, golden hues of its surroundings is this astonishing city of Jaisalmer. Also known as the "Golden City of India", Jaisalmer is largely identified with the majestic Fort, rising out of desert, almost camouflaging with the surrounding color, with huge walls and massive battlements. The Fort, overlooking the main city still provides residence to the majority of old families of the town. Inside, the colorful stalls trading cultural and traditional wares straddles along its winding, twisting lanes. Behind the veiled layers of modernity, one can explore old houses, magnificent havelis and a cultural legacy that is quintessentially Rajput and Rajasthani. Don't forget to enjoy the awesomely entertaining camel safaris that is one of the highlights for tourists here and exploring the vast expanse of Thar with its enticing panoramic sights of dunes and striking barrenness and absence of life that is worth experiencing. Due to excruciating heat during the summers, the best time to pay a visit to Jaisalmer is between October and March when the weather is much more bearable for the sake of wandering and sightseeing.
[Browse through our collection of Jaisalmer tour packages]
Agra: The City of Love
Home to one of the 'Seven Modern Wonders of the World' Taj Mahal, Agra needs no introduction. Home to some of the greatest Mughal architectural marvels, Agra is one of the most visited tourist places in India. It is thronged by tourists round the year and who's who around the globe make it a point to visit Taj Mahal when they visit India. The reason why we have included Agra as one of the top places to visit in India in November December or for that matter entire winter season is that, when you visit Taj Mahal, you are not allowed to wear shoes on the white marble. During the scorching summer the white marble gets too hot and makes it uncomfortable to walk on the floor. During winter it is very comfortable to do the sightseeing tour of both Taj Mahal and the Agra Red Fort.
[Browse through our collection of Agra tour packages]
Alleppey: The Land of Backwaters
Alleppey/Alapuzza is now open for tourism after Covid-19 lock down that lasted for almost 6 months. However, before you plan to go, do read about the SoPs to follow and other Covid-19 related guidelines to ensure your safety as well as safety of the places you are traveling to.
The heart of Kerala backwaters, Alleppey is one of the favored honeymoon destinations in India. With its palm-fringed backwaters, rustic charm and lesser crowd, Alleppey or Alappuza is a picture perfect winter holiday destination in India. Although, this backwater destination could be visited throughout the year, we recommend this as one of the top places to visit in India in December January beacause it is rather less crowded than its popular counterparts Kovalam, Kochi and nearby Goa, and you could also participate in the 10 days Mullakal Chirap festivals which is held in the month of December.
[Browse through our collection of Alleppey tour packages]
Mumbai: Places to Visit in India in December & January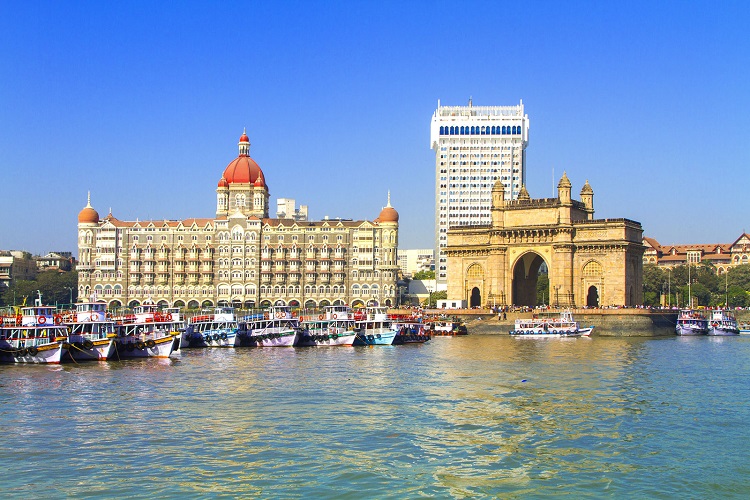 Variously dubbed as the "City of Dreams" and "Maximum City", Mumbai is a hearty mix of high rises, heritage buildings, millionaires and slum dwellers. One of the most vibrant and open cities of India, Mumbai is a global tourism hotspot. From its many beaches, vibrant nightlife to the who's who of Indian industries and bubbly Bollywood, Mumbai is one of the top places to visit in India in December and January due to its favorable weather. An array of World Heritage Sites, chic markets, plush hotels and nearby excursions to Elephanta, Lonavala, Pune, Nashik, Alibaugh, Goa and Tarkarli makes Mumbai your best bet this this winter.
[Browse through our collection of Mumbai tour packages]
Pondicherry: Places to Visit in India in December & January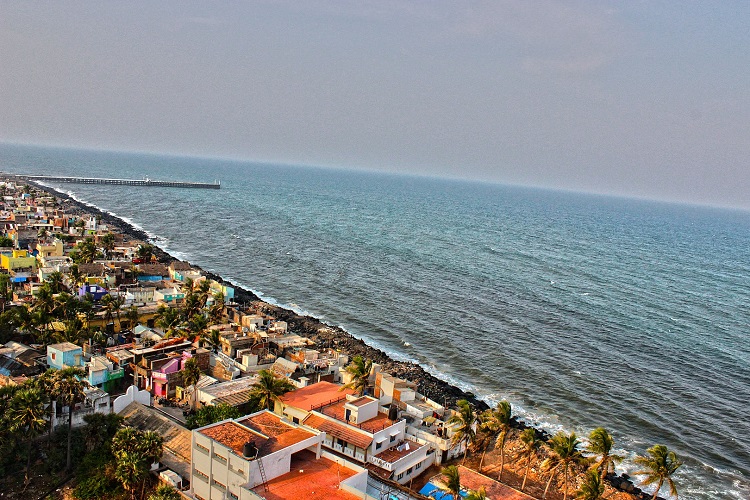 Pondicherry or Puducherry as it is now known was the capital of French in India at the height of their colonial days. A wonderful oasis of trendy buildings and curious neighborhoods and alleys, the numerous streets, houses and mansions exhibits a unique and charming elegance that wonderfully showcases the cultural and architectural intercourse of France and India. Although the new town has considerable Tamil influence, most of the visitors are moved by the area's mesmerizing ambience which is also manifested in its elegant buildings like churches, townhouses and public buildings that have an enchanting appeal. During December, the town attracts a large number of visitors, primarily due to the cool and suitable climate that assists in sightseeing and exploration. Also another major attraction of Pondicherry is the Aurobindo Ashram and its branch, located just outside Auroville that pulls a number of visitors from across the world.
[Browse through our collection of Pondicherry tour packages]
Related Posts:
Best Winter Honeymoon Destinations in India
Top 10 Places to visit in the World before you Die
Top 10 Attractions in India
Top 10 Tourist Places in India
How to Prepare for Winter Vacations in India
Where to go for Summer Holidays in India
Places to Visit in India in July
Luxury Holidays in India
Richest Temples in India
Wildlife Holidays in India