Looking to visit India but stuck on where to go? Check out these top ten places to visit in India for a rich holiday experience in India.
India, the very name conjures up an eclectic mélange of caste, color, creed, culture and varied topography that allures the global nomads to flock to this country.Traveling a country as diverse and huge as India could keep even the fussiest of travelers on their toe. From towering Himalayas in the north to sun-kissed beaches in the south and from desert sand dunes in the west to sprawling tea gardens in the east, each destination welcome guests with utmost warmth.
All it takes to enjoy your trip to India is an open heart and receptive mind. Mentioned below are the top places to visit in India. Take your pick!
Rajasthan – The Land of Rajputana
The very name Rajasthan conjures the images of turban clad maharajas with bejeweled scimitars and voluptuous princesses riding painted elephants with a train of courtiers following in their wake. The Rajput warrior princes or the maharajas ruled much over Rajasthan founding great cities which they named for themselves.
These maharaja with command over lucrative trade routes amassed huge wealth which they spent lavishly to fulfill their idiosyncrasies. Building massive forts and spectacular palaces were the favorite preoccupation of these maharajas.
However these maharajas were great connoisseurs of art as well. When the artisans sought the protection of these powerful maharajas, art and culture also flourished under their patronage. Today what we call Rajasthan is an eclectic potpourri of forts, palaces, havelis and vibrant culture with several art and dance forms.
Steeped in the tales of chivalry and romance and renowned of its stark desert landscape where males adorning strikingly colored turbans and women in equally glittering saris appear out of an Arabian fairy tale, Rajasthan stands for quintessential India for most of the foreign tourists.
The foremost places to visit in Rajasthan include the legendary cities of Jaipur, Udaipur, Jodhpur and Jaisalmer. Allied as it was with powerful Mughal Empire, Jaipur used to be the most powerful princely state in the days of yore. Several astounding forts and palaces in Jaipur today are its prime tourist attraction.
Amber Fort was the heart of Kachhawa Rajputs kingdom and the massive fort with several palaces and structures is the prime tourist attraction of Jaipur. Today Abmer Fort, along with four other hill forts, has been inscribed in the UNESCO World Heritage Site list as Hill Forts of Rajasthan.
Besides minor forts and the main City Palace along with the fabulous Hawa Mahal and Jantar Matar, Jaipur is also renowned for its colorful bazaars, havelis and temples. In short, Jaipur offers a microcosmic worldview of the varied color, creed and culture of Rajasthan for a visitor traveling for the first time to this part of India.
[Explore Jaipur Packages to Plan your Trip]
Read More:
Top Things to do in Jaipur
Best Luxury Hotels in Jaipur
Rajasthan is renowned for its myriad colors and colors are something that hold importance in several ways to several regions, classes and trades in Rajasthan. Even cities are distinguished owing to some specific color. Whereas Jaipur is referred to as the 'Pink City', Jodhpur is famous as the 'Blue City' and rising out of the desert, Jaisalmer in the extreme West is known as the 'Golden City.'
Suggested Links:
Things to do in Jodhpur
Things to do in Jaisalmer
Best Luxury Hotels in Jaisalmer
Jaisalmer Tour Packages
Udaipur is not specifically tagged in a color yet but many tags like 'City of Lakes' and 'Venice of East' are most popular to allude to this city. With its spectacular lake palaces, gardens, havelis and bathing ghats, Udaipur is dubbed the most romantic city of India and the floating Taj Lake Palace at its heart has been voted the most romantic hotel in India.
Suggested Links:
Must Visit Tourist Attractions in Udaipur
Best Luxury Hotels in Udaipur
5 Best Palace Hotels in Rajasthan
Udaipur Tour Packages
Of many palace and heritage hotels located in and around Udaipur, Devigarh is one of the finest buotique heritage resorts around. Know more about Devigarh resort
A venture in the vast stretched of monochromatic sand from either Jaisalmer or Jodhpur or even Bikaner is one of the most sought after tourist activities in Rajasthan, The undulating sand also known as the Sam sand dunes are very much popular for camel safaris and overnight camping.
Besides these four major tourist places which arguably form the most heavily trodden tourist circuit in India, Rajasthan also offer superb opportunities for those looking to go off the beaten path. Catching the fancies of Westerners and Indians alike, Sekhawati is one such region which is off the popular tourism map. A crop of richly painted havelis, temples, atmospheric markets and distinct cultural flavor makes Sekhawati a very special place to visit in Rajasthan.
Besides the dazzling forts and palaces, Rajasthan is also blessed with diverse wildlife. There are several national parks and wildlife sanctuaries in India that counts as top tourism experiences to be had in Rajasthan. Two foremost among them are Keoladeo Ghana National Park in Bharatpur which is a famous bird sanctuary and a UNESCO World Heritage Site and another one is the Ranthambore national Park renowned for its camera friendly Royal Bengal Tiger population.
Ranthambore is counted as one of the top places for wildlife safaris in India. Do check out our post on wildlife holidays in India if you are interested to explore the wild side of India or if it the Ranthambore National Park where you are planning your jungle safari then do check out our post on top 10 luxury wildlife resorts near Ranthambore.
Mount Abu, the lone hill station in the otherwise arid and desert landscaped Rajasthan with its intricate Jain Temples is yet another popular destination that should be on travelers visiting to this region.
Hill forts, palace hotels, havelis, wildlife, shopping at traditional bazaars and celebration of vibrant culture & traditions; with so many varied experiences and activities that may keep even the fussiest of travelers on their toes, it isn't a wonder that Rajasthan tops the chart when we talk about the best places to visit in India. Here's a checklist of places to visit in Rajasthan.
[Browse through Rajasthan packages to plan your trip]
Kerala – God's Own Country
Listed as '50 must visit destination before die' by National geographic Traveler, Kerala is truly a traveler's delight.
Characterized by golden beaches, swaying palm trees, charming backwaters, colonial heritage, lip smacking sea food, wildlife sanctuaries and Ayurvedic health resorts, the state has something to offer to everyone.
Cruise down the serene backwaters of Alleppey and savor the romantic candle lit dinner under starlit sky, breathe in the aroma of tea gardens and Cardamom hills, feel the pampering of rejuvenating Ayurvedic therapies at Ayurvedic resorts, these are some truly exotic experiences that one can savor while holidaying in this God's Own Country.
Kovalam is yet another popular beach destination in Kerala which is visited by tourists from all around the world.
Kerala is also considered to be one of the best places for honeymoon in India. The backwaters and beaches as well as the lush hills offer perfect escape to couples to plan beautiful beginnings of their married life.
Kerala also happen to be one of the best destinations for monsoon holidays in India.
[Browse through Kerala packages at Indianholiday.com]
Goa – Pearl of the Orient
The famous quote "all good things comes in small packages' can be rightly attributed to the tiny emerald Goa. Cradled between sprawling Western Ghats and azure Arabian Sea, Goa beckons the travelers due to three factors- balmy shores, sun-kissed beaches and sumptuous sea food.
Goa is best known for its beaches. Goa shot to fame internationally when hippies found it a veritable paradise way back in 80s. Now Goa is a major international beach popular among both backpackers and corporate high fliers.What makes Goa unique is the cosmopolitan vibes, vibrant nightlife, shopping and relaxing beaches. Eclectic sea food with Portuguese influence is also a major draw.
Heritage lovers could explore the ruins and remnant of Portuguese legacy in Old Goa which has a characteristic colonial ambiance. The churches and cathedral of this once flourishing city are now inscribed as UNESCO World Heritage Site.
There are scores of activities that one can indulge in depending on their tastes and preferences. If you have arrived Goa with lackadaisical stay in mind, the best thing to do is to relax on the popular beaches like Anjuna and Baga. Check out our post on beach huts in Goa to find out more about relaxing and affordable accommodation options right at the popular beaches in Goa.If you are looking for serenity and seclusion, head for the more inner and private beaches especially in South Goa. Palolem is one of the quieter beaches of Goa. Some of the finest luxury hotels in Goa also come with their own private beach making them an ideal escape for romance and honeymoon in Goa.
[Check out 5 best luxury hotels in Goa]
For those looking forward to some adrenaline rush, they can indulge in water sports like jet skiing, surfing and many more alike.Another popular things to do in Goa is to attend the Sunburn Festival. During Christmas and New Year, Goa comes alive with festivities.Goa is one of the best places to celebrate Holiday season in India.
Read more about Goa or plan your Goa trip with these tour packages from indianholiday.com.
Kashmir – Paradise on Earth
Laurelled with adjectives like 'Paradise on Earth' and 'Alps of East', Kashmir is a picturesque destination nestled in the northernmost parts of India and is surrounded by Great Himalayas and Pir Panjal mountain range.
The beauty of Kashmir valley is enhanced by soothing lakes, Chinar trees, mouth watering apple orchards, snow capped mountains and flower filled meadows.Kashmir is one of the most visited winter destinations in India. If you are interested in winter vacations in India, check out some more popular winter holiday destinations in India.
Tourists with adventure souls can feel adrenaline rush in sports like white water rafting, paragliding, trekking and ice skiing. Gulmarg is the best destination for those looking to indulge into these adventure sport.
Kashmir is also a great destination to gratify spiritual cravings of pilgrims with some major pilgrimage sites like Vaishno Devi and Amarnath.You'd also like to read more on the revival of Tourism in Kashmir & 51 Things to do in Jammu and Kashmir
[Browse through Kashmir tour packages to plan your vacation]
Tamil Nadu: Cradle of the Dravidian Civilization
The cradle of Dravidian civilization, it is Tamil Nadu most people mean when they talk about South India. Home to Tamils for over two millennia, Tamil Nadu classical culture was interrupted and still alive in its distinct schools of literature, art and dance thanks to its distance from the Northern Capitals and buffering provided by Southern Deccan Kingdoms from the marauding Muslim rulers.
Sprinkled with a humongous collection of temples which sprout out every here and there and just about in every town and something that made even King Edward Lear exclaim "stupendous and beyond belief", Tamil Nadu is home to over 33,000 temples which include 274 dedicated to Shiva and 108 dedicated to Vishnu.
Dazzlingly painted deities and mythological figures and exquisite sculptures on the gopuras of a thousand temples that dots the Tamilian landscape are perhaps the most lingering images that tourist who visit Tamil Nadu take away with them.Chennai, a bustling megalopolis with an unmistakable Raj era charm is the capital city of Tamil Nadu. There's not much to see in here when it comes to tourism and a crowded Marina Beach is one of the few places tourist flock to along with George Town, the historical hub of the city.
Close to capital lies the more popular Kanchipuram which is a major Hindu pilgrimage site and also renowned for its silk saris. Kanchipuram used to be the capital city throughout the medieval era and is one of the seven holiest cities of India.
Despite its popularity, Kanchipuram is more of interest to Hindu pilgrims, whereas it is the nearby Mahabalipuram that holds the center stage when it comes to temple tours in in South India equally sought out by Indians as well as foreign visitors.
Mahabalipuram or the Mamallapuram is a tiny sea nestled village renowned for its shore temple. Such is the cultural significance of these Pallava rock cut structures that they have been inscribed as World Heritage Site by UNESCO. Most remarkable of the standing structures among the group of monuments are the Arjuna's Penance with its exquisite bas reliefs and the Krishna Mandapa.Other than these monuments Mahabalipuram is also renowned for its sandy beaches and has inevitable grown as a major tourist hub full of luxury hotels, swanky restaurants, emporia selling clothes & crafts and other elements characteristic of a popular tourist destination.
Talking about outstanding temple architecture, none holds as much cultural significance or awe the beholders as the Great Living Chola Temples that were constructed over the centuries when Chola Dynasty flourished in this region. Some of the most astounding and exquisite temples were constructed by the Cholas. Chidamburam, Kumbakonam and Thanjavur are dotted with temples with extraordinary architecture.
Brihadeeswarar Temple in Thanjavur is considered as one of the most spectacular monuments in India, check out our post on Most Spectacular Indian Monuments and Landmarks to find out about more such attractions.
Madurai is yet another major tourist destination in Tamil Nadu renowned for Meenakshi Sundreswarar Temple, whereas Rameshwaram reaching towards Sri Lanka and joined by Pamban Bridge is one of the major pilgrimage town renowned for Ramalingeshwar Temple.
Talking about places to visit in Tamil Nadu, Kanya Kumari down the southernmost tip of land in India is place which could be visited throughout the year as opposed to most of the tourist destinations in Tamil Nadu which are best visited from October till March.
Kanya Kumari is also one of the finest places in India to observe sunrise and sunsets,. Read our post on Most Spectacular Sunrise and Sunset Points in India to find out about more such places.Beyond the temples, Tamil Nadu is also blessed with quite a few hill stations. Kodaikanal and Ooty are two most renowned of them. They also happen to two of the most popular honeymoon destinations in South India in summer.
Also Read:
Things to do in Ooty
Best Hill Stations in South India for Honeymoon
Yet another distinct place to visit in Tamil Nadu is Pondicherry with its unmistakable French ambience. This former French colony is best visited for its colonial vibe and is most renowned for Shri Aurobindo Ashram.Packing a punch with its grand temples, thriving culture, beaches and hill stations, Tamil Nadu charm lies in its distinction from the rest of India while at the same time being one of the most open and welcoming.
[Explore Tamil Nadu tour packages to plan your trip]
Also Read:
Top Places to Visit in Tamil Nadu
Top Places to Visit in South India
Places to Visit in South India for Summer Holidays
Till now we talked about five of the most popular states in India filled with countless attractions and offering a range of experience, activities and things to do.These are the states that top the chart when we talk about seasonal tourist footfalls be it the domestic tourist arrivals or the foreign tourist arrivals in India.
Now let us talk about some of popular tourist destinations in India sprinkled over the vast geography as well as smaller yet astounding places to visit in India that do not lie on the popular tourist map yet which out to be visited to enjoy their magnificence.
These places to visit in India are picked up owing either to their cultural, historical, architectural or the natural significance.
So in no particular order let us continue our list of top places to visit in India and shall we add to it "once in a lifetime."
Khajuraho: The Sensuous Poetry in Stones
A perfect symbol of the fact that sensuality was never a taboo subject in India, Khajuraho temples are more visited for feasting upon the artistic finesse and less due to religious fervor.
Designated as World Heritage Site by UNESCO, the 22 temples divided into 3 groups flaunt erotic carvings on their outer walls. The exquisite carvings that adorn the outer walls of these temples showcase the intimate life of Hindu deities.
Don't miss to watch the Son-et-Lumiere in the evening which tells the account of the construction of Khajuraho temples during the reign of Chandela dynasty.
The two most exclusive royal trains, Royal Rajasthan on Wheels and Maharajas' Express cover this erotically appealing destination in their tour itinerary.
[Plan your trip with these Khajuraho packages at Indianholiday.com]
Agra- A Casket of Mughal Gemstones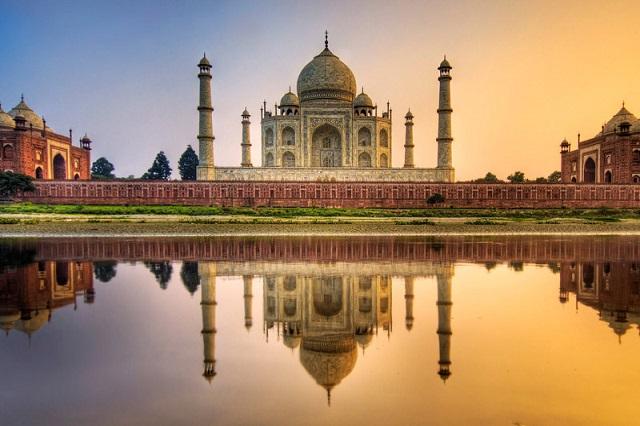 Situated on the right bank of Yamuna River, Agra in Uttar Pradesh is home to three monumental hallmarks and UNESCO World Heritage Sites- Taj Mahal, Agra Fort and Fatehpur Sikri.
The fact that Agra was the sovereignty of Mughal rulers for a long time makes it shine with the examples of intricate Mughal architectural jewels.
Taj Mahal, listed as one of the 'Seven Wonders of the World', is enough to invite tourists to its boundaries. A perfect symbol of immortal love, Taj Mahal was built in 22 years with the help of 20,000 workers and looks symmetric from all four sides.
The calligraphic inscriptions, Pietra Dura marble work and Char Bagh garden style adds to the beauty of this eternal monument. Various luxury trains in India, Palace on Wheels, Maharajas' Express, Royal Rajasthan on Wheels and Indian Maharaja crisscrosses through this city.
Besides sightseeing, one can take a stroll to the local markets of Agra for purchasing stone work, jewelry and other souvenir items.Undoubtedly, Agra tops the chart when ot comes to places to visit in Uttar Pradesh. You may also check out our post on top places to visit in Uttar Pradesh to find more about other places of tourist interest in India's largest state.
[Plan your trip to Agra with our tastefully crafted tour packages]
Also Read:
10 Most Awesome Attractions in India
3 Best Luxury Hotels in Agra
Mumbai – The City of Dreams
Just a mere thought of glitz, glamour, business and ritzy & full of beans lifestyle bring to fore the picture of 'City of Dreams' Mumbai.
One of the bustling metropolises in India, Mumbai is a place where several legends were made right from Bollywood king Shah Rukh Khan to Corporate Mogul Dhirubhai Ambani.
Another fascinating aspect that you will come across is the juxtaposition of historic monuments and contemporary edifices. For the food lovers, Mumbai offers some amazing street food that might not match up the standards of hygiene but makes it worth a try.
The Chowpati is the best place to eat street foods like Pav Bhaji, Vada Pav and Bhel Puri. Some popular tourist sites that you can visit in Mumbai include The Gateway of India, Juhu Beach, Hanging Garden and Haji Ali Dargah among others.
[Browse through Mumbai packages to plan your trip]
Also Read:
Mumbai travel guide
5 best luxury hotels in Mumbai

Delhi – The National Capital of India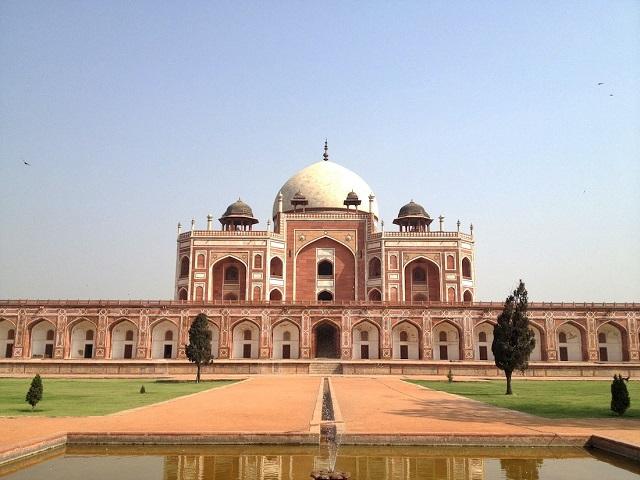 Recognized as the National Capital of India, Delhi is a place where several dynasties rose to the acme of power and drowned to dust over the course of history.
The dynasties that ruled over India with Delhi as their seat of power played a significant role in the development of culture and heritage of Delhi which today rub shoulders with the modern edifices housed here.
History buffs must take a stroll through the by lanes of Old Delhi which resonates with the rich heritage of Mughals. Red Fort in Delhi is a UNESCO inscribed World Heritage Site and so are the Qutb Minar Complex and Humayun's Tomb; whereas Jama Masjid is the largest mosque in India.
On the other hand, there is Lutyens Delhi whose geographical distance with Old might not be even hundred yards but the architectural disparity is enormous. India Gate stand tall as the modern marvels of Delhi.
Shopaholics must make sure to visit markets like Delhi Haat and Chandani Chowk for purchasing handicrafts and ethnic jewelry. Delhi is a sheer traveler's delight and a must visit destination in India.
[Also read our list of the top 10 places to visit in Delhi]
Varanasi – The Holiest Hindu City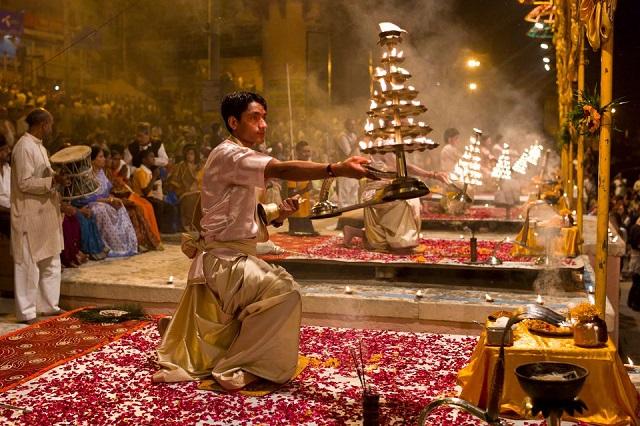 One of the oldest continuously inhabited cities of India, Varanasi is considered as the spiritual nerve center of Hinduism. Legend has it that the city stands on the Trident weapon of trinity God Shiva and was created much before the creation of Earth.
The two most prominent features of this land are Kashi Vishwanath Temple and bathing Ghats of the river Ganges. While the first one has gained recognition of jyotirlinga of Lord Shiva, others are believed to have the power of purification.
The most charming sight appears in the evening where blistering camphor lamps adorn the vast expanse of Ganges and flow with the wave.
The magical sight conjures up with the evening aarti on the banks of the river Ganges and the chanting of Vedic mantras. Two Indian luxury trains, Royal Rajasthan on Wheels and Maharajas' Express make a halt in this holy city during their tour to India.
[Browse through Varanasi packages to plan your trip]

Also read:
Best Luxury Hotels in Varanasi
Ladakh – The Barren Beauty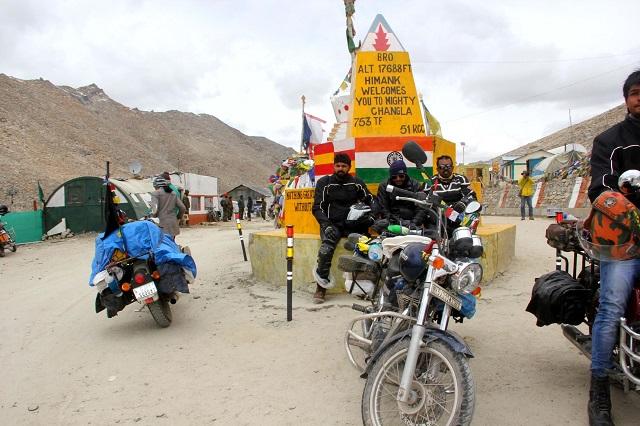 Cozily nestled amidst two towering mountain peaks- Great Himalayas and Karakoram- Ladakh is the highest plateau which gives a sense of mountains touching the periphery of heaven.
Entitled as 'Little Tibet', this rugged region constitutes 50% of the Tibetan Buddhist population and sprinkled with various Buddhist monasteries that create sense of spiritualism in the minds of travelers. There are several astounding monasteries to visit when you are traveling in Ladakh.
The geographical disparity of this snow desert is a sheer bliss for adventure enthusiasts who love to live on the rim of excitement and thrill. Ladakh is also featured as our top summer holiday destinations in India.
While in Ladakh, don't miss to indulge in a shopping extravaganza. One can purchase a number of handicrafts and souvenir items such as Pashmina shawls, turquoise jewelry, Buddhist mask and thanga paintings among others.
Major destinations in Ladakh that woo tourists from all corners of the world are Pangong Tso, the high altitude lake, Nubra Valley which is home to Hunder which is also referred to as 'desert in the sky' and Tso Moriri which is another high altitude lake.
[Browse through Ladakh tour packages at LehLadakhIndia.com]
Don't forget to read our tips on woman traveling alone in India and is India safe for traveling to help you plan your India trip. There has been some concern regarding safety issues in India especially for woman traveling alone and the general safety but a few precautions and safeguards will see you through safely enough.
Related Posts:
Top 10 places to visit in Gujarat
Top Tourist Places to Visit in Kerala
Top Places to Visit in Himachal Pradesh
Top 10 Places to Visit in Delhi
Wildlife Vacations Ideas in India
Ultimate Romantic Vacation Ideas in India
Top 12 River Cruises in India for your next Vacation
Places to visit in North East India
Ideas for Family Holidays in India