The south Indian state of Kerala is one of the most popular destinations of India that receives heavy footfall from all around the globe. Referred to as 'God's Own Country', this lovely place boasts of backwaters, beaches, temples, rich flora and fauna, lush greenery, several tourist destinations and attractions, opportunities for adventure activities, rejuvenating Ayurveda therapies and massages, rich culture, sumptuous local cuisine, salubrious climate and more.
To accommodate discerning travelers, the state also has several hotels to suit every budget, from economy hotels to high-quality luxury hotels. If you are one of those, who like to splurge on luxury stay, here is a list of top 15 luxury beach resorts in Kerala:
Marari Beach Resort, Mararikulam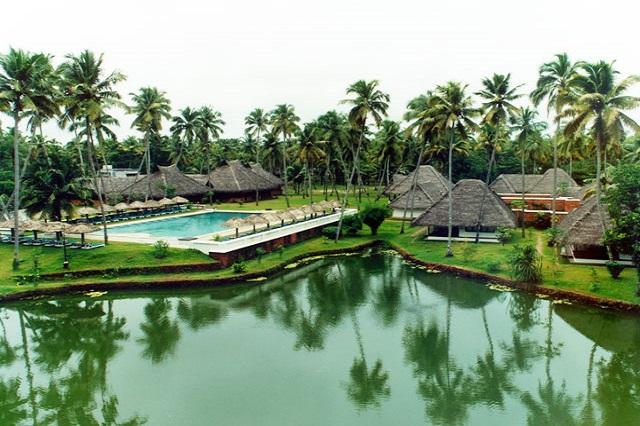 Located in the fishing town of Mararikulam, Marari Beach Resort lies near the Malabar Coast. Something different than a regular holiday resort, Marari resort has an access to the sea and wonderful surroundings. The ambiance of the resort is rustic, tranquil and charming. For a memorable holiday experience, the resort has 52 luxurious and spacious villas segregated into categories like Garden Villas, Garden Pool Villas and Deluxe Pool Villas, offering mesmerizing views and world-class comforts.
The décor of the resort and the villa is inspired from nature's elements. At the multi-cuisine restaurant, guests can relish lip-smacking healthy delicacies of Indian and popular World cuisines. Outdoor and indoor games, Ayurveda therapies, swimming pool, car rental, sightseeing arrangements are some of the facilities offered here.
[ Get detailed information about Marari Beach Resort ]
The Lalit Resort & Spa, Bekal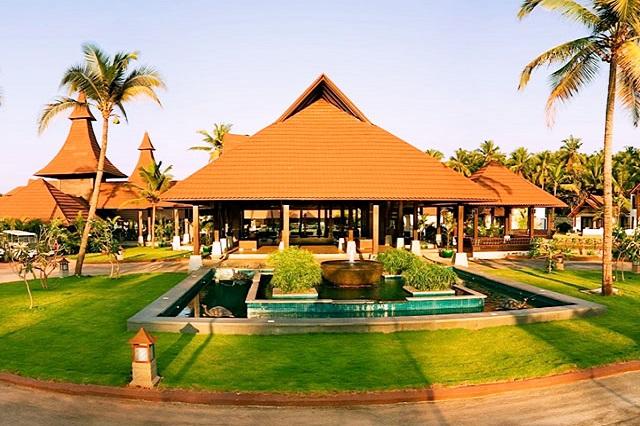 Offering ultimate royal treatment, unparalleled luxury, impeccable hospitality and contemporary comforts, The Lalit Resort & Spa in Bekal is a luxury resort that is spread on an area of 26 acres of a beach stretch in northern part of the state. Bounded by Nombili River on 3 sides, the resort has a stunning internal lagoon that overlooks the beach. The resort has world-renowned Rejuve Spa offering excellent Ayerved and modern spa therapies to this special clientele.
The resort comprises of 37 guest rooms (Deluxe room, Luxury rooms, Spa room and Presidential Suite) and one floating cottage (Kettuvollam), a restaurant, a bar, business spaces and more. The food served here is mouth-watering and the resort is simply stunning.
[ Read More about The Lalit Resort & Spa ]
Neeleshwar Hermitage, Kasaragod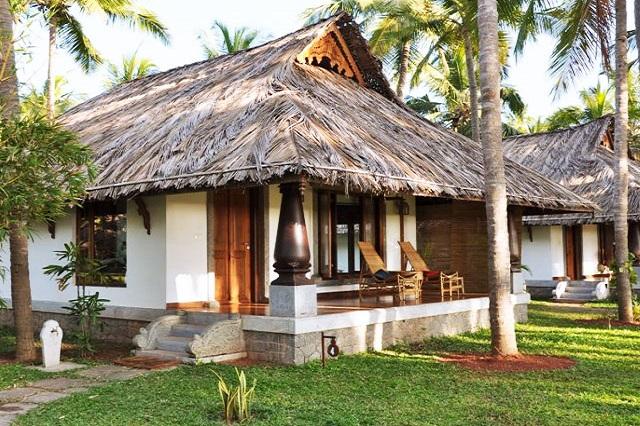 One of the finest luxury beach resorts in Kerala, Neeleshwar Hermitage Kasargod is placed on a private grove alongside the Arabian Sea in the northern region of the state. The resort is known for its rustic serene feel and flawless hospitality services. Neeleshwar Hermitage features 18 huts that are modeled on the structure of traditional fishermen huts. Each of the 18 well-equipped huts has different names. While some offer sea view, the others provide the views of the resort's garden.
The material used to build the hits is eco-friendly and the interiors are inspired from traditional Kerala home décor. Get a rejuvenated mind, body and soul by going for relaxing Ayurveda therapies and massages and attending Yoga-Meditation sessions. There are two dining venues at the resort serving lip-smacking local cuisine and seafood delicacies. At the well-stocked bar, savor your favorite beverage. Some of the comforts offered here are swimming pool, sightseeing, wildlife watching and more.
[ Read More About Neeleshwar Hermitage Kasaragod ]
Vivanta By Taj, Bekal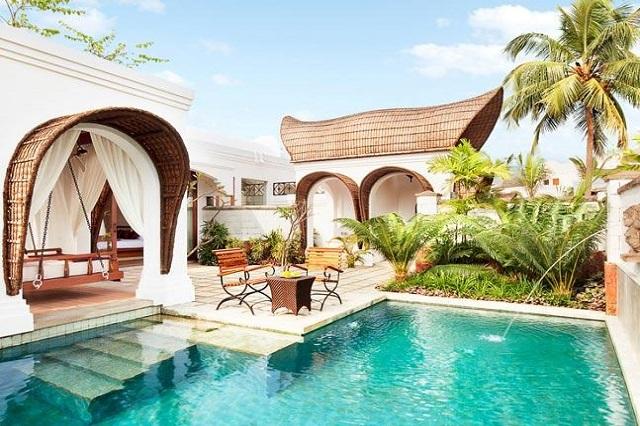 Spread in an area of 26 acres of lush land, Vivanta by Taj Bekal is placed near Kappil Beach. The interiors of the resort are a striking combination of North Kerala influences and Balinese touches. 71 villas and rooms have a décor that is inspired from traditional Kettuvallam houseboat. The walls of the guest rooms are decorated with Chitra Pothi art.
Some of the world-class modern comforts offered here include various dining venues, a well-stocked bar, a swimming pool, various indoor and outdoor activities, and more. Jiva Grande Spa, spread in an area of 27000 sq feet, is well-known for offering excellent Ayurveda treatments and therapies and a modern chic setting.
[ Read More about Vivanta By Taj Bekal ]
The Zuri, Kumarakom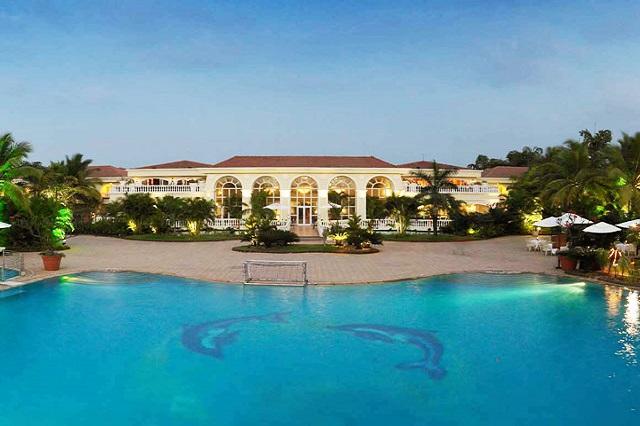 Placed in 18 acres of well-maintained lush lawn, The Zuri Kumarakom Resort is an award-winning resort that is extremely popular for its flawless hospitality services as well as world-class comforts. A picture of ultimate luxury and beauty, Zuri is located on the banks of Vembanad Lake. A total of 72 rooms divided Zuri Rooms (18), Zuri Deluxe Rooms (16), Zuri Cottages (28) and Zuri Presidential Pool Villas (10) are a combination of stylish décor and contemporary facilities.
The resort features South India's largest Spa, Maya Spa that offers Ayurveda, Oriental and Western therapies. The experiences of fine dining at the various restaurants is memorable where you can relish delicacies of Indian and World fares. The bar is well-stocked too.
[ Get detailed information about The Zuri Resort & Spa ]
The Nattika Beach Ayurveda Resort, Thrissur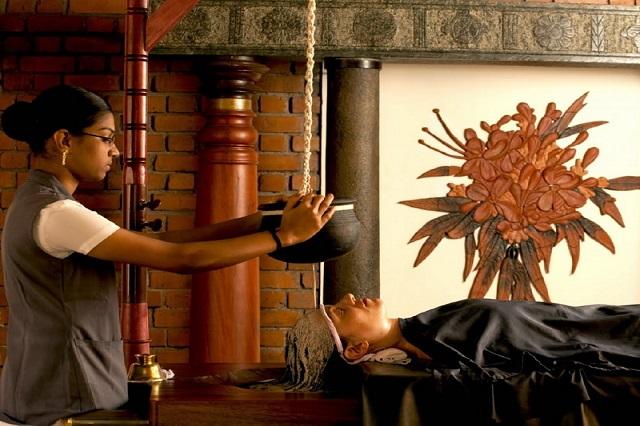 Lying on the shores of serene Nattika Beach, The Nattika Beach Ayurveda resort is spread on 16 acres of verdant coconut groves. The resort features 52 air-conditioned Villas with traditional Kerala interiors that are divided into 4 categories- Superior Deluxe Villa, Deluxe Villa,Deluxe Twin Villa and Twin Villa. Mini fridge, Sun desk, LCD TV, work desk are some of the comforts in the villas.
Have a comfortable stay at Nattika amidst luxuries such as swimming pool with Jaccuzi, a huge library, Wi-fi, indoor games, different dining, bar, travel desk, outdoor activities, cultural programs etc. Relax all your sense during special Yoga sessions. Trained therapists and masseurs at the resort's Spa offer Ayuerveda therapies and beauty services. There is an Ayurveda shop too and an Ayurveda restaurant.
[ Check-out the Best Spa & Ayurveda Resorts in India ]
Kumarakom Lake Resort, Kumarakom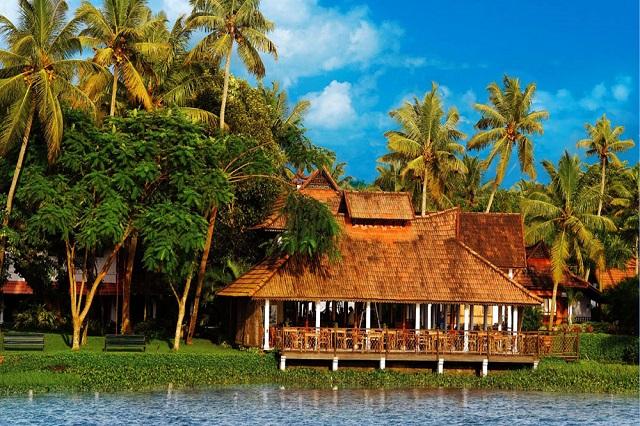 Located on the banks of Vembanad Lake, Kumarakom Lake Resort is one of the most popular luxury resorts that lies on a serene location and offer mesmerizing views. 4- time winner of the 'World Travel Award' as a leading resort, the resort is spread in an area of 25 acres.
Boasting of preserving the traditional legacy of Kerala, this resort consists of 59 guest rooms, houseboats, suites and villas that are spacious and well-equipped. The décor is traditional and stunning. Guests can relish a vast variety of delicacies and beverages. Indoor and outdoor activities, world-class Ayurveda and Spa services, outdoor Jacuzzi, business center, Wi-fi are some of the services provided here.
[Also check out 5 ideas for romance & honeymoon in Kerala]
Niraamaya Surya Samudra, Kovalam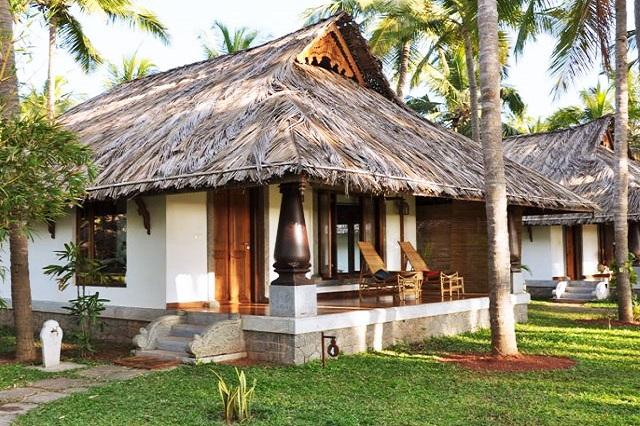 Bounded by the sprawling Arabian Sea and verdant green surroundings, Niraamaya- Surya Samudra, Kovalam has 31 heritage cottages styled as Kerala houses clubbed with contemporary facilities. Soak-in the serenity all around and have an unforgettable stay.
Take a walk in the lush garden, take a bath in the open air bathroom, sit in your private verandah and enjoy the views of the sea and have a refreshing session at the resort's swimming pool.The resort also houses the world-renowned Niraamaya Spa that has expert masseurs and therapists offering age-old Ayurveda therapies and treatment. Do not forget to book a relaxing Yoga and meditation session. The resort has 2 restaurants and a bar to meet all your dining needs.
[ Read more about Nirmaya Retreat – Surya Samudra Kovalam ]
The Leela Kovalam Beach Resort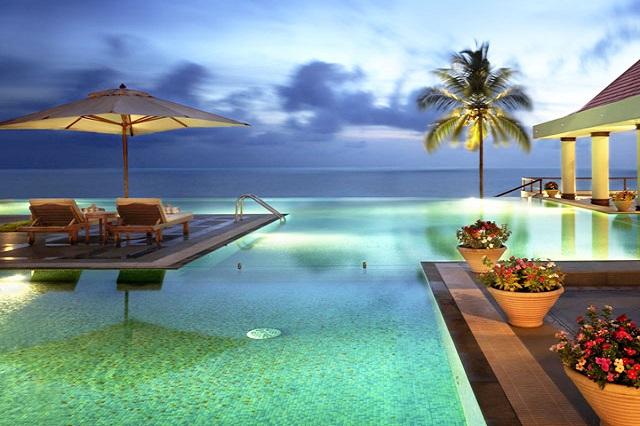 Overlooking the tranquil beach, the Leela Kovalam beach resort is placed on the top of a cliff. Faultless hospitality, unmatched luxury, huge well-adorned accommodations, contemporary comforts and world-class fine dining experiences make the resort extremely popular all around the globe.
Segregated into two categories- The Club (Presidential Suite, Duplex Suite, Club Suite, Club Room) and Guest Rooms (Beach View, Garden View), each of the rooms and suite boasts of elegant décor and luxury facilities. Opt for excellent Ayurveda therapies and get soothing Yoga sessions. The food is sumptuous, the drinks worth-relishing and the facilities of international standards.
[ Read More about The Leela Kovalam ]
Carnoustie Resort, Mararikulam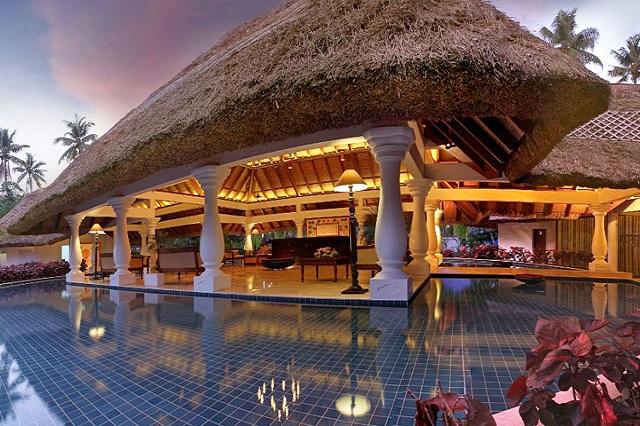 An award-winning resort in Mararikulam, Carnoustie Ayurveda and Wellness resort deserves a mention for its serene ambiance, lush surroundings, and excellent services. Placed on the shores of the Arabian Sea, around 20 km from Alleppey, this luxury beach resort is a heaven away from the stress and tension.
The resort has luxury Villas that are very well-equipped and come with spacious rooms, walk-in dressers, private deck, private pool and plush en-suite bathrooms. At the on-site restaurants, savor tasty world fares and seafood specialties. Yoga, Spa, Wi-fi connectivity, LED with satellite connection, indoor-outdoor games, cooking lessons, sightseeing arrangements, cultural programs are some of the facilities that you can indulge in.
Samsara Harmony Beach Resort, Varkala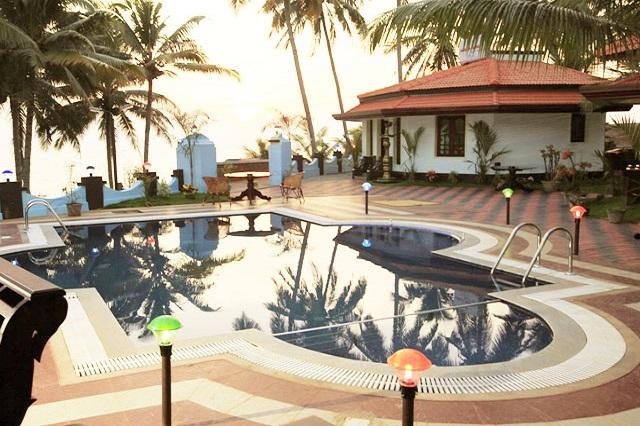 Lying on the northern shores of pretty Odayam beach of Varkala, Samsara Harmony Beach Resort exudes the serene feel of Kerala and its vibrant culture. Enjoy facilities like Wi-fi connectivity, swimming pool, travel desk, round the clock room service, currency exchange, free parking during your stay.
Unwind completely while admiring the lush surroundings. Deluxe Cottages, Deluxe Room with Kitchen and Super-Deluxe two -bedroom Suite are the accommodation options at the resort that offer a pleasant stay amidst modern comforts. The on-site Mermaid Restaurant serves tasty dishes of Indian, Continental and Chinese cuisines.
Coconut Lagoon, Kumarakom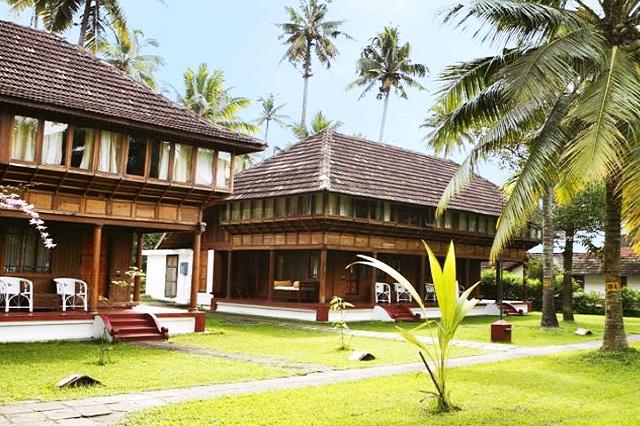 Located in the Kuttanad district of Kerala, amidst tranquil coconut grove, Coconut Lagoon Kumarakom offers a panoramic view of the Vemabanda Lake. The resort is just 6 km from the very popular Kovalam Beach. The Pool Villas, Heritage Bungalows and the Heritage Mansions are remodeled tharawads of Kerala, very well-equipped with all the contemporary comforts and a graceful décor.
Avail special Ayurvedic therapies, massages and attend relaxing Yoga sessions under the guidance of experts. Your stay at the resort would be calm and soothing. The in-house restaurant cum bar is going to meet all your food needs. The resort features a swimming pool, a library, a souvenir shop, outdoor and indoor activities, internet facility, travel desk etc.
Malabar Ocean Front Resort and Spa, Kasaragod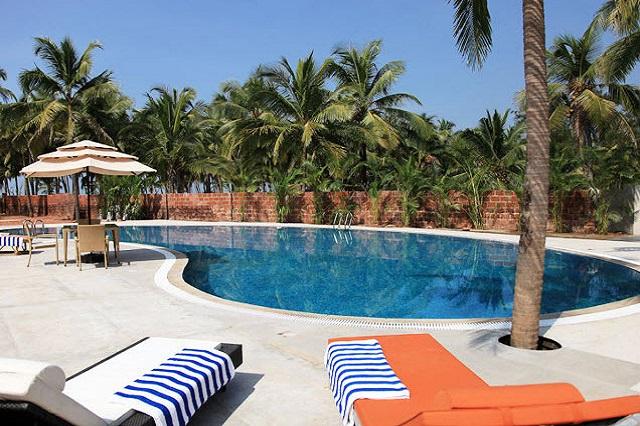 Boasting of traditional Kerala architecture, spectacular surroundings and world-class hospitality, Malabar Ocean Front Resort & Spa is a serene retreat offering unmatchable Ayurveda therapies and Spa treatments. The 14 huge luxurious cottages overlook the sprawling sea and are ideal for honeymooning couple as well as family vacationers.
During your stay, indulge in modern facilities, treat your eyes to the nature's beauty, admire a rustic décor, rejuvenate all your senses by attending Toga and Meditation sessions. Gorge on multi-cuisine delicacies and seafood preparations along with your preferred drink.
Vivanta by Taj, Kovalam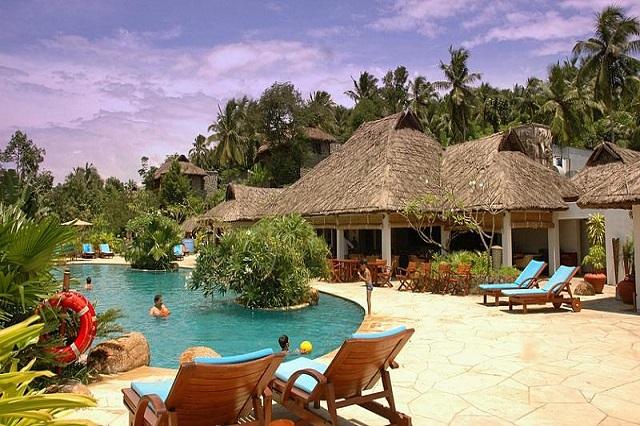 Spread over 10 acres of land, Vivanta by Taj, Kovalam has been built on the parapet of a Dutch Fort. Lying on the sea shores, this luxury beach property is a seamless inter-mingle of Modern European and Scandinavian architectural styles. 59 hillside cottages at the resort have traditional Kerala architecture and elephant-grass thatched roofs with Balinese influences.
From the private balcony of your cottage, admire lovely views of the sea, the green surroundings and the backwaters. The accommodation is divided into categories here. World-renowned Jiva Spa has a long list of beauty and Spa therapies and Ayurveda wellness treatments. The bar has an extensive menu of beverages and the restaurants serve regional delicacies and world fares.
[ Read more about Vivanta By Taj ]
Kairali Heritage, Kannur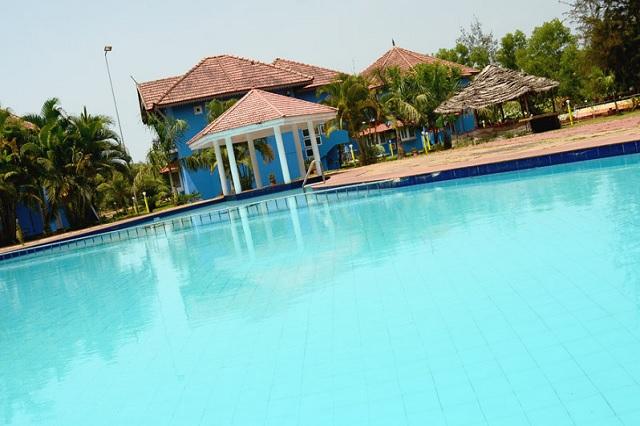 Placed on the banks of River Kattampally, Kairali Heritage Resort is spread in an area of 11 acres where you can enjoy flawless personalized services. At the Ayurveda center of Kairali, avail the services of trained masseurs and expert doctors, amid a serene environment and calm nature-friendly ambiance.
The resort features 24 river-facing cottages (20 studios and 4 suites) that are well-furnished and have an elegant décor. At the multi-cuisine of the resort, relish international dishes and lip-smacking local savories. Do not miss trying authentic Malabari delicacies. Indoor and outdoor games, swimming pool, fitness center, business space, and travel assistance are some of the facilities that you can avail.
[ Browse Kerala tour packages at Indianholiday.com ]
Related Post:
Monsoon Holidays in Kerala
Top Tourist Places to Visit in Kerala
Kovalam Beach Kerala
5 Best Luxury Hotels in Kerala