With wedding season in full swing, winter happens to be the time when couples are looking out for the best winter honeymoon destinations in India for a beautiful beginning of their married life.
To help you choose the perfect winters honeymoon destination in India, given below are some of the best options for you if you are planning your honeymoon in India in November, December, January, and February.
So What are the Top 10 Winter Honeymoon Destinations in India?
Listed below are the 10 most romantic destinations (in no particular order) where you could plan your honeymoon in India!
1. Shimla: Queen of Hills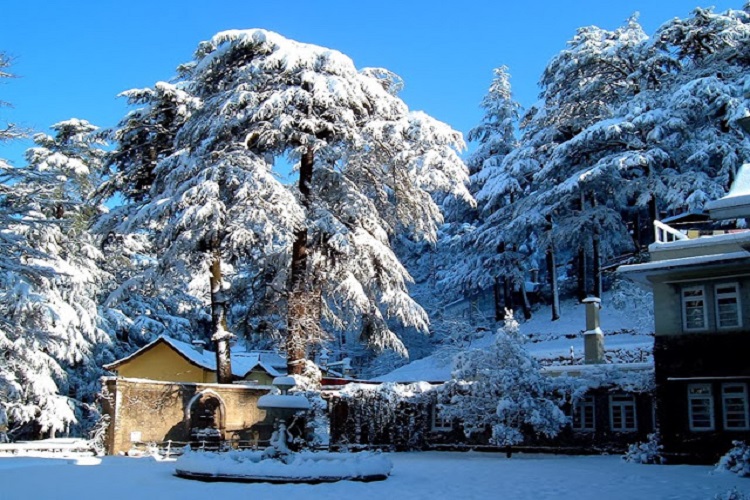 The good news is that Shimla is now open without restriction. Post Covid-19, Shimla is now a safe bet when it comes to planning your honeymoon in India in winter. Already, weekends are sold out at most of the hotels in Shimla as more and more people are looking to break the shackles of lockdown and breathe in the fresh air.
Undoubtedly one of the finest winter honeymoon destinations in India, Shimla is a joy that soothes the mind and enchants the heart. Enjoy your honeymoon in Shimla amidst the spectacular Himalayas and outstanding plantations. The hot tea served on streets in kullars is a pure treat in the cold weather. The magnificent churches and the ancient temples are a sight to watch for couples on honeymoon.
In Shimla, couples are in for a treat if they want to indulge in shopping activities. A couple looking for adventure can indulge in hiking and snow skating. Couples can also enjoy the perfect blending of tradition and modernity in Shimla. Here, you can do everything you wish to do on your honeymoon! The nearby Green Valley, with its awe-inspiring natural sights, and Kufri with its snow-covered planes, are also some places that honeymooners must visit during their trip.
If you are ready to splurge, we'd recommend that you stay at Wildflower Hall in Shimla for your beautiful beginning. For a heritage experience, try Cecil located close to Ridge, or the WelcomHeritage Woodville Palace.
Best time to visit
Best time to visit Shimla for honeymoon in India in winter is from October till March. The weather is cold but snowfall doesn't arrive till early January.
How to Reach
Shimla could be reached via a narrow gauge train (The World Heritage Toy Trains) from Pathankot. Jubbarhati airport located 23 kilometers away is the nearest airport with flights from Delhi. Regular buses ply from Delhi and nearby North Indian cities to Shimla.
Pro Tip: Head to Kufri nearby or even Narkanda to enjoy the snow if you don't find any in Shimla. Narkanda is quite scenic and off the beaten path place to stay. Shoghi nearby is another good option for some "us" time.
Browse through our packages to plan your honeymoon in Shimla
2. Goa: Susegado and Siesta
Be it the water sports or the cuisines; the beaches or snorkeling; Goa has everything unique about her. Visit the city in winter and join in the festivities in the city. The natural scenery in and around Goa is just perfect for a honeymoon couple. Goa is the hub for shopping with numerous goodies. Everything about Goa is worth celebrating.
With a relaxed ambiance and cosmopolitan environment, Goa is a unique destination. With vibrant nightlife and rich heritage and wildlife, Goa is the perfect spot for a romantic honeymoon. Stay in one of the plush hotels with their own private beaches or go offbeat and visit a spice plantation and bathe an elephant, there are plenty of things to do in Goa.
But what best than to enjoy some relaxed moments at private beaches, have a candlelit dinner under the canopy of the starlit sky by the shores of the Arabian sea, and enjoy private moments in the cozy interiors of some fine hotels or private villas; that the stuff amazing honeymoon experiences are made of.
Best time to visit
The best time to enjoy Goa is from October till March. The best months to plan your honeymoon in Goa are November, December & January.
How to Reach
The best way to reach Goa is by air or rail. Goa is connected to major international and India cities by air. Within India, Goa is also well connected by rail. Travelers from Mumbai or Bangalore could also avail of the regular bus services to reach Goa by road.
3. Jaisalmer: Sand Castles and Dune Bashing
One of the quintessential Rajputana land ruled by former warrior princes, Jaisalmer is one of the ultimate places to go for honeymoon in India in winter. One of the most iconic image of the Jaisalmer is the 'Sonar Qila', the sandstone castle which looks as if the surrounding golden desert itself sprouted out of this impregnable fortress. Besides this fort which is the nerve center of the city, there are several intricate havelis, spectacular palaces, and exquisitely carved Jain temples which are a must-visit in the city.
However, it is the sand dunes, dune bashing and camel safari, and night camping that count as the most romantic experience in Jaisalmer. To miss a camel safari in the great India desert is something unthinkable. The safari deep into the desert dunes will take you to some of the finest and most secluded desert camps. Here, you could enjoy some sensually invigorating performances by folk artists. Have a romantic dinner surrounded by dunes and spend some cozy moments with your partner.
Gulaal, Suryagarh, and The Serai are some of the finest luxury boutique hotels near Jaisalmer if you are looking for a sybaritic experience amidst the stark desert landscape. These luxury hotels and camps also arrange for an array of cultural experiences an extra cost as well as camel safaris in the Thar Desert.
Best time to visit Jaisalmer
Located as it is in the close proximity of the Thar desert, it is mostly hot around the year. With the arrival of winter, this desert kingdom cools down considerably making it one of the popular places to visit in India in the months of November till February. Weather remains mostly cooler and there's no precipitation as well. We'd say the ideal time to pay a visit if you are planning your honeymoon amidst the undulating sand dunes.
Average Temperature (Max/Min):
December: 26° / 10°0
January: 24° / 9°
February28° / 12°
Plan your honeymoon in Jaisalmer with our collection of bespoke packages
4. Manali: Of Snow and Falls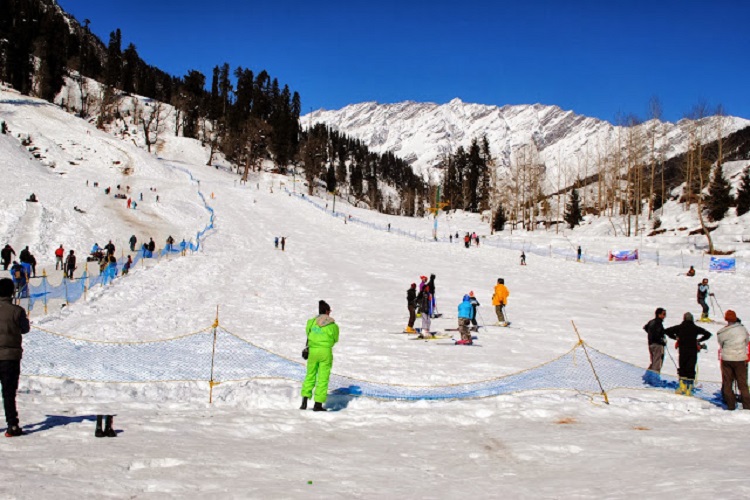 The appeal of Manali as a honeymoon destination has increased with time. The sight of gradual snowing on the Himalayas, large trees flushed with apples and plums, and the magical Beas River makes Manali one of the most eye-capturing destinations for tourists.
Clearly, the snowy lands of Manali offer a romantic setting, like no other, to the couples on honeymoon. Adventure activities like paragliding, skiing, snow sports etc. make Manali one of the most popular destination for honeymoon in India in winters.
Romantic things to do in Manali for couples includes:
Visiting Old Manali and Cafe Hopping
A Yak Ride near Hidimba Temple for photo ops
Excursion to Solang Valley
Stroll on the Mall Road
An excursion to Jogini Falls
If your idea of a honeymoon is to have some snow adventure, to gaze upon the starlit sky and have a romantic candlelit dinner and relax by the Beas River or embark on a promenade in the blissful Himalayan trails, we assure that Manali is the place for you to choose as winter honeymoon destination in India.
If it's Manali you are choosing as a winter honeymoon destination in India, we'd definitely recommend a few excursions that will add to the romance of your honeymoon tour. Solang Valley and Gulaba should be on your itinerary to experience adventure and snow sports.
Browse through our collection of tour packages if you are planning your honeymoon in Manali
5. Andamans: The Pristine Islands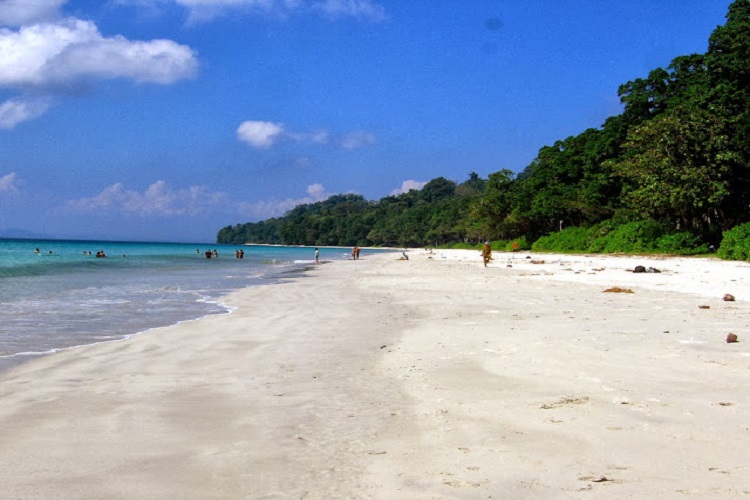 Emerald islands surrounded by blue waters, nothing can be compared to the stunning beauty of Andaman and Nicobar islands and that is the reason why we have featured Andaman as one of the best beach honeymoon destinations in India in winter.
The picturesque landscape, the dark forests, pristine beaches, and water sports make this a perfect honeymoon destination for couple. Serenity, cultural treats, and underwater secrets make Andaman a truly romantic destination for honeymoon. A visit to Ross Island, Neil Island, Cinque Island, and Havelock Island is a must to enjoy several romantic beaches and indulge in underwater activities.
Andaman and Nicobar islands are one of the top contenders for couples looking for winter honeymoon destinations in India. Have a romantic honeymoon with your spouse among the coconut palm trees, vast forests, and tranquil beaches!
Best Time to Visit
The tropical climate of Andamans makes it an ideal destination to experience the summer warmth during the winter season in India. Also, precipitation is almost nil and the weather remains mostly warm and dry. From November till February is the best time to plan your honeymoon in Andaman.
How to Reach
By Air: Mostly by flights from Delhi Kolkata and Chennai. 1 by Jetlite from New Delhi and 2 each by Air India and Kingfisher Red from Kolkata and Chennai daily.
By Ship: Kolkata – Port Blair: Journey time about 66 hrs (1,255kms)
Vishakhapatnam – Port Blair: Journey time about 56 hrs (1,200kms)
Chennai – Port Blair: Journey time about 60hrs (1,190kms)
6. Munnar: Hills & Tea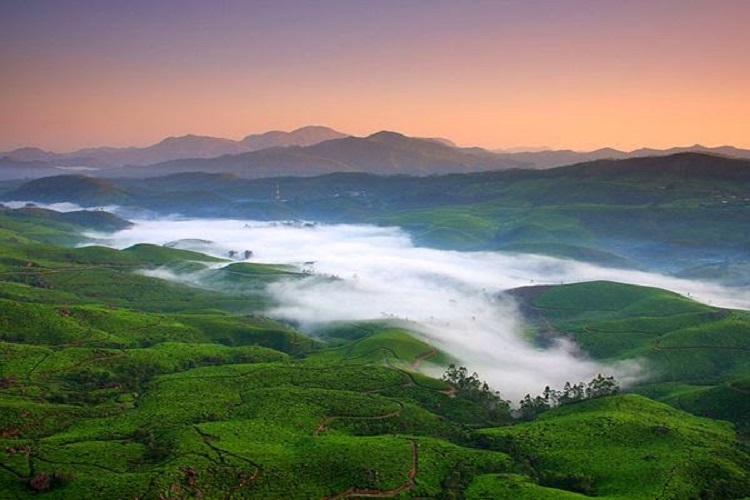 Spotless greenery stretched beyond the horizon and demarked with snaky roads and well-arrayed tea gardens, Munnar is THE romantic getaway. The town has a postcard-worthy landscape with snow-capped mountains and hillocks smudging the smog of clouds. One of the top places to visit in Kerala, Munnar is situated 1600 meters above sea level, and is also the meeting point of three rivers and home to the finest tea plantations.
The confluence of Madhurapuzha, Kundaly, and Nallathanni rivers adds to the picturesque panorama. Though every corner of the town is equally enchanting but there are several known locations that have different magnetism.
[Also check out 5 great ideas for honeymoon and romance in Kerala]
These places are Eravikulam National Park, Mattupetty Dam, Photo Point, Attukal Waterfalls, Nyayamakad, Anamudi, Devikula, Muniyara Dolmens, Pothemadu point, and Echo Point. You must indulge in activities like mountain biking, trekking and nature walks, to make the most out of your honeymoon in Munnar especially if you are planning it in November.
Explore our collection of bespoke packages to plan your honeymoon in Munnar
7. Sikkim: The Gem of North East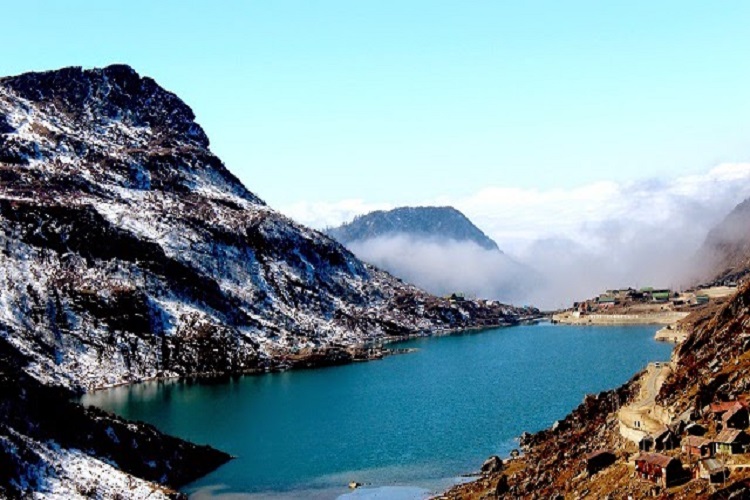 As of now, Sikkim has opened its door to visitors for tourism activities but only those who are fully vaccinated or carrying a Negative RT-PCR reports are allowed to enter the state. The good thing is that it will be less crowded which makes it ideal to plan your honeymoon in India in winter this season.
Sikkim is encircled by different countries, namely Nepal, China, and Bhutan; and carries along all traditions of different areas as one. This Indian state is the least populated, with this being said, it proves that your honeymoon is about to be utterly unperturbed, especially if you are planning your honeymoon in India in winter.
Having whopping mountains topped with ice, and different hues of Buddhist player flags speckled across the panorama; Sikkim captivates not only the eyeballs but every beat of the heart. This is a perfect honeymoon holiday destination majorly because it has stark tranquility to offer.
Sikkim's major attractions are Gurudongmar Lake, Rumtek Monastery, Nathu La, Yumthang valley, Khecheopalri Lake, Zemu Glacier, Hanuman Tok, Pemayangtse Monastery, Sa-Ngor-Chotshog Centre. The best thing about this state is that it can be visited any time of the year.
Explore our collection of tastefully crafted packages to plan your honeymoon in Sikkim
8. Udaipur: Venice of the East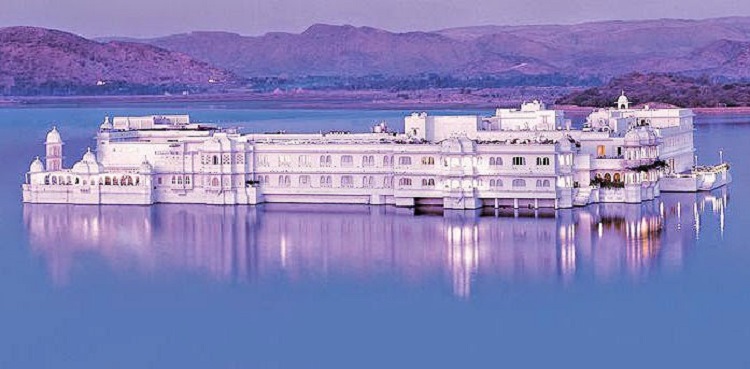 Why should you choose Udaipur for your Honeymoon? Well for starters, it has been voted the most romantic city in India and for the other, the Taj Lake Palace has been voted one of the Top 10 Most Romantic Hotels in the World.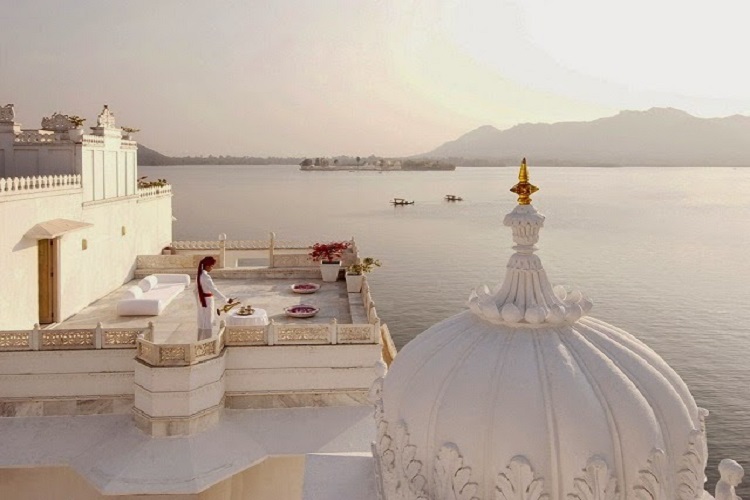 Sprawling crystal clear lakes and immense regal forts; this is how Udaipur can be defined in a few words. A thousand words too cannot define the beauty of the place. Udaipur is rightly called "The City of Lakes" and the "Venice of the East". There are about five lakes with expansive wildlife, greenery, and tiny islands.
Boating on these lakes and island hopping until the sun sets, is one precisely romantic experience; at some points, you would just want to hold on and freeze every second of the passing time. Udaipur besides its serene boat rides is known for its City Palace, Saheliyon Ki Bari, Monsoon Palace, Jag Mandir, Shiv Niwas Palace, Moti Magri, Gulab Bagh and Zoo, and Jagdish Temple.
So, flourish your love and make it eternal by visiting this Udaipur in Rajasthan, one of the best places for a honeymoon in India in November. If you are looking to add luxury and style to your honeymoon, do check out the Devigarh by Lebua, one of the finest boutique hotels near Udaipur.
For an off-beat luxury boutique experience try a night or two at Rawla Narlai a luxury boutique hotel in Rajasthan located close to Udaipur. There are several off-the-beaten-path experiences on offer including village walks, stepwell dinners and tea by the lake.
Best time to visit
From October till February is the best time to visit Udaipur when the weather is cool as opposed to hot and humid summer months. However, since Udaipur is also the 'city of lakes' monsoon is also considered one of the best and most romantic times to visit here for a honeymoon in India.
How to Reach
The best way to reach Udaipur from major cities of India is by air as Udaipur is connected by regular flights from Delhi, Mumbai, Kochi, and other main cities of India. The train is another good way to reach here from other cities.
Browse through our collection of tastefully crafted packages to plan your honeymoon in Udaipur this winter
9. Dalhousie: In The Lap of Himalayas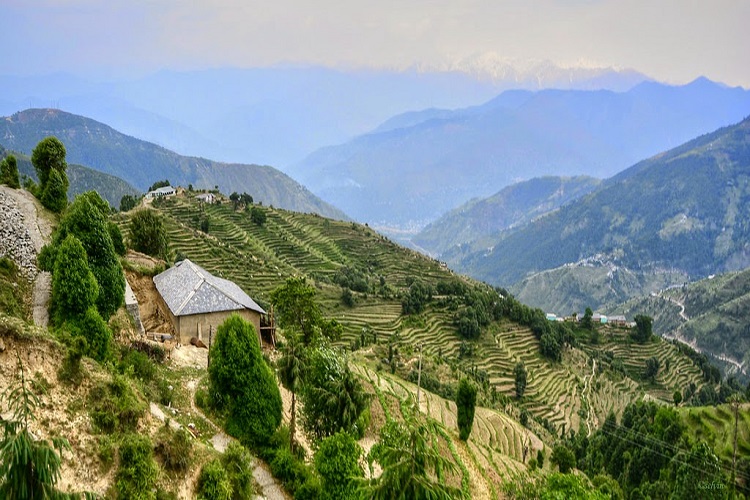 Located in Himachal Pradesh and tucked away in the lap of Himalayas amidst verdant green and tranquil surroundings, Dalhousie is one of the popular places for honeymoon in India in January due to the chances of snow and lesser number of touristy crowds.
And if you are planning your honeymoon this winter post-pandemic. You are in good luck with Himachal welcoming tourists without any restrictions.
There is much of England you can spot in Dalhousie, British buildings add a shade of colonial charm in this little town. Named after British Governor, Dalhousie has been a popular hill resort since the British era. This is the very destination if you want to curl up right in the lap of Mother Nature and breathe fresh air.
Nearby Khajjiar, yet another popular honeymoon destination in Himachal Pradesh is known as the "Mini Switzerland of India", mainly because of the resemblance in landscape and greenery of these two paradises.
You can shop in the local Tibetan Market, trek, go on trials, or shopping; there is a lot to explore in Dalhousie. During January, Snow gets sprinkled all over and looks beautiful. There is no better way to spend time with your significant other, so if you are planning your honeymoon this winter, especially in January or February, Dalhousie should be high on your list of honeymoon destinations in India.
Best Time to Visit Dalhousie
Although an all-weather destination, the best time to visit Dalhousie for a honeymoon depends on the weather preference. For lover of snow and adventure December till Feb is the best time. For those who prefer a warmer climate, June till October is the best time.
How to Reach Dalhousie
Gaggal is the nearest airport located 12 kms from the city. Nearest railhead is Pathankot located 80 kms from Dalhousie. The easiest way to reach is by road from Delhi where regular luxury buses and state transport buses are available.
10. Kashmir: Heaven on Earth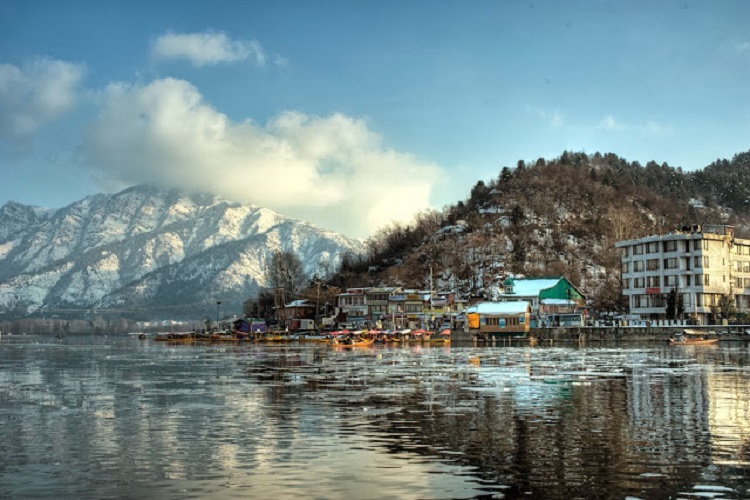 "Agar firdaus bar roo-e zameen ast,
Hameen ast-o hameen ast-o hameen ast."
~Aamir Khusro
Khusro hit the bull's eye when he described Kashmir in these Farsi couplets. This roughly translates to 'if there is a heaven on earth, it is here, it is here, it is here.' He was talking about Kashmir when he wrote this.
Kashmir is undoubtedly one of the most popular honeymoon destinations in India. It is as true in winter as it is in summer.
With its awe-inspiring Mughal Gardens, an array of shrines and pilgrimages, the serene sleepy Dal Lake with its floating gardens, gushing sparkling Jhelum meandering through valleys, and the snow-laden Gulmarg and all these in the shadow of the mighty Himalayas as if overlooking and guarding it all with its caring watchful eyes, Kashmir is definitely one of the must-visit places on earth in a lifetime.
There are plenty of things to do in Kashmir and even if you don't do anything at all, you'd have done everything you wish you could. Such is the ethereal charm of Kashmir, the paradise on earth.
So what do you do if you are planning your honeymoon in Kashmir in winter? Well, there are plenty of romantic things to do in Kashmir. Let's start with doing nothing. Just stay in a houseboat overlooking the cast expanse of the Himalayas and the heart of Srinagar. Or you can also visit the Mughal gardens renowned for their geographical symmetry and verdant beauty.
Or head to Gulmarg and do a lot of things. In winter, Gulmarg receives plenty of snowfall every year. You can ski, you can throw snowballs, ride a sled on the snow, or ride in a Gondola to have a birds eye view over the majestic white beauty all around.
Located at the confluence of the Lidder River and Sheshnag Lake, Pahalgam is yet another mesmerizing destination to visit in Kashmir for your honeymoon. Also referred to as the 'Switzerland of the East' Pahalgam's claim to fame is several Bollywood movies shot here. But that is not all about it. In Pahalgam, couples could engage in various activities which include trekking, golfing, horse riding, and angling. You can also try your hand at golf as Pahalgam is home to one of the most scenic high-altitude golf courses in India.
Best time to Visit Kashmir
The best time to visit Kashmir for a winter honeymoon is from October till March. Not only the scenery is at its best, but you also get to witness snowfalls, do skiing and ride the Gondola in Gulmarg.
How to Reach Kashmir
The best way to reach Kashmir is through regular domestic flights from major Indian cities to Srinagar. By train, Jammu is the nearest rail head. Buses are also run by state transport departments including deluxe Volvo buses.
Browse through our collection of Kashmir packages to plan your honeymoon
Related Post:
Top Winter Holiday Destinations in India
Best Luxury Honeymoon Hotels in India for Beautiful Beginnings
Best Beaches in India for Honeymoon
Ultimate Romantic Vacation Ideas in India