Picture-perfect landscape, meandering roads, sprawling verdant tea plantations, pleasant climate, wonderful attractions, cool breeze, rich flora-fauna in abundance, and several viewpoints are the words that perfectly describe the enchanting hill station of Munnar in Kerala. Placed at an altitude of 6000 feet above sea level, Munnar stands at the convergence point of 3 mountain streams- Kundala, Mudrapuzha, and Nallathanni.
Summer resort of erstwhile British rulers in southern India and the largest tea-growing region of South India, Munnar today possibly is the most popular hill station of Kerala. A haven of tranquility, it attracts a crazy number of tourists every year from all around the world. It also has Anamudi, the highest peak in South India.
Top Things to do in Munnar
Munnar will make you fall in love with itself as it offers a plethora of activities for all kinds of tourists- family vacationers, nature lovers, adventure enthusiasts, and honeymooners. This blog enlists the top things to do in Munnar:
Mattupetty Dam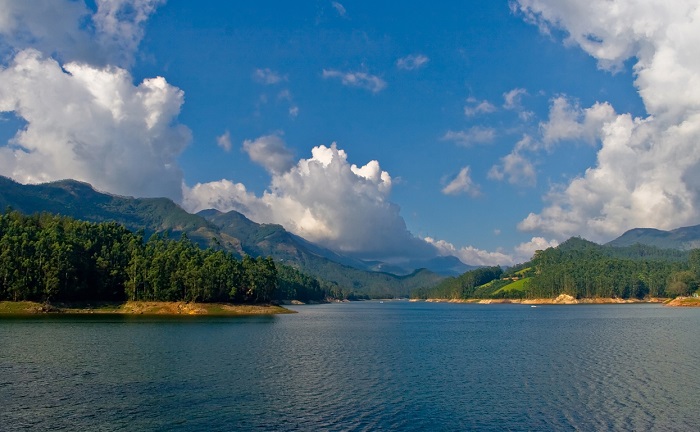 Mattupetty, placed at a distance of around 13 km from Munnar, is a serene town that is extremely popular for Mattupetty dam and reservoir. Constructed amidst hills, the main purpose of this dam is storing water for hydroelectric projects. One of the main tourist attractions in Munnar, Mattupetty dam is the perfect place to enjoy nice views of the surroundings. The lake created by the dam offers boat rides to both tourists as well as locals for exploring the serene surroundings. One can also spot herds of elephants quenching their thirst on the lakeside.
Top Station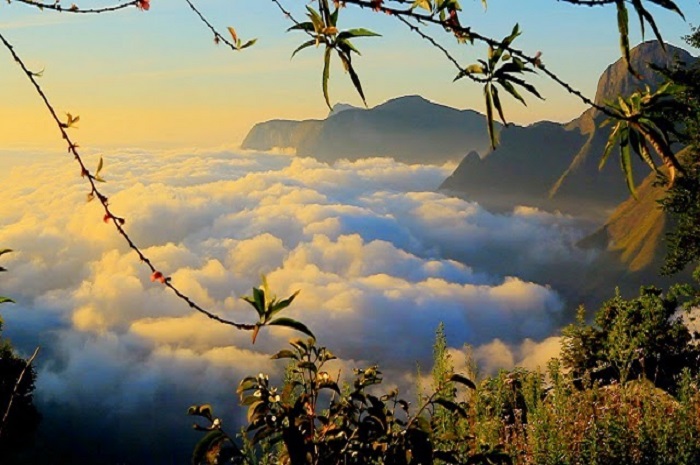 Standing at an altitude of 1700 m above sea level, around 40 km from Munnar, Top Station boasts of being the highest point on the Munnar-Kodaikanal road.  Once at the viewpoint during your tour to Munnar, you can admire mesmerizing views of the surrounding Western Ghats, Theni valley, and also Tamil Nadu state. At the time when the Neelakurinji flowers bloom, the view becomes all the more mesmerizing. A trek path via Central Station Village leads to Top Station.
[ Read More about Top Hill Stations in India ]
Mattupetty Dairy Farm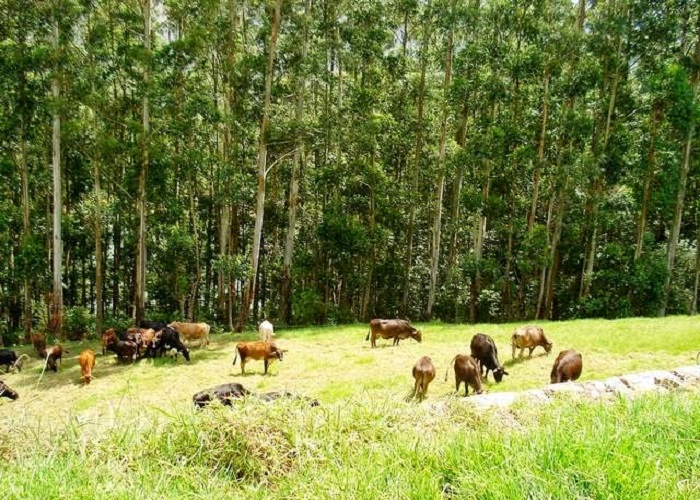 The Mattupetty town is also famous for an Indo-Swiss Farm, The Mattupetty Dairy Farm. Falling under Indo-Swiss Livestock Project and managed by the Kerala Livestock Development Board (KLDB) Ltd, this is an exceptionally specialized dairy farm, where new varieties of cattle are developed scientifically and over 400 first-rate cattle are reared along with the breeding of cows and bulls. The project was launched in the year 1963.
The lush farm is spread in an area of 191 hectares of land. This farm is opened on all days of the week and can be visited 09:00 am-11:00 am and then 02:00 pm -02:30 pm. Pay a negligible sum of INR 5 as a fee to visit the dairy farm.
[ Also check out the Top Tourist Places to Visit in Kerala ]
Kundala Lake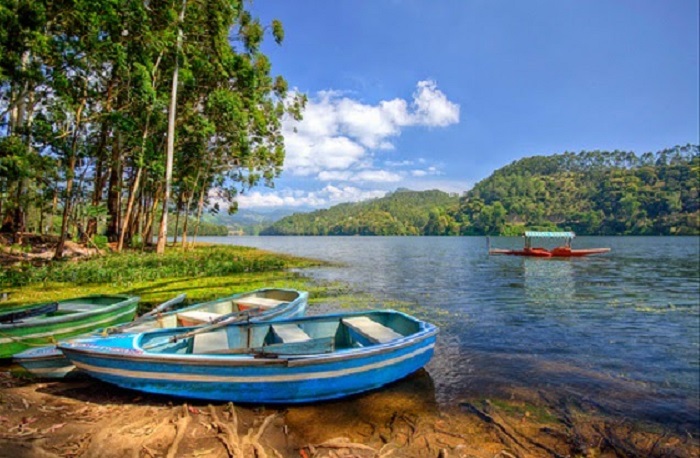 The picturesque town of Kundala is just 20 km away from Munnar and is en route to Top Station. One of its main attractions is Kundala Lake, which is an artificial reservoir. This lake is a part of the minor-arch-shaped Kundala dam, that is located amidst mountains. When at the lake, enjoy boat riding here while treating your eyes to the lush greenery spread all around. One can pick from rowing boats, pedal boats, and Kashmir-style Shikara boats, which are available for rent.
Punarjani Traditional Village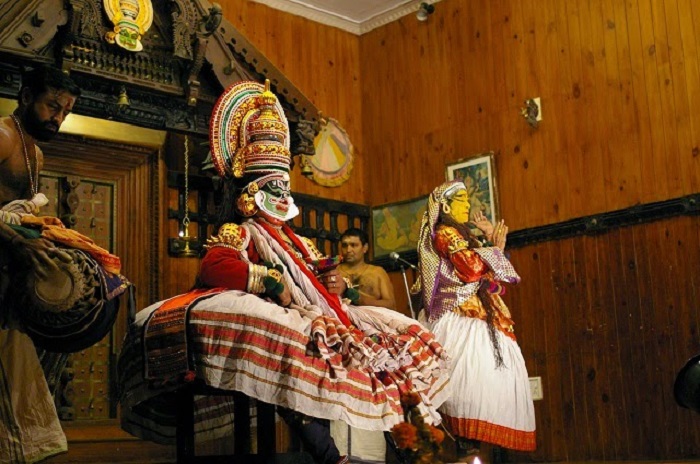 Lying in Pallivasal around 8 km from Munnar, Punarjani Traditional Village is an endeavor and a venture by a group of young artists of the region who wish to preserve and promote the cultural heritage of Kerala. Punarjani promotes 2 art forms of Kerala- Kalarippayattu (internationally-known traditional martial art of Kerala) and Kathakali (highly popular Classical dance drama of Kerala). Shows of around an hour of both art forms are organized here on a daily basis. The Kathakali show starts at 5 pm and ends at 6 pm and the martial art show starts at 6 pm and ends at 7 pm. The entry fee is INR 200.
Echo Point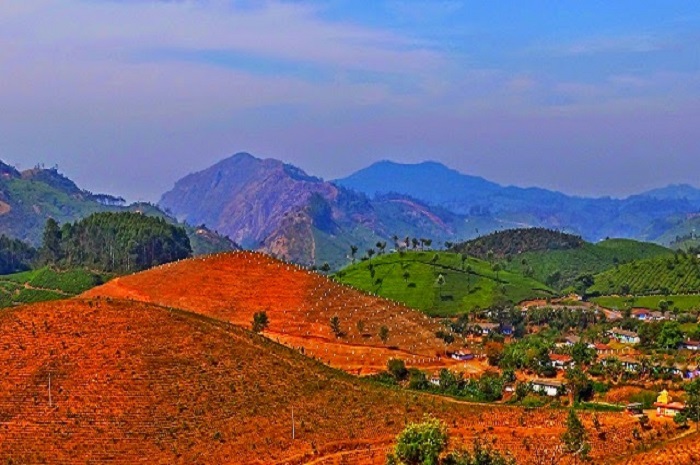 Around 15 km from Munnar, Echo Point is a must-visit place near Munnar. As interesting as the name of the place is, the natural phenomenon that happens here is equally fascinating. Once you scream out loud here and wait for a minute, you can hear your voice echo back. The view from this high point is extremely mesmerizing. Echo point in Munnar is also quite popular among adventure seekers who like trekking and nature walks. Climb up to the point and adore the view.
[ Check Out our list of  Top 10 Hiking Trails in India ]
Eravikulum National Park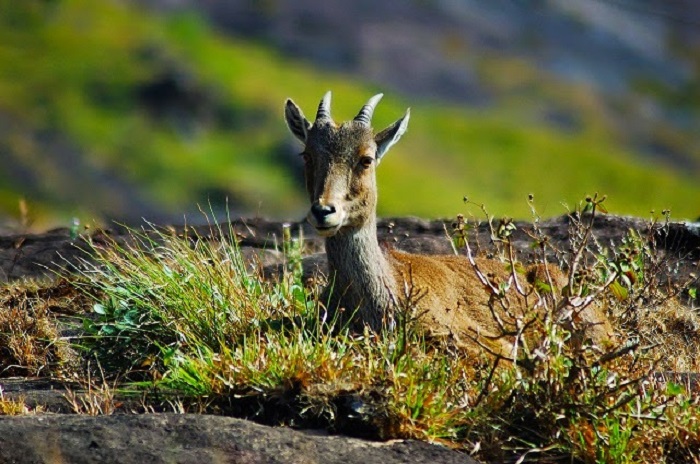 Eravikulam National Park is one of the most popular attractions of Munnar. Covering an area of 97 square km, this national park is known for being home to Nilgiri Tahr- an endangered mountain goat of the region. Lying along the Western Ghats, this wildlife reserve houses a vast variety of animals, birds, and rare butterfly species.
The hilly slopes of Eravikulam look enchanting when the Neelakurinji flower is one its full bloom, after every 12 years. This wildlife reserve is not only known for its wildlife but also for the adventure opportunities that it offers. As Anamudi Peak, the highest peak of South India lies within the park, it is quite popular amidst trekkers. One can enjoy a panoramic view of the surrounding mist-clad hills and lush tea gardens.
[ Interested in wildlife? Check out these awesome ideas for Wildlife Vacations in India ]
Tea Museum

Munnar boasts of being the largest tea-growing area of the southern part of the country and thus it makes Tea Museum Munnar, a must-visit attraction. The hill station has a history of origin and evolution of the tea plantations in Munnar. A Tea Museum was opened recently by Tata Tea in the Nallathanni Estate of Tata Tea.
This museum has a collection of photographs, interesting objects, and machinery that have made a contribution in making the tea industry of Munnar a success. This tea museum is quite popular amidst tourists and tea lovers. There is a demonstration room also for tea tasting where different varieties of tea from all across are placed. The museum is closed on Mondays.
Marayoor Sandalwood Forests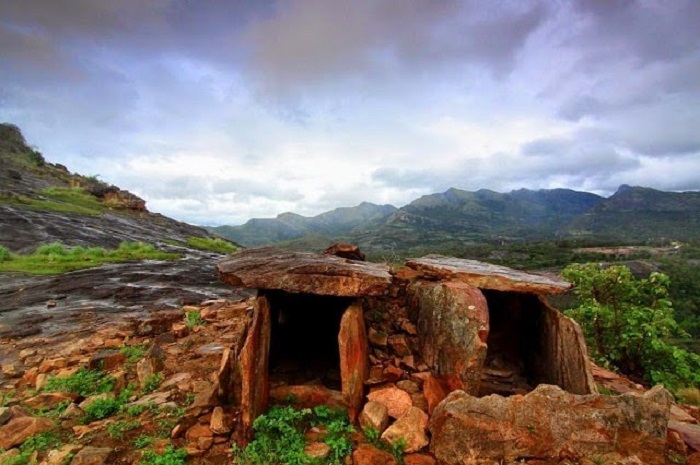 Placed at a distance of around 42 km from Munnar, Marayoor is a scenic town which is extremely popular for its natural sandalwood forests. This place is also quite popular for being an ancient civilization belonging to the Stone Age that dates back to 10,000 BC. The natural sandalwood forest of Marayoor has over 65000 trees of high-quality.
If you wish to learn more about the scented trees, there is a Sandalwood Regeneration Experimental Plot and a sandalwood depot where you can see the processing of sandalwood. If you wish to embark on a leisure walk in the forest and soak in the aroma, taking permission from the Forest Department is necessary. Apart from sandalwood, you can also spot various kinds of rare plants and trees.
Attukad Waterfalls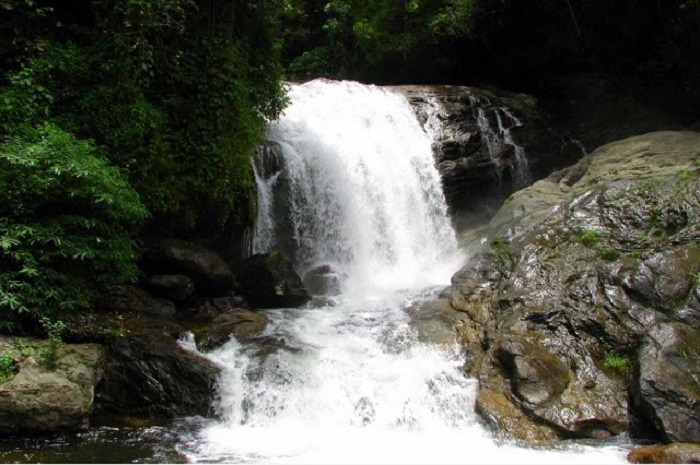 Sandwiched between Pallivasal and Munnar, the scenic Attukad waterfalls are located at a distance of 9 km from the town. A charming spot, these waterfalls cascade from rocky hills with full flow. Enjoy the amazing view of the scenic beauty and the cool breeze caressing your face.
The place is also quite popular amidst trekking enthusiasts because of the rolling hills of Attukad. The waterfalls are at their top point during the monsoon season. Visiting this place is a treat to the eyes.
Also, check out some more vacation ideas in Kerala in monsoon.
Blossom International Park

Lying at a distance of around 3 km from Munnar, Blossom International Park covers an area of more than 16 acres. This park is an ideal picnic spot for locals as well as tourists visiting the area. Surrounded by lush greenery, this peaceful park with colorful flowers is the perfect place to enjoy nature walks.
You can also indulge in other activities also such as cycling, boat riding, roller skating, and so on. The park also consists of ropeways, swings, and tree houses. Spend some memorable and peaceful moments here with your loved ones.
Chinnar Wildlife Sanctuary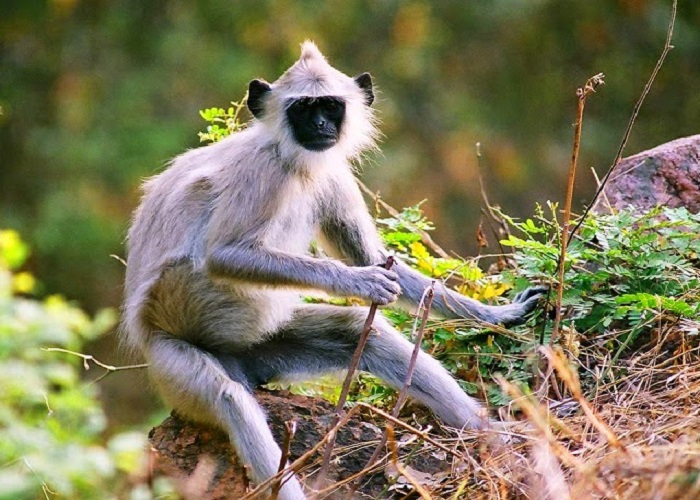 Lying on the eastern side of the southern Western Ghats, Chinnar Wildlife Sanctuary shares it borders with Indira Gandhi Wildlife Sanctuary and Eravikulam National Park. Spread in an area 90 sq km, this wildlife reserve boasts of a unique ecology and floral collection. Counted amongst the 12 protected area of Kerala, Chinnar is named after Chinnar trees which it houses in abundance.
Along with a vast variety of animal species such as Nilgiri Tahr, tiger, spotted deer etc, this sanctuary has over 225 avifauna species and 1000 species of flowering plants. Around 60 km from Munnar, this sanctuary is popular for offering eco-tourism activities such as trekking, nature trail, river trekking, camping and more.
[ Check Out our list of Top Wildlife Sanctuaries in Kerala ] 
Tea Plantations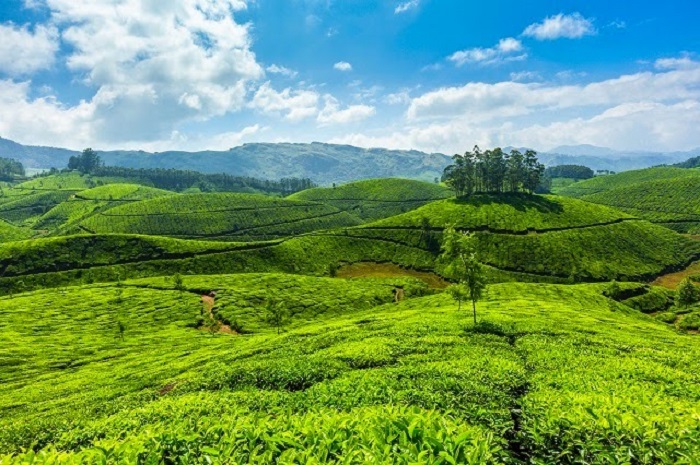 Famed as one of the most popular tourist attractions in Kerala, the tea plantations of Munnar are just right to enjoy a leisure walk while soaking in the fragrant aroma of tea. The lush expansive tea plantation with the backdrop of rolling hills is an enchanting sight. Take a walk here and let the cool breeze caress your face. The whole experience is absolutely rejuvenating for all your senses. There are a number of tea estates in Munnar, which are worth visiting.
[ Plan your holiday in God's own Country with a stay at these 5 best luxury hotels in Kerala ]
Lakkom Waterfalls

Lakkom Waterfalls, also known as Lakkam Waterfalls, this attraction is positioned at a distance of 25 km from Munnar, on the road to Udumalaipettai. This waterfall is a part of the very well-known Eravikulam National Park. When you arrive at this gushing waterfall, adore the mesmerizing surroundings and scenic beauty all around. This waterfall is quite popular among nature lovers, honeymooners, and locals as well.
Rock Climbing and Rappelling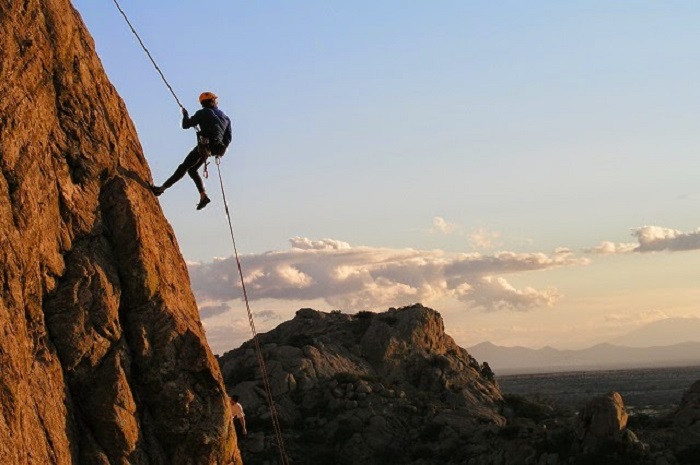 Feel the high adrenalin rush by opting for rock climbing and rappelling in Munnar. The rolling hills of the Western Ghats and the countryside region of Munnar offer excellent opportunities for these adventure activities. If you are an amateur, you can take the services of rock climbers who would guide you about the activity. Treat your eyes to mesmerizing views, once you are on the top. Rappelling and rock climbing are also available at levels for beginners. While you experience the thrill of partaking in these activities, the soothing aroma from the tea plantations would fill your nostrils.
 [ Check Out our list of Top 10 Adventure Sports in India ]
CSI Christ Church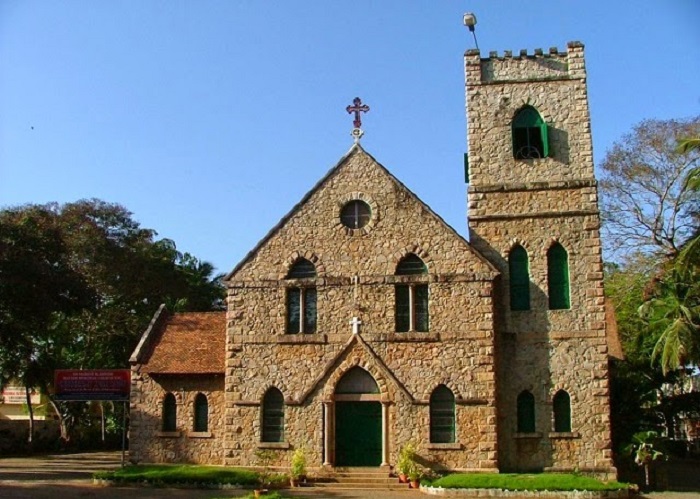 Simply known as the CSI Church or Christ Church, this church is not only a sacred site but also has historical importance because of playing an important role in British times. Constructed in the year 1910, this church is in rough-hewn granite and has un-plastered walls. Today, the church is managed by the Church Mission Society and is used for meditation. A popular attraction of Munnar, this church has several brass plates in the memory of tea planters of British times. CSI Christ Church in the present times is the headquarters of CSI Munnar Pastorate.
[Browse Munnar tour packages at IndianHoliday.com]
Related Post:
Places to Visit in South India for Summer Holidays
5 Great Ideas for Honeymoon and Romance in Kerala