Referred to as the 'most romantic city of India' and the 'City of Lakes', Udaipur allures family vacationers and honeymooners in huge numbers each year. Festooned with glorious palaces, splendid temples, magnificent forts and placid lakes, Udaipur casts its charm on its visitors from all around.
The city has a fair share of international fame as it has been the venue of celebrity weddings and the site of shooting of popular James Bond movie, Octopussy. To accommodate its domestic and foreign travelers, Udaipur houses a number of luxury hotels, offering world-class hospitality and all modern comforts. The blog enlists 10 best luxury hotels in Udaipur:
Best Udaipur Luxury Hotels
Taj Lake Palace
The Oberoi Udaivilas
The Leela Palace
Devi Garh by Lebua
Radisson Blu Udaipur Palace Resort & Spa
Trident Hotel
The Lalit Laxmi Vilas Palace
Shiv Niwas Palace Hotel
Fateh Prakash Palace
Ramada Udaipur Resort & Spa
Taj Lake Palace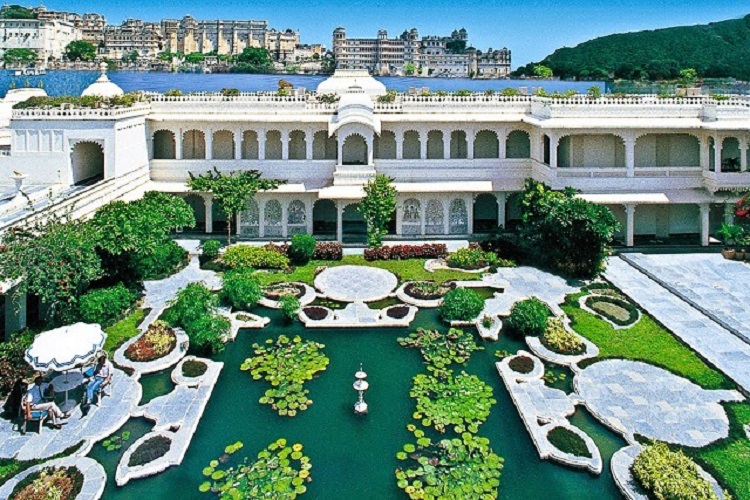 Looking like a 'jewel in the Lake Pichola', Taj Lake Palace Udaipur is a representation of Indian luxury, offering mesmerizing views of the tranquil waters of the Lake. This 18th century palace has pavilions with inlaid stones, huge corridors and courtyards, mirror work and gilt moldings. Accessible through boats, the property is spread in an area of around 4 acres of man-made island. The hotel is perfect for both leisure and business guests. Banquet halls, meeting rooms, outdoor activities, Jiva Spa, Wi-fi connectivity, swimming pools, and more are a part of your stay. The interiors and exteriors are equally alluring and royal.
Rooms
The property consists of 66 rooms and 17 suites, boasting of superb views and regal charm in the interiors. Intricate mosaics, swings, stained glasses, silk bolsters and hand-painted motifs look completely alluring. The guest rooms are divided into 5 categories- luxury rooms, palace rooms, royal suites, grand royal suites and grand presidential suite.
Every room and suite is a combination of modern comfort and royal heritage. En-suite lavish bathrooms, plush furnishings, elegant furniture, hand-picked decorations are some of the features of the guest rooms.
Dining
Neel Kamal, Amrit Sagar, Bhairo, Jharokha are the four dining venues serving sumptuous delicacies of Indian and popular world fares, amidst superb views, splendid interiors and relaxing ambiance. The chef and his team churn out lip-smacking dishes using age-old secrets, freshest of ingredients and modern touches culinary skills.
The exhaustive menus at all the restaurants comprise of tasty dishes and choicest of beverages. Private dinners can also be arranged.
Address– P.O. Box 5, Lake Pichola, Udaipur – 313001, Rajasthan, India
Distance from Airport– 24.3 km (40 min)
[ Read more about Taj Lake Palace, Udaipur ]
The Oberoi Udaivilas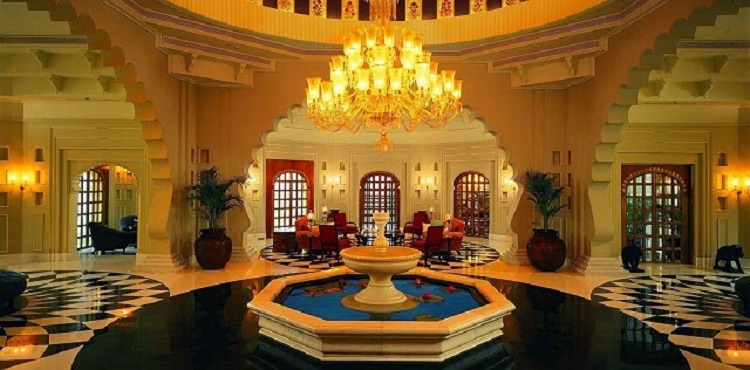 Placed on the banks of Lake Pichola, the Oberoi Udaivilas was erected on the hunting grounds of the Maharaja of Mewar. Covering an area of 50 acres, this luxury property offers wonderful views of the Lake and the lush gardens all around. While the interlocked domes, expansive corridors, huge courtyard, crème-colored façade, pavilions, elephant safaris tell the tale of royalty on one side, the swimming pool, the Spa, special spaces for business, private dinners, internet connectivity and gathering etc offer modern experiences.
Live life King-size here by indulging in royal comforts.
Rooms
Oberoi Udaivilas consists of 63 Premiere Rooms, 19 Superior Premiere Rooms with semi-private pool, 4 Luxury Suites and 1 Kohinoor Suite that are blessed with royal ambiance, hand-picked furniture, fine furnishings, elegant furniture, LCD TV with satellite connected, butler service, personal mini-bar, electronic safety deposit, attached bathrooms with complimentary toiletries, world-class facilities and more. The suites come with huge living areas with fireplace, 2 bedrooms, dining area, garden terrace and private pool. Overlooking private-walled courtyard, the en-suite Victorian-style bathrooms have standing bath tubs.
Dining
The dining venues at Oberoi Udaivilas are an amazing combination of superb architecture, al fresco and indoor spaces, amazing décor, wonderful views and mouthwatering food. Savor a vast variety of tasty Indian and Western dishes along with heady cocktails.
The chefs and their team take special care of hygiene, use of fresh ingredients and taste by using their secretive culinary techniques. Arrangements for private dinners can also be done at various venues.
Address- Haridasji Ki Magri Udaipur, Rajasthan, India
Distance from Airport- 26.1 km (43 min)
The Leela Palace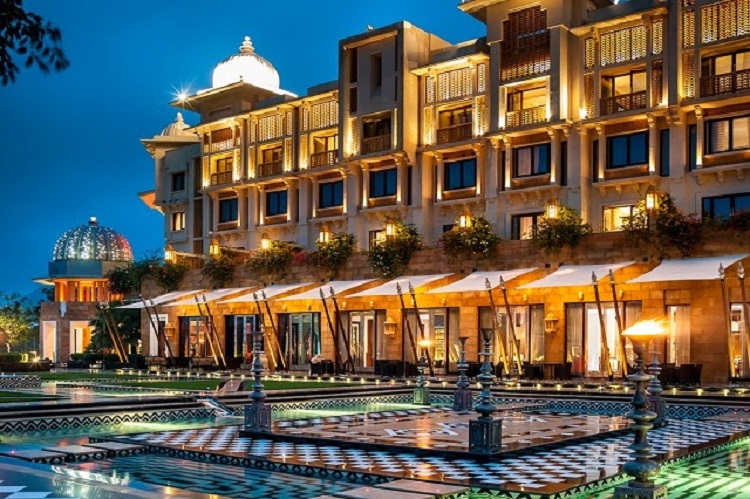 With the Aravali Mountains in the background and lying beside the Lake Pichola, The Leela Palace radiates the splendor and lavishness of the Mewar era. While the authentic Rajasthani interiors and exteriors, hand-picked artifacts and delicate craftsmanship give a regal feel; the swimming pool, world-class amenities, contemporary comforts, ESPA tented spa, business rooms, wedding venues makes it a five star hotel. Arrive at the hotel by cruising in decorated boat or in a luxury car. A royal fairytale-like treatment would be memorable.
Rooms
80 guest rooms and suites at the Leela Palace are beautifully-equipped mesmerizing views of the surroundings and contemporary comforts, letting you indulge in sheer luxury. The rooms and suites divided into categories- Maharaja Suite, Royal Suite, Suites (Duplex Suites – Luxury Suites) and Premiere Rooms (Grande Heritage Lake View Room – Grande Heritage Lake View Room with Balcony). Elegant amenities and graceful Indian charm are the perfect words for the interiors of these rooms.
The presidential suite is simply heavenly with huge bedroom, spacious dressing room with closet, master bathrooms, huge living area, separate work space, plunge pool, dining area with pantry and courtyard garden.
Dining
A heaven for the gastronomical aficionados, The Leela Palace has a variety of dining venues offering superb environment, nice views, excellent dining spaces, tasty food and impeccable services. Dining Room (all-day dining area), Sheesh Mahal (roof-top venue with the view of the Lake), Library Bar (an elegant lounge) and Pool side bar (tasty snacks and beverages by the poolside) are the dining venues where the guests can binge on sumptuous Indian and Western fares while sipping on their favorite beverage. If you wish, a private dinner can also be organized for you.
Address- Lake Pichola, P. O. Box No. 125, Udaipur 313001, Rajasthan, India
Distance from Airport- 25.7 km (44 min)
Devi Garh by Lebua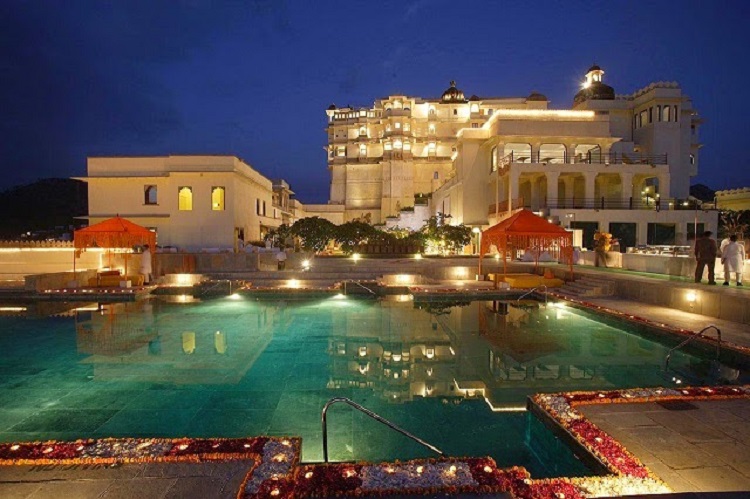 An 18th century palace turned into a luxury hotel, Devi Garh by Lebua is the royal residence of the erstwhile Delwara rulers till the mid of the 20th century. Lying in the Aravali Mountains, this luxury heritage property is a stylish, lavish and romantic property. This palace hotel has traditional exterior and superb interiors.
Offering royal accommodation, the luxury hotel is a mix of elegant styling and ancient architecture on one side and modern amenities, a Spa, flawless hospitality services and fine dining experience on the other. Two 12 feet high blocks of white marble on the entry gate look striking.
Rooms
The luxury accommodation at Devi Garh by Lebua can be divided into Garden Suite, Palace Suite, Aravali Suite and Presidential Suite. The guest rooms and suites are elegantly-appointed with all the comforts and boats of stunning interiors. All the rooms have splendid views of the surrounding area and are festooned with semi-precious stones.
A separate sit-out area, tented terrace, plush attached bathrooms, tasteful décor, elegant furnishings and furniture, private garden, private sun deck, private black marble pool are some of the features of the suites.
Dining
The multi-cuisine restaurant at the hotel serves mouthwatering Indian and International fares amidst a relaxed ambiance. The chef and his team prepares choicest of delicacies with immense care by using age-old secrets, modern cooking techniques and fresh ingredients. At the Bar, you can not only enjoy a mix of cocktail, wines, whiskeys etc but also special Indian street food. There are exclusive venues for private dining too.
Address- Delwara, NH8, Near Eklingji Udaipur, District Rajsamand, Rajasthan, India
Distance from Airport- 40.4 km (50 min)
Radisson Blu Udaipur Palace Resort & Spa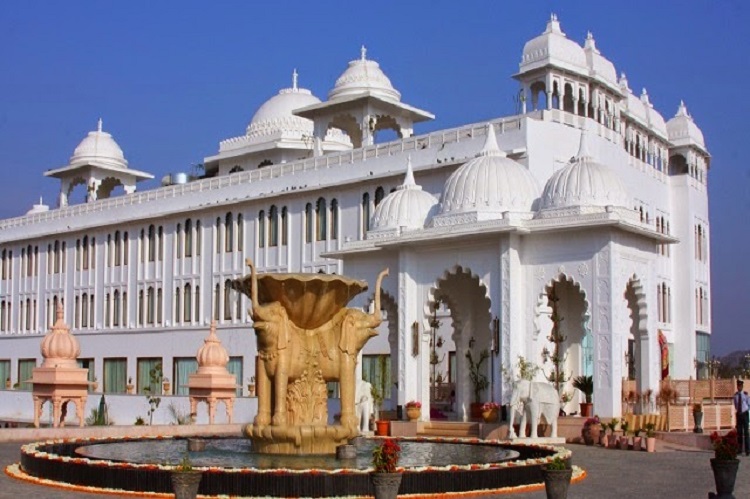 Placed right on the banks of Fateh Sagar Lake, the Radisson Blu Udaipur Palace Resort & Spa is a luxury accommodation options with panoramic views of the surroundings including the Aravali Mountains and Sajjangarh Fort. This five star property boasts of royal comforts, modern interiors coupled with faultless hospitality services.
The hotel is ideal for both family vacationers as well as business travelers. There are contemporary facilities like a two-level swimming pool, fitness center, lounges, restaurants, business center, well-known Spa, high-speed internet connection etc. You will enjoy a comfortable stay while being pampered with royal treatment.
Rooms
The accommodation at the Radisson Blu Udaipur Palace Resort & Spa comprises of 240 well-appointed guest rooms and suites. The décor of the rooms is absolutely stunning including modern furniture, selective collection of decorative pieces and fine furnishings. Round the clock room service, attached bathroom with marble flooring and complimentary toiletries, separate work desk, LCD TV, in-room safety deposit are some of the amenities offered during your stay.
Dining
The dining experience is going to be unforgettable, amidst elegant interiors and superb hospitality from the staff. Antara, H2O, Aangan and Wok by the Lake are the four restaurants that serve sumptuous delicacies of Indian and World cuisines including Chinese, Indonesian, Thai, Burmese and Mediterranean fares. The menu also includes an exhaustive list of alcoholic and non-alcoholic beverages.
Address- Near Fateh Sagar Lake, Ambamata Udaipur – 313001, Rajasthan, India
Distance from Airport- 26.8 km (44 min)
Trident Hotel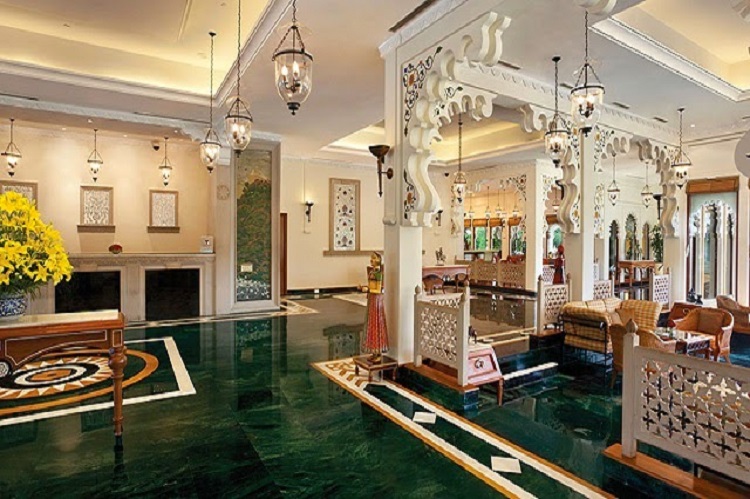 An ideal luxury retreat to unwind and relax, Trident Hotel has an architecture that is inspired by the cultural and architectural masterpieces of Udaipur. Covering 43 acres of verdant green grounds, the property stands beside Lake Pichola. You enter into the world that is filled with contemporary comforts and you are treated in a royal manner by the hotel's staff who offer impeccable services. Arrangements can also be done for special sightseeing tours and boat rides on the Lake's placid waters.
The rooms are amazing, the stay memorable and the food mouthwatering. Avail world-class facilities like spa, kid's rooms, meeting rooms, valet parking, concierge service, swimming pools, round the clock services and more.
Rooms
Trident comprises of 137 guest rooms and 4 suites that are wonderful spaces coupled with modern comforts and traditional feel. Deluxe Garden View Rooms (115), Deluxe Pool View Rooms (22) and Suites (4) are the categories of rooms that have soothing earthy tones, special marble interiors, fine furnishings, handpicked artifacts and facilities of international standards. Special Jharokhas (designed windows) and Jaipuri Kalam (art with vegetable dyes) are the 2 striking features.
Dining
Savor delicacies made from the secret recipes from the royal kitchens at Aravalli restaurant including dishes from region Indian, Asian and Western fares. Enjoy al fresco dining at the Terrace with grills and barbeques. Amrit Mahal is a well-stocked bar with an excellent collection of selective spirits.
Address- Haridasji Ki Magri, Mulla Talai, Udaipur, Rajasthan -313001, India
Distance from Airport- 26.2 km (43 min)
The Lalit Laxmi Vilas Palace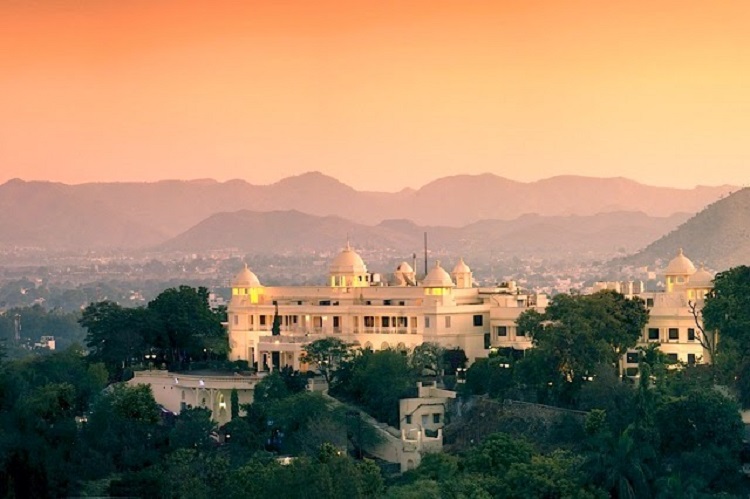 Overlooking Lake Fateh Sagar, The LaLiT Laxmi Vilas Palace has the mighty Aravalli hills as its background. Constructed in 1911 by Maharana Fateh Singh, this palace has now been turned into a luxury heritage hotel that exudes royal grandeur and is an impressive architecture. A display of the rich culture of the city, the property has a grand décor.
Enjoy horse riding, camel riding, and puppet shows during your stay. The staff is known for offering impeccable hospitality services, amidst modern luxury amenities.
Rooms
Meeting the needs and preferences of leisure as well as business travelers, the hotel has 55 well-appointed spacious guest rooms and suites offering enchanting views of valley, the Lake and the skyline of the city. Deluxe Rooms, Palace Suites, Princess Suites, Maharana Suite and Maharani Suite are the five different room categories, each capturing royal splendor of the bygone era through its interiors. Have a pleasant stay amidst modern comforts, luxurious furnishings and elegant furniture.
These tastefully-done rooms come with facilities like private mini bar, complimentary seasonal fruits, Electronic in-room safe, 40-inch LCD TV with satellite connection, Wi-fi accessibility and more. The attached bathrooms are huge, offer complimentary toiletries and come with separate shower cubicle.
Dining
Aangan and Padmini are the two dining venues here that serve lip-smacking delicacies in a regal setting. Binge on tasty Indian and multi-cuisine dishes that are prepared by the chef and his team with great care, maintaining high hygiene level and with fresh ingredients. Eat your meal and enjoy live Rajasthani folk dance performances.
Relish your favorite drink from an amazing selection of cocktails, beer and wine. While grilled, barbequed and a Hunter Menu are the specialties at Aangan, Padmini is known for its Continental and Rajasthani assortments. Both the dining venues have a wonderful décor.
Address- Opposite Fateh Sagar Lake, Udaipur – 313004 Rajasthan, India
Distance from Airport- 23.6 km (38 min)
Shiv Niwas Palace Hotel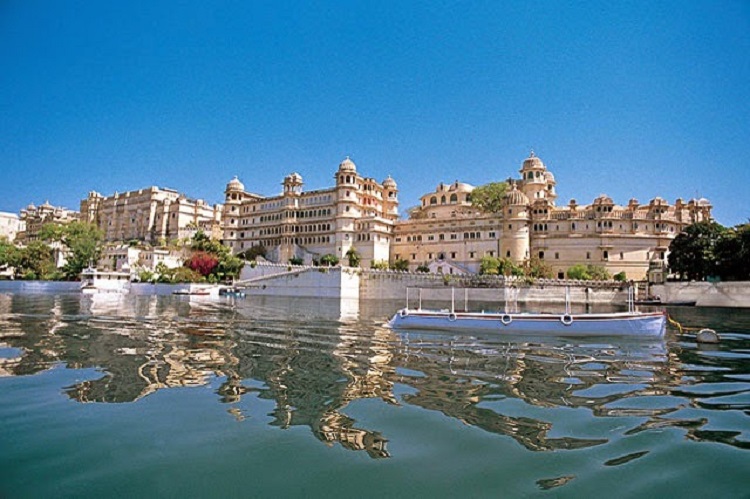 Have a memorable stay and enjoy a treatment like the Mewar kings and queens at the Shiv Niwas Palace hotel. Located in the City Palace complex, this palace was originally for special guests and dignitaries of the King. Today a popular heritage hotel of Udaipur festooned with all the modern comforts, it was built in the first half of the 20th century.
This crescent-shaped palace is placed on the banks of Pichola Lake and is a recreation of the rich past of the royalty and their opulence. Flawless hospitality service, fine delicacies and stunning architecture are the highlights here.
Rooms
The luxurious rooms and suites at Shiv Niwas Palace have been divided into categories- Palace Rooms (19), Terrace Suites (8), Royal Suites (6) and Imperial Suites (3). One of the most striking features of these rooms is the use of original portraits and furniture that belonged to the royal family from ages. The suites offer a panoramic view of the city.
Every room is spacious and offers contemporary amenities and facilities like attached marbled bathroom with complimentary toiletries, stocked mini-bar, TV with satellite television, international direct dial telephones and more.
Dining
You can try tasty dishes at the four restaurants of Shiv Niwas Palace- Paantya, The Pool Deck, Panera and Palki Khana. The mouthwatering dishes served are of Indian and popular World cuisines along with an extensive list of non-alcoholic and alcoholic beverages. Admire the superb décor and serene ambiance while enjoying meals at the indoor venues.
The outdoor venues offer a great al fresco dining coupled with superb views of the surroundings.
Address- The City Palace, Udaipur 313001, Rajasthan, India
Distance from Airport- 24.5 km (41 min)
Fateh Prakash Palace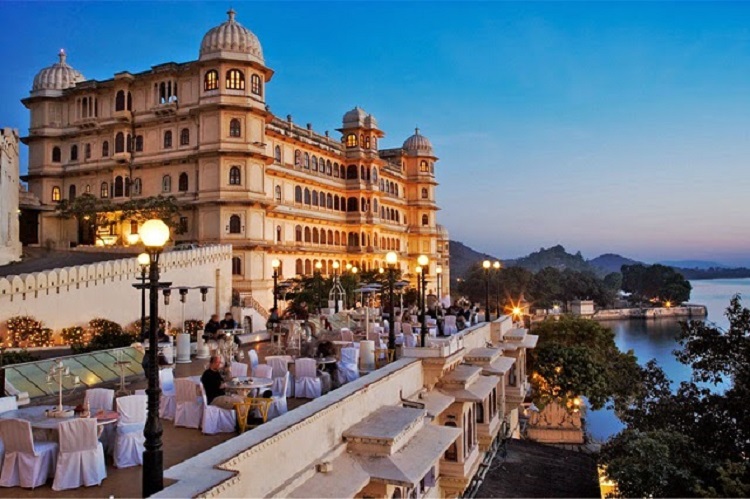 Lying in the City Palace Complex, Fateh Prakash Palace originally the site where Maharana Fateh Singh of Merwar used to organize his royal gatherings and functions for his special guests. Today a well-known luxury hotel of Udaipur, the property is placed on the eastern banks of Lake Pichola in Udaipur. Re-visit the bygone era through the royal interiors that include of miniature paintings, royal objects, portraits and weapons of the Mewar rulers.
Opt for a relaxing Ayurveda therapy at the Panghat Spa.
Rooms
The palace hotel consists of 21 Dovecote Rooms and 44 Dovecote Premier Suites. The guest rooms are spacious, airy and well-appointed. The suites at Fateh Prakash Palace consist of authentic miniature paintings, period furniture and beautiful portraits. All the guest accommodations offer comforts like mini-bar, international direct dial telephone, TV with satellite connection, private sitting areas and more. From the large windows, enjoy mesmerizing views of the surroundings.
Dining
The property has 2 remarkable restaurants. At Sunset Terrace, an open-air restaurant, enjoy tasty multi-cuisine delicacies while admiring panoramic views of the scenery. At the well-stocked bar of the hotel, Surya Darshan Bar, sip traditional English afternoon tea or evening beverages, while the sun is setting over the hills.
Address- The City Palace Complex, Udaipur, Rajasthan, India
Distance from Airport- 24.2 km (41 min)
Ramada Udaipur Resort & Spa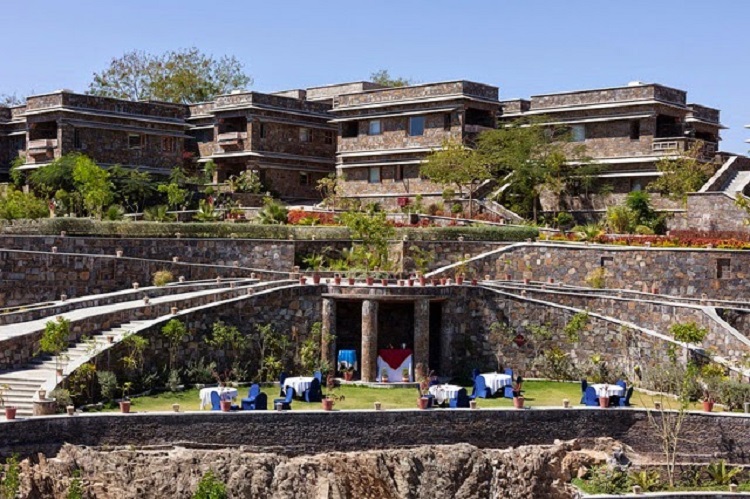 Proud of its magnificent architecture, Ramada Udaipur Resort and Spa is a luxury hotel of Udaipur that evokes sheer grandeur through its traditional construction, Tekri Work. The hotel features huge verandas, terraces and courtyards, superb interiors coupled with contemporary luxury facilities. At Sohum Spa, avail the best of Ayurveda therapies and treatments.
Some of the highlights of this luxury resort include two well-appointed banquet halls, parking, swimming pool, fitness center, indoor and outdoor activities and more. Admire spectacular views of Lake Pichola, lush gardens of the property and the surrounding area.
Rooms
Ramada Udaipur Resort and Spa has 72 guest rooms and suites, segregated into 1 Double Bed Deluxe Room, 1 Double Bed Deluxe Room, 1 Twin Bed Accessible Room and1 King Bed Suite. These four room types are placed around a huge central courtyard. From the huge windows, admire nice views of the scenery.
The suites are Peacock theme based. The attached bathrooms are huge and come with complimentary toiletries. Enjoy modern services and facilities like round the clock room service, private balcony, Flat screen TV with satellite connection, private mini-bar and more.
Dining
There is one on-site restaurant at Ramada Udaipur Resort and Spa, Sajjan where the guests can enjoy sumptuous dishes of Indian cuisine during lunch and dinner. During breakfast, the restaurant includes live pasta counter, egg counter, authentic Rajasthani dishes and more.
Address- Rampura Circle, Khodiyat Road, Udaipur, Rajasthan 313001, India
Distance from Airport- 27.9 km (48 min)
Related Post:
Best Palace Hotels in Rajasthan
Best Luxury Hotels in Jaipur
Top 15 Tourist Attractions in Udaipur