Luxury train travel in India has come a long way since the introduction of Maharajas' Express by the Indian Railways Catering and Tourism Corporation. That this luxury train of India has been voted World's Leading Luxury Train for 2 years in a row at the World Travel Award speaks volumes about the level of service and royal experience offered on and off the train. So what makes Maharajas Express one of India's finest luxury travel experiences? With 5 journeys on offer across some of the best tourist destinations in India, this maharaja train is introduced to recreate a bygone era of elegant train traveling, which was once only accessible to the Maharajas, Nizams, and Viceroys of India.
From the red carpet welcome, and trumpets playing welcoming tunes to the tilaka ceremony(vermillion mark, garlands, etc.), the welcome arrival at the train offers a peek into the royal experience that is in store for the rest of the journey.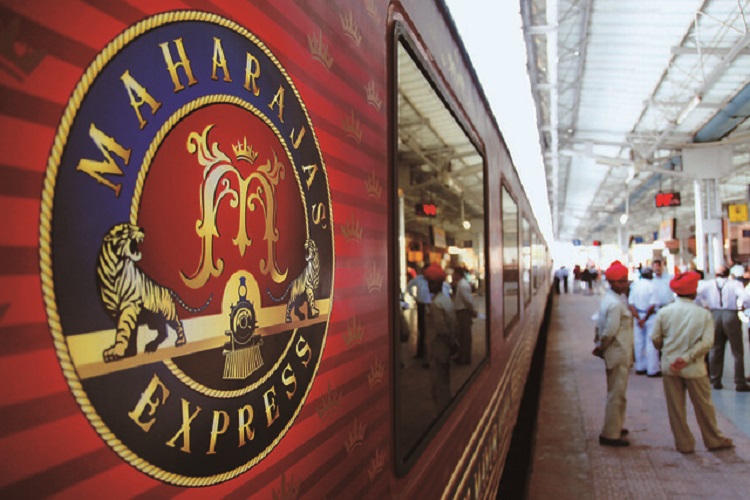 Catering to the seekers of luxury and indulgence, Maharajas' Express arrives at a new station every morning for off-trail excursions, which may include visits to monuments, heritage sites, shopping, and royal dining at palaces and courtyards of mighty forts and spa sessions at palace hotels.
The eight-day Mumbai to Delhi trip crisscrosses through the western part of the country (Mumbai) with sightseeing halts at Balasinor, Udaipur palaces, an elephant polo match near Jaipur, and a tiger safari through Ranthambore National Park.
Passengers aboard the seven-day Delhi-to-Delhi trip visit dozens of sites in eastern and central India, including the temples of Khajuraho, the tigers at Bandhavgarh National Park, and the sacred ghats of the Ganges River in Varanasi. All 5 itineraries – 3 from Delhi and 2 from Mumbai begin or end with a visit to the Taj Mahal in Agra, one of the 7 Modern Wonders of the World.
Here's everything you need to know about Maharajas' Express:
History
Imagine going to school in your very own toy train – A miniature version of the Royal Scotsman. Well, that's what the royal prince got as a birthday gift to ferry him from the palace to his school. The passion for and fascination with James Watt's creation among Maharajas of India was intense. Maharaja Pratapsinh Gaekwad of Vadodara gifted his five-year-old son – current maharaja of Vadodara – a fully functional toy train that ran on a ten-inch narrow gauge.
Maharaja of Gwalior had a silver model train chugging along with the centerpiece on his banqueting table. The personal carriage built by Gloucester Railway Carriage and Wagon Company in 1936 for Maharaja of Indore – Yeshwant Rao Holkar – was considered the most luxurious railway carriage ever built. It also happened to be the largest ever rail carriage to be constructed in Britain at that time, and such was the attention to detail that it also had air blown over ice to keep the carriage cool in the tropical climes.
The Nizam of Hyderabad's private railway car was covered with a thin strip of ivory, whereas as a young prince, Madhav Rao Scindia of Gwalior had his father build a two-mile track on his palace grounds.
Maharajas of India was a world and bred apart from the rest. Born into royalty and adorned with diamonds and gold, money was never an object when acquiring their fancy. Not every day, a train earns itself the name Maharajas' Express.
Maharajas Express: Luxury train journeys in India
Maharajas' Express Facilities
Maharajas' Express endeavors to offer the royal experience of exploring illuminating destinations in India. Equipped with modern facilities that technology can offer and money can buy, the journey on board Maharajas Express is a regal jaunt with all the pampering and luxury associated with the erstwhile princes of India.
Maharajas' Express Carriages
The train comprises 23 carriages, including accommodation, dining, bar, lounge, generator, and store cars. Accommodation is available in 14 guest carriages with a total passenger capacity of 88. The accommodations on board are categorized as deluxe cabins, junior suites, and a grand presidential suite spanning over an entire carriage. Each guest carriage has been designed to recreate the opulence of Maharaja-style living.
Elegantly decorated, the interiors of the cabin exude the finesse of exquisite workmanship. Sylvan parquets, intricate carvings, and a palette of soft hues characterize the interiors of the train.
Carriages are fitted with panoramic windows to offer the vista of rolling landscape as the train travels through some of the fascinating landscapes and countryside of India.
Maharajas' Express Guest cabins
Each guest cabin has a large LCD television, eco-friendly washrooms, direct dial phones, a DVD player, Wi-Fi internet, individual climate control, and an electronic safe. Each guest cabin has been equipped with an RFID door lock for your safety and privacy. Here are some common facilities available in the guest cabins of Maharajas' Express:
110/230 V sockets for charging purposes
Fire Extinguisher
Basin
Bathrobe
Slippers
Hairdryer
Range of toiletries
Dedicated Butler Service
Maharajas' Express Deluxe Cabins
Deluxe Cabin
There are 5 carriages in the category of Deluxe Cabin. A total of 20 cabins of Maharajas' Express offer accommodation to a maximum of 40 passengers during each journey.  To accommodate the guests, there are 15 Twin cabins (capacity 2, beds 1) and 5 double cabins (capacity 2, beds 2).
Maharajas' Express Junior Suites
Junior Suite
There are a total of 18 cabins in the category of Junior Suites. Offering a maximum passenger capacity of 36, these spacious suites are tastefully appointed to offer plush living. There are 12 Twin Cabins and 6 Double cabins on the train.
Maharajas' Express Suites
Suite accommodation
4 elegantly decorated and plush suites offer sumptuous accommodation to the guest in their tastefully furnished interiors with modern amenities. All suites have a double bed with a maximum capacity of 8 passengers.
Some of the plush amenities in suites of Maharajas' Express include:
Separate Living room and bedroom
Upholstered arm-chairs with side table
Writing Table
Mini-Bar
Luggage Hold underneath the bed
Complimentary tea, coffee, mineral water, and light snacks are available at all times
Maharajas' Express Presidential Suite
The spacious living area of the Maharajas' Express Presidential Suite
First of its kind in the world, the lavish Presidential Suite of the Maharajas' Express is built on an entire rail carriage. A separate sitting cum dining room and a spacious bedroom add to the finer aspects of luxury rail traveling. The washroom of the presidential suite on board Maharajas' Express is equipped with bathtubs and a shower to adding to the panache and pampering. The suite can accommodate up to 4 guests.
Besides all the ensuite facilities, the guests residing in Presidential Suites are provided with private luxury cars and guides for local sightseeing and other transportation.
Maharajas' Express Dining & Bar
Dining on board Maharajas' Express is a gourmet delight. There are two dining cars in the coach, each with a seating capacity of 42 guests at a time. Whereas wines and beers are a la carte, the food offered is mostly table d'hôte (included in the fare of the journey).
Rang Mahal
Rang Mahal Dining Car
Beneath a hand-painted ceiling – a gold floral motif on vermillion – the dining car is beyond opulent. The plates are fine Limoges, edged with gold, the glasses hand-cut crystal, and the cutlery monogrammed with the letter M.
Mayur Mahal (Peacock Restaurant)
Mayur Mahal or the Peacock Dining Car
Mayur Mahal is the more opulent of the train's two 42-seater restaurants, with its peacock-feather pattern on both high-backed chairs and window blinds and its ceiling of mirrored mosaic tiles.
Safari Bar
Safari Bar
One of the best places to unwind and socialize is in the polished interiors of the Safari bar. The sophistication of an aperitif or nightcap in the elegant Safari Bar with books on polo strewn around is simply unparalleled.
Arrival and Departure Locations
Maharajas' Express journey begins either from Mumbai or Delhi. Depending upon your location and nationality, an array of options are available to reach Mumbai and Delhi.
Both of these cities are well connected through air, road, and rail, and direct flights from major destinations in the world are available. Visit the website Maharajas'-Express-India.Com website for more details.
Maharajas' Express Journeys
Destinations Covered: Delhi – Agra – Ranthambore – Jaipur – Delhi
Duration: 3 Nights / 4 Days
Starting From: US $3850 per person per journey
Destinations Covered: Mumbai – Ajanta – Udaipur – Jodhpur – Bikaner – Jaipur – Ranthambore – Agra – Delhi
Duration: 6 Nights / 7 Days
Starting From: US $6340 per person per journey
Destinations Covered: Delhi – Agra – Ranthambore – Jaipur – Bikaner – Jodhpur – Udaipur – Balasinor – Mumbai
Duration: 6 Nights / 7 Days
Starting From: US $5980 per person per journey
Destinations Covered: Delhi – Jaipur – Ranthambore – Fatehpur Sikri – Agra – Gwalior – Orchha – Khajuraho – Varanasi – Lucknow – Delhi
Duration: 6 Nights / 7 Days
Starting From: US $5980 per person per journey
Gwalior Fort: One of the most resplendent fortresses in India
Balasinor
India's very own version of Jurrasic Park, Balasinor, is home to a number of monuments, temples, and, more prominently, the fossil park. Located in the Kheda District of Gujarat, Balasinor is renowned for its fossilized excavation site, the only one in India.
Ranthambore National Park, Rajasthan
Embark on the trail of a tiger in Ranthambore National Park, famous for spotting the elusive cat. Named after the eponymous fortress inside the park, this sanctuary used to be the hunting grounds of the erstwhile maharajas of Jaipur. Its royal association is evident in pictorial ruins sprinkled across the park. The park is home to several animal and bird species, including tigers, leopards, hyenas, and antelopes.
Amber Fort, Jaipur
One of the most popular attractions of Jaipur, Amber Fort, is known for its massive ramparts, chains, and series of walls and imposing gates. The fort houses several palaces, halls of audiences, and a temple dedicated to the goddess Kali. The palace was the official residence of the Maharaja of Jaipur before it was moved to City Palace in Jaipur.
Mehrangarh Fort, Jodhpur
Perched atop a hillock overlooking the city, Mehrangarh Fort is one of the largest fortresses in the world. Housing various palaces, ruins, living structures, and a well-stocked museum, Mehrangarh is one of the most popular attractions in Jodhpur. The fort is also famous for its 7 intricately carved gates built by various maharajas to commemorate their victories over their enemies.
Fatehpur Sikri
The famous ghost town near Agra, Fatehpur Sikri, is a recognized UNESCO World Heritage Site. Built by the Mughal Emperor Akbar, this sprawling city was soon abandoned due to scarcity of water. The city was built to honor the saint Sheikh Salim Chisti who had blessed Akbar and foretold the birth of his son. It was the first planned city of the Mughals and the first one designed in Mughal architecture, an amalgamation of Indian and Persian, and Islamic architecture.
City Palace, Jaipur
The abode of the maharaja of Jaipur, City Palace, is a breathtaking complex of palaces and other exquisitely carved buildings. One of the palaces has been converted into a museum and displays various artifacts and clothing adorned by various princes.  The Palace is a living residence of the royal family of Jaipur.
Junagarh Fort, Bikaner
One of the unassailable fortresses in India, Junagarh, was captured by attackers only once in its history, and that too for a single day. This sprawling fortress is studded with palaces, temples, and pavilions and depicts a composite culture noticeable in the amalgamation of various architectural styles.
Bathing Ghats of Varanasi
One of the oldest continuously inhabited cities in the world, Varanasi is the epicenter and the most sacred place regarding Hinduism. Located on the banks of the Ganges – a legendary river venerated in Hindu mythologies – Varanasi is renowned for its bathing Ghats and the image of evening aarti is perhaps the city's most iconic symbol.
Group of Monuments at Khajuraho, Madhya Pradesh
A UNESCO World Heritage Site, the group of monuments at Khajuraho are known worldwide chiefly for their carvings and sculpture depicting erotic postures – may even associate them with Kamasutra. The temples built during the reign of the Chandela dynasty and dedicated to Hindu deities are fine specimens of Hindu architecture and are known for their significant cultural values. The erotic sculpture and carvings are limited to the exteriors of the monuments. Some temples are very well preserved and show exquisite carving and artistry.
Residency and Bada Imambara, Lucknow
Lucknow is known for its 'nawabi' cuisines, culture, and hospitality. Ruins at Residency are an homage to the colonial legacy of the place and a reminder of the violent history during the first uprising in India. The site is preserved, and a museum was established at the site, considering the importance of the First War of Indian independence.
Bada Darwaza is an impressive imambara complex – a shrine built by Shia Muslims for the purpose of Azadari. One of the most sprawling structures in Lucknow, it was built by Asad-ud-Daulah, the Nawab of Lucknow, in 1784.
Activities included on Maharajas' Express Journey
Rajah Club/Treasure Chest
A lounge with comfy club armchairs is the perfect place to know your fellow travelers. The lounge also functions as an observation car. A library and private bar add to the nonchalance of the lounge. A high-end boutique named Treasure Chest is also housed in the cabin with an exquisite collection of souvenirs and memorabilia.
Shopping
At Old Clock Tower Market, Jodhpur, bazaars of Jaipur and Agra.
Wildlife Safari
An exciting safari at either Ranthambore National Park or Bandhavgarh National Park is a part of your itinerary, depending on your selected journey. Whereas Bandhavgarh boasts the highest tiger density in the world, the flora and landscape of Ranthambore make it a popular reserve ideal for tiger spotting.
Camel Procession
Get aboard canopied camel carts and head for a sunset in the sand dunes over champagne amidst fire-eaters, folk dancers, and musicians in Bikaner
Elephant Polo
Hop on an elephant's back and enjoy a game of Polo in Jaipur, followed by a royal performance by a band of bagpipers and drummers.
The sleepy hamlet of Orchha
Explore the quaint domain of the Bundela Kings draped along the Betwa river. Explore various classical monuments at Orchha, which are excellent examples of the Rajput Bundela architecture.
Son-et-lumiere at Khajuraho
Enjoy the light show and get ready to get a lesson of history as you embark on a journey through time to the days of Chandela splendor.
Meet the Bishnoi
City Palace, Udaipur
A royal lunch at the Durbar Hall in the resplendent City Palace will give you a taste of princely dining and elegance.
Sand dunes in Bikaner
Regale in the splendor of the setting sun in the sand dunes of the Thar Desert near Bikaner and raise a toast to the glory of the sun and mystique of the desert as sundowner cocktails and barbecue is served for your platter even as folk dancer and musician add to the allure of a fascinating evening.
Haveli of Muzaffar Ali
Mouth-tingling Nawabi cuisines at the residence of Maharaja of Kotwara during an 'Indian Evening' will recreate the romance of a bygone era of Nawabi splendor and pageantry in Lucknow.
Sleep
During your journeys, you must sleep on board the train itself. A total of 14 well-appointed cabins offer a plush stay to the guests. A personal valet for each cabin is also appointed during your journeys to take care of all your needs.
Stay Safe
A journey on board Maharajas' Express is one of the safest ways to get around India. The journeys on board the train could be considered luxury group tours in India. All journeys include complimentary travel guides, and off-train excursions are always guided. A professional English-speaking guide always accompanies you during off-train tours.
Chartered buses and private luxury cars are used for long-distance transportation and are arranged by the service providers. Even during shopping excursions.
Maharajas' Express is comprehensively insured for natural calamities, and all guests are covered under an umbrella insurance cover.