Create your top 10 incredible travel moments at the best places to visit in India in October. Wondering why we are so persuasive about India travel in October? Scroll on!
You would have a tough time if you were challenged to name the best time to visit India, and you skip October. This is the beginning of the winter season when Higher Himalayas offer clear mountain views and invite backpackers.
The north of India summons outdoor history-loving tourists to explore the town on foot without fearing the heat and unwanted rain. The lush greenery in South India welcomes couples for misty mornings. The golden sands of the Thar Desert demand a visit for overnight camping amidst the golden sands. And the palm trees flanked around the coastal towns beacons sundowners.
Do you still think the best places to visit in India in October could be skipped?
What's Special in India in October?
October is one of the best times to visit India if you want to explore India and feel it from an Indian perspective. You will literally be unlocking a roller coaster of experiences. October is the month when famous Indian festivals from North to South are in full fervor. Durga Puja in Kolkata, Marwar Festival, in Rajasthan are celebrated annually with full zeal.
Also, many tourists want to experience snow in October in India. If you are amongst one of them, head to the Himalayan states like Uttarakhand, Himachal Pradesh, or Sikkim. There are many high altitude attractions in these Himalayan states where snowfall in October is a brainer. Did we mention that the festival of light – Diwali is often celebrated in October or else in mid November?
10 Best Places to Visit  in October in India
Dip your toes into travel again in October as this month in India marks the end of the rain season, and winter knocks from east to west and north to south. Check out the 10 best places to visit in India in October. Let's dig in!
Best Places to Visit in India in October
Nearby Airport from the City Centre
Nearby Railway Station from the City Centre
 
Average Minimum and Maximum Temperature
Udaipur
Maharana Pratap Airport, 24 kilometers/1 hours (approx.)
Udaipur Railway Station, 5 kilometers/ 10 minutes (approx.)
24°C – 31°C (approx.)
Wayanad
Calicut International Airport, 100 kilometers/3 hours (approx.)
Kozhikode Main Railway Station, 88 kilometers/2.5 hours (approx.)
19°C – 25°C (approx.)
Sikkim
Bagdogra Airport, 153 kilometers/6 hours (approx.)
New Jalpaiguri Railway Station, 149 kilometers/6 hours (approx.)
10°C – 23°C (approx.)
Kolkata
Netaji Subhash Chandra Bose International Airport, 15 kilometers/45 minutes (approx.)
Kolkata Railway Station, 6 kilometers/20 minutes (approx.)
24°C – 32°C (approx.)
Agra
Indira Gandhi International Airport, 219 kilometers/3 hour 30 minutes
Agra Railway Station 3.6 kilometers/12 minutes (approx.)
19.8°C – 32.5°C (approx.)
Pachmarhi
Rajbhog Airport, 205 kilometers/5 hours (approx.)
Pipariya Railway Station, 52 kilometers/1 hour 20 minutes (approx.)
18.6°C – 28.6°C (approx.)
Rishikesh
Jolly Grant Airport, 32 kilometers/50 minutes (approx.)
Rishikesh Railway Station, 4 kilometers/10 minutes (approx.)
14°C – 25°C (approx.)
Bir Billing
Gaggal Airport in Kangra, 68 kilometers/2 hour 10 minutes (approx.)
Pathankot Railway Station, 143 kilometers/4 hours (approx.)
10.6°C – 23°C (approx.)
Jodhpur
Jodhpur Airport, 5 kilometers/10 minutes (approx.)
Jodhpur Railway Station, 9 kilometers/20 minutes (approx.)
21.2°C – 34.9°C (approx.)
Manali
Bhuntar Airport, 52 kilometers/1 hour (approx.)
Pathankot Railway Station, 294 kilometers/9 hours (approx.)
10°C – 20°C (approx.)
Best Holiday Destinations to Visit in India in India
Udaipur, Rajasthan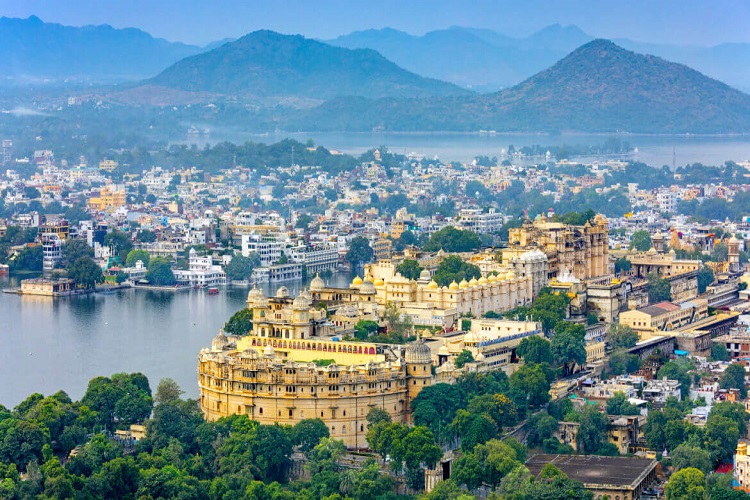 Why A Trip to Udaipur in October is Rewarding: You can literally stay at the candid Rajput style palaces that stand all around the lakes in discounted offers till October only as the afterward months constitute the peak season.
Any town of Rajasthan is an absolute winner to inaugurate your winter travel. And Udaipur is no exception. A trip to Udaipur in October for couples would be a rewarding experience. The sky is clear, and you can explore the nooks and corners of Udaipur with your sweetheart on a romantic stroll without humidity in the air and sun on the head above.
Whether you want to witness stunning sunsets at Monsoon Palace, boating in Lake Pichola, all activities in Udaipur will be at their best.
In October, group travelers on a Udaipur trip must go on outdoor adventures like paragliding, cycling, and trekking in the Aravali Hills.
Family travelers would be delighted to attend the Mewar Light and Sound Show at Manek Chowk.
If you want to explore the best October weekend getaways from Delhi, consider Udaipur for the holidays.
See more:
Explore Packages to Plan your Trip to Rajasthan

Wayanad, Karnataka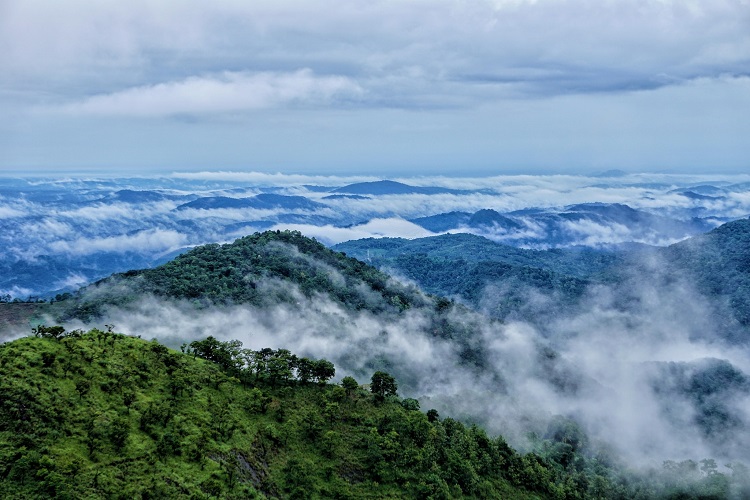 Why A Trip to Wayanad in October is Rewarding: The altitude of Wayanad is 700 m to 2,100 m (approx.) the sea level. During October, mist-laden mountains look beautiful when you see them from your accommodation. All you have to do is book your accommodation in advance because October in Wayanad is the initial peak month.
Wayanad is one of 12 districts of Kerala, and so it also personifies why God's Own Country is ranked as one of the top places to visit in October in India for Bangaloreans. In October, the maximum temperature in Wayanad hovers around 30°C (approx.), and it is guaranteed that you won't have any sweating moments.
Whether you are a hiking lover or waterfall lover or have a penchant for lush greenery, a trip to Wayanad in October will be a major blessing for you!
Head to River Vythiri for a bamboo rafting experience. Catch a pair of elephants and elusive wild creatures like Leopard and Tiger at Wayanad Wildlife Sanctuary on a jeep safari excursion.
You will find accommodation in Wayanad crunched in between tea, coffee, cardamom, pepper, cinnamon plantations that look overtly beautiful after the rain showers of September.
In October, bikers from Bangalore or Mysore often plan a road trip to Wayanad to traverse through the scenic hairpin bends.
Family tourists, shutterbugs, or leisure travelers should not hesitate to weave good moments in Wayanad.
See more:
Explore Packages to Plan your Trip to Karnataka
Sikkim, North East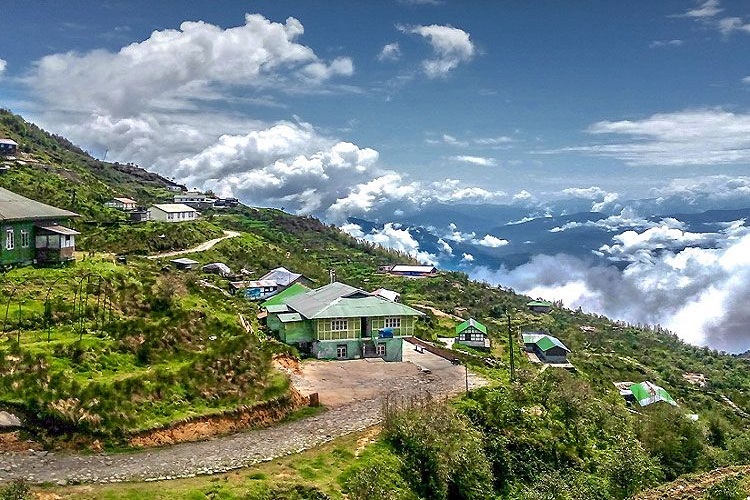 Why A Trip to Sikkim in October is Rewarding: To see the Nepali version of Diwali called 'Tihar,' which is a 5 days affair of grand celebration amongst the local community.
Sikkim is the best place to visit in India in October, where snowfall is guaranteed in high-altitude regions. This North-East state is crunched between Nepal, China, and Tibet. Due to the staggering altitude of 4,700 ft (approx.), the average high in October does not go beyond 21°C (approx.).
Moreover, a lovely congregation of colors in the valleys of  Sikkim will spin your head with amazement. In this Buddhist kingdom, monastery hopping is a famous activity. The key highlights include adventure activities like paragliding, rafting in the Teesta River, mountain biking on Nathu La Pass, or trekking the Kanchenjunga Base Camp Trek.
If you have a dream of visiting Switzerland on a local budget, replace that thought with Sikkim. Obtain a permit to visit glistering Changu Lake and Gurudongmar Lake. Party in East Sikkim regions like Gangtok (the capital town). Proceed towards West Sikkim and explore the attractions in Peeling.
Most of the hotels or resorts in Sikkim are tucked in the Himalayan vicinity and showcase the Himalayas' best. Shopping for local souvenirs and fixing your hunger with Tibetan food is another highlight of Sikkim's travel in October.
Kolkata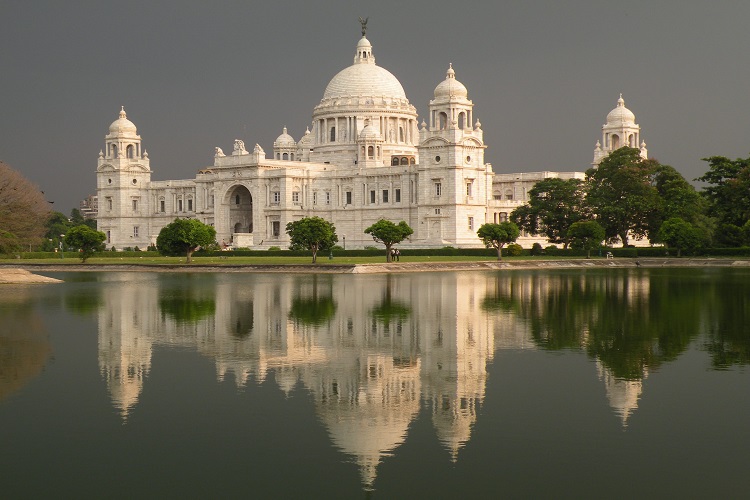 Why a Trip to Kolkata in October is Rewarding: To attend the Durga Puja, Laxmi Puja, and Kali Puja. Plus, the pandals set up during the festive gathering in Kolkata are a soulful treat for gastronomic souls.
Kolkata is the cultural capital of India, and October is amongst its best times to visit. It is the first month of the post-monsoon season and is considered tropical. The average high temperature of Kolkata in October hovers around 31°C (approx.). A short spell of rain will add reasons to explore the city without the scorching heat.
Spot Royal Bengal Tigers in their natural habitat at Sundarbans. Marvel the Indo-Saracenic Revival Architectural Style of Victoria Memorial on a half-day trip. Youngsters will have a gala time in Nicco Park (amusement park).
Shopping your heart out at Park Street is one of the best things to do in Kolkata for couples during the festive season of Durga Puja. Experience the city to its fullest while watching the sun go down on a boating excursion at Princep Ghat on Hoogly River.
Remember that Kolkata is often called the artistry capital of India, and thus, exploring its galleries, museums are the travel highlights for the October trip in Kolkata.
Agra, Uttar Pradesh
Why a Trip to Agra in October is Rewarding: Agra is where the upcoming Dussehra Festival will be celebrated with full fervor on 15th October 2021. Here Ram Leela is performed on a grand level.
Agra is situated on the banks of the Yamuna River and is wrapped in rich Mughal history. There are a total of 3 UNESCO World Heritage Sites in Agra, out of which the most iconic piece of the art is the ethereal Taj Mahal. Go on an early morning sunrise tour to the Taj Mahal to witness the pale pink color sunrays brushing the facet of the Taj Mahal. It is an experience to behold if you are looking for the best things to do in Agra for couples.
Although the maximum temperature still hovers around 31°C (approx.) in October, humidity is very less. You can easily explore the shopping places in Agra and become a shopping spree from post-breakfast till before dinner hours.
When in Agra, explore the other historical sites like Agra Fort adjacent to the Taj Mahal and witness sound and light show in the evening. Get enamored with the beauty of the Mehtabh Bagh, where unique flowers bloom. Go a little outside from the main city, around 36 kilometers (approx.), to explore Fatehpur Sikri.
Couples, family travelers, and backpackers will cherish floating the serene Yamuna River either early morning or evening.
And a trip to Agra in October makes more sense because the birthplace of Lord Rama, Ayodhya (the Ram Janam Bhoomi), is 460 kilometers (approx.) from Agra will showcase to you the type of Ramleela you have never seen.
See more:
Pachmarhi, Madhya Pradesh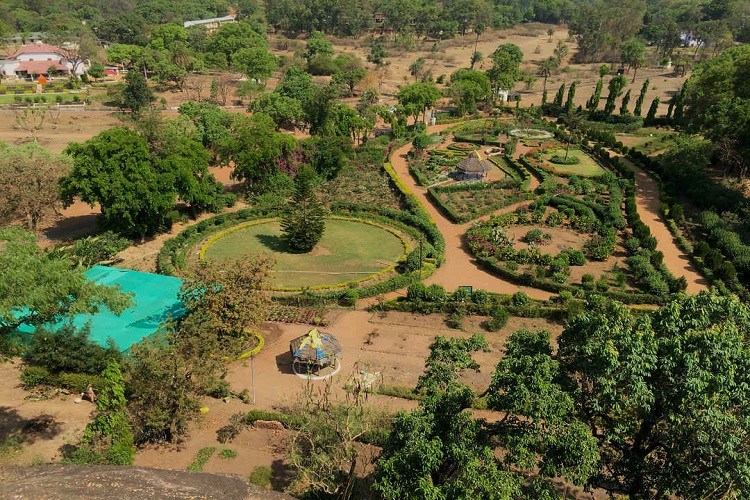 Why a Trip to Pachmarhi in October is Rewarding: The mysterious caves dating back from the Mahabharata era and the siverly waterfalls look extra charismatic after a post-monsoon month of October.
Pachmarhi is a hill station in the heart of India, Madhya Pradesh, and is positioned at an elevation of 1,067 m (3,501 ft). You can ditch the mainstream hill stations in India over Pachmarhi because the lush greenery is unspoiled by mass tourism.
October marks the best time to visit Pachmarhi, with an average high up to 23°C (approx.). Blanketed in the leafy green palette, Pachmarhi has several vantage points. Head to Dhoopgarh for photogenic sunsets and sunrise.
When most travelers from North India gravitate towards the crowded places to visit in October in India, you can be a smart traveler and choose Pachmarhi over any other place. If you are passionate about capturing the rhythmic sound of the cascading falls in your video camera, head to Bee Falls, Vanashree Vihar, Duchess Fall, and Apsara Vihar.
See more:
Explore Packages to Plan your Trip to Madhya Pradesh
Rishikesh, Uttarakhand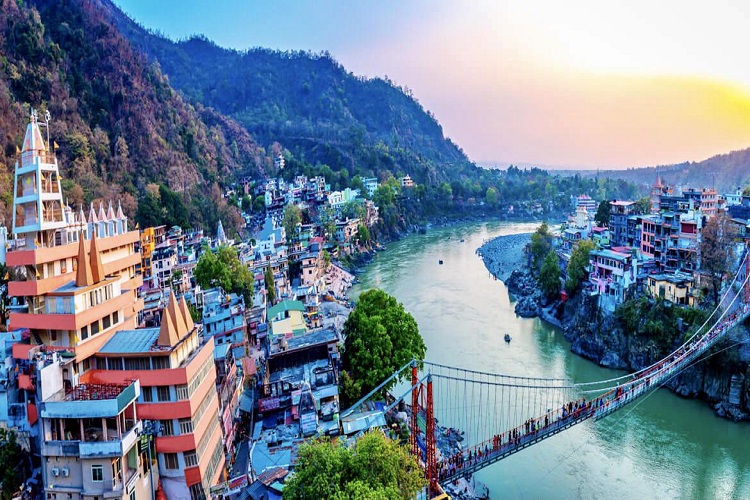 Why a Trip to Rishikesh in October is Rewarding: Adventure lovers will unlock the right dose of adrenaline on a river rafting activity that gets opened by the Uttarakhand Government in October till June.
Rishikesh is located in the foothills of the Himalayas and is the gateway to the Garhwal Himalayas. The nearest airport is Jolly Grant Airport, and Rishikesh has its own railway station. If you are a keen yoga lover or have an eye to explore the spiritual centers, the month of October is a great time to indulge in mindful yoga seasons on the banks of the holy Ganges that flows through Rishikesh.
Rishikesh is one of the best places to travel in October from Delhi, Chandigarh, and Agra for a 1 day trip without taking office or college leaves. From river rafting to camping on the banks of the Ganges, there are many things to do in Rishikesh in October.
Take the leap of faith and try bungee jumping in Rishikesh with your pals. Couples can de-stress themselves with rejuvenating Ayurvedic massage. Mindful travelers can embrace the peace within my visiting yoga and meditation Ashrams. Family travelers can indulge in perfect retail therapy at the local markets.
Weather and temperature-wise, Rishikesh in October will definitely provide you respite from heat since it is located in the lower foothills of the Himalayas. The average high temperature of Rishikesh in October is 23°C (approx.).
See more:
Bir Billing, Himachal Pradesh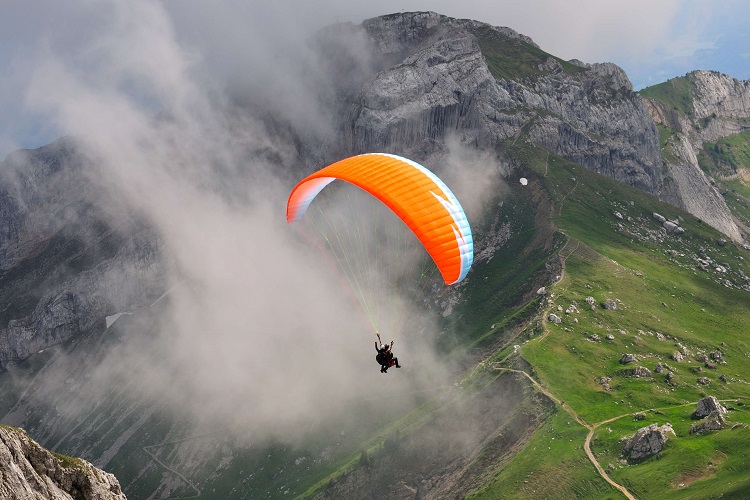 Why a Trip to Bir Billing in October is Rewarding: Bir Billing is the lesser crowded alternative of the popular yet crowded hill stations in North India. Bir Billing is the paragliding capital of India and hosts paragliding events in October.
Bir Billing is a village in the Kangra district perched at 5,000 ft (approx.) sea level. Paragliding in Bir Billing is something you should not miss in October, apart from trekking and mountain biking. Bir is the take-off site while Billing is the landing spot, and therefore, both the places are spelled together and used in conjunction as Bir Billing.
You will be paragliding in October in Bir Billing overlooking the Dhauladhar Ranges and soar high in the sky to witness the snow-blanketed vistas all around you! The feeling is enough to tingle the wanderlust inside you!
Away from the hustle and bustle of the city, Bir Billing is one of the best destinations to visit in October in India. There are many glamping sites in Bir Billing where you can stargaze at night. If you are lucky, you might witness the snowfall in Bir Billing in October.
Explore the village on a foot trail and meet the sizable community of Tibetan Refugees. Hop on the soulful Tibetan monasteries like Sherbaling Monastery, Chokling Monastery Dzongsar Khyentse to attain peace to invoke pure positive energy.
Backpackers and solo travelers will get enticed on a 4 km Bongoru Waterfall Trek that starts from the Tibetan Colony. The dense forest trails in and around Bir are inviting for mountain biking enthusiasts.
See more:
Jodhpur

Why a Trip to Jodhpur in October is Rewarding: To witness the celebration of Rajputana Valor in the Marwar Festival that will start from Saturday 30, October 2021 – Sunday, 31st October 2021.
Jodhpur in Rajasthan is one of the Instagrammable places to visit in India in October. There are blue houses scattered in the narrow lanes, which resembles Morocco's Blue City – Chefchaouen. Jodhpur in October opens a wide array of opportunities to experience the town like a local because of the series of festivals it has under its belts.
In 2021 October, Jodhpur will be organizing the Navratri Festival from 9th October to 18th October. At the Marwar Festival on 30 October till 31st October, watch the local musicians performing at the Mehrangarh Fort from early morning till dusk.
Apart from the cultural experiences in Jodhpur in October, the city is famous for its warm hospitality, like every other Rajasthan town. If you have extra cash to splash, book an overnight stay in the Umaid Bhawan Palace, where Priyanka Chopra and Nick Jonas have exchanged their wedding wows.
Even with the average high of 32°C (approx.), the Blue City of India feels like a perfect destination to welcome the onset of the winters, which commence from the October month.
See more:
Manali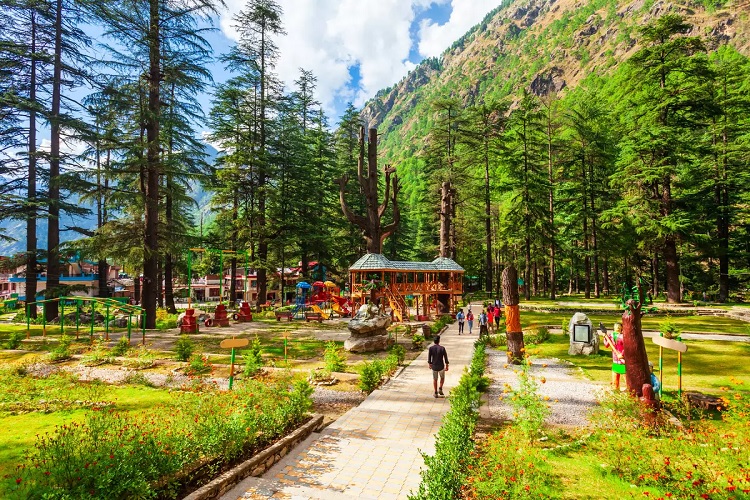 Why a Trip to Shimla Manali in October is Rewarding: Because Manali falls within the snow range, and Rohtang Pass has an increased chance of snowfall in October.
Manali is one of the best places to visit in North India in October to enjoy the stunning views of the Himalayas, pine forests, apple orchards under one roof. This high-altitude mountain resort is set on the Beas River and invites couples to romance in the chilled weather.
For a solemn joy in October with your near or dear ones, go on temple hopping tours like Vashist Temple, Hadimba Devi Temple. Bath in the therapeutic hot springs of Mankiaran Sahib and Vashisht Hot Springs. Try winter adventure sports in Solang Valley Marvel the thick sheet of ice on Rohtang Pass followed by sipping a hot piping tea with maggie.
With an average of 20°C (approx.) in a day and 8°C (approx.) in the night, Manali is indeed one of the coldest honeymoon destinations to visit in India in October near Delhi.
Explore Packages to Plan your Trip to Himachal Pradesh
Wrapping Up
It is difficult to sum up the best places to visit in India in October because there are hundreds of such places which are profoundly pristine.
We have scouted just a few of them trending on the web and have less tourist crowds than the mainstream tourist places in October in India.
The state's surroundings or within the Western Ghats Range are very inviting in October because of the slightly cool post-monsoon temperature in October.
It is no brainer that the Himalayan towns like Himachal Pradesh, Uttarakhand, and North East have few places under their belts where snowfall is guaranteed but at high altitudes.
Doesn't India really offer incredible Indian moments in October?
Related Post:
Best Places to Visit in India in December
Best Places to Visit in India in September
Best Places to Visit in India in August
Best Places to visit in India in July
Best Places to Visit in India in May
Best Places to Visit in India in April
Best Places to Visit in India in March
Best Places to Visit in India in Winter