Do you know that the beauty of the top places to visit in India in August is exemplified by the extreme monsoon showers of August?
Yes! It is not a brainer why it is so! August is the peak monsoon season in India, and the luscious greenery from North to South, from East to West, is the highlight.
You will never miss the fragrance of the wet mud in August as the monsoon is at its full shower, no matter which place you select.
From the mountains up north to the manicured greenery and waterfalls down south, you will be enraptured by the dreamy, misty lush green landscape.
A handful of a few formal colonial hill stations in North India are the entry gate to breathe in the cooler Himalayan breezes without the risk of landslides.
Is India Safe to Visit in August?
Yes! Absolutely! India is completely safe to visit in August for family, couples, and leisure tourists. However, your idea to enjoy the vacation will decide the sightseeing and activities possibilities.
For someone who wants to unwind leisurely amidst the sprawling greenery, south Indian hill stations like Karnataka, Tamil Nadu and attractions under their belts are awesome destinations to visit.
Whereas adrenaline activities lovers who are more inclined towards adventure sports like rafting, high altitude trekking are prone to get disappointed in Himachal Pradesh high altitude regions.
On a good note, Rajasthan is a big hit in August if you want to experience the royal holiday vibes. This is because it has the Thar Desert, which receives minimal rainfall, enough to cool down the places within it like Jodhpur, Jaisalmer, and Bikaner.
What is The Weather Like in India in August?
If you particularly talk about the weather of India in August in the Southwestern Coast like Goa and Kerala, humidity is in the air with extreme rain showers. The average high in Southwestern Coastal towns hovers around 29°C (approx.). So rest assured that you will feel good in comparison to the extreme summers.
While the North of India, which has the Himalayas encircling it, remains dry and sunny. The mountains of North India are prone to landslides at higher altitude regions.
While the Thar Desert in the Rajasthan in North India gets drenched with average rain with no risk of anything!
Even though the amount of rain could not be compared between North and South India, the north comes up with balmy skies after rain.
Top 10 Places to Visit in India in August
Reel with the joy of the peak monsoon month at these top 10 places to visits in India in August:
| | | | |
| --- | --- | --- | --- |
| Places to Visit in August | What's Special About Them | Accessible Monsoon Activities | Nearby Towns and Cities |
| Mount Abu, Rajasthan | The pitter patter season in Rajasthan's only hill stations appears different | Wildlife sanctuary visit, trekking, boating | Delhi (760 km), Ahmedabad (227 km), Udaipur (164 km) |
| Chikmagalur | Enjoy the countless cups of coffee in the coffee land of Karnataka | Venturing through the coffee plantations followed with stay | Bangalore (244 km), Chennai (596 km), Mysore (171 km), |
| Alleppey | Cruise through the lagoons surrounded by lush green tall coconut trees | Brilliant backwater ride, birdwatching | Kochi (53 km), Wayanad (305 km), Bangalore (594 km) |
| Goa | You get every enjoyment at affordable rates because Goa is least touristy in August | Dinner on the beach shack overlooking the Arabian Sea, cuisine on Mandovi River | Mumbai (593 km), Bangalore (560 km), Gokarna (134 km) |
| Lonavala, Maharashtra | Unfold many folds of the greenery in Khandala as well which is only 5 km | Cave hopping, local shopping, camping | Mumbai (84 km), Pune (64 km) |
| Cherrapunjee, Meghalaya | Second rainiest place on earth is monsoon's extravaganza | Waterfall bathing, photography, | Guwahati (147 km), Shillong (54 km), Assam (278 km) |
| Kodaikanal | To experience the enchantment of the hilly monsoon | Stroll through the tea gardens, cycling, camping | Ooty (255 km), Chennai (525 km), Trichy (196 km) |
| Udaipur | There is sunset point in Udaipur where royal with their ladies used to watch the monsoon showers | Boating, cycling, and ropeway | Delhi (662 km), Jodhpur (244 km), Ahmedabad (270 km) |
| Delhi | Beat the heat and explore the capital like a local | Rooftop meal, boating, photography | Agra (233 km), Chandigarh (246 km), Kota (516 km) |
| Nainital | North India's one of the most developed hill station | Boating, cycling, temple ropeway | Delhi (300 km),Mussoorie (313 km),  Rishikesh (249 km) |
1. Mount Abu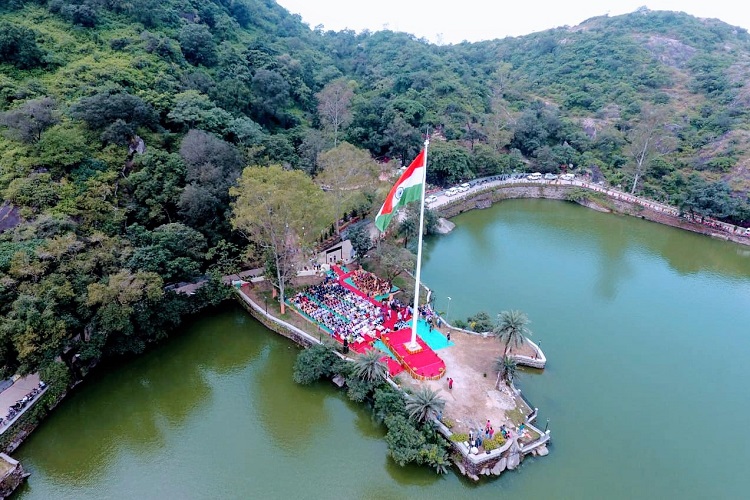 Whosoever around you thinks Rajasthan has camels only, take them to Mount Abu. It is surrounded by the Aravali Range at an elevation of 1,720 m (approx.) sea level.
Mount Abu is the only hill station of Rajasthan, and there is no risk of landslides and heavy rain here. The hills of Mount Abu turn picturesque when drenched in rain showers.
If you want to explore this hill resort town in Rajasthan, we suggest booking your accommodation in advance.
Because if you believe, Rajasthan is the only state of India where there is no off-season, and so is Mount Abu.
From trekking to wildlife safari, and boating, to indulging in shopping therapy, the experiences in Mount Abu to cherish in August come in many folds.
Which one would you like to taste first?
2. Chikmagalur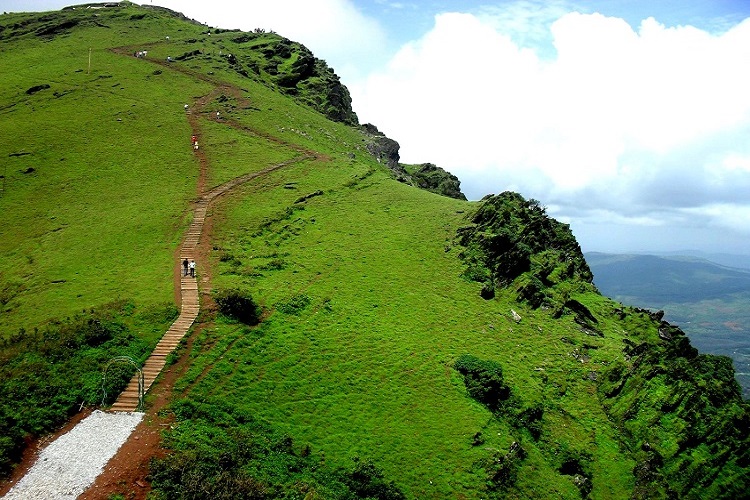 You need to be careful of the leeches only in the forested areas while exploring Chikmagalur in August. Else, the rain showers are relaxing in August in Chikmagalur and will surely give you respite from the heat.
Discover the coffee plantations in Chikmagalur to discover why it is called the "Coffee Land of Karnataka." Throughout the year, the temperature and climate in this hill station of Karnataka remain pleasant.
But it is the monsoon when the rain drizzles around waterfalls in Chikmagalur are a sight to behold. August is one of the peak rainfall months here, and the waterfalls cascading from the heights can enchant the mind of couples, backpackers, and leisure travelers.
Its elevation of 1,090 m (approx.) above sea level is the testimony that 24°C (approx.) is the maximum temperature without humidity. Imagine yourself surrounded by the lush green environs in the rain.
If nature turns violent, don't forget to carry a waterproof camera and extra plastic with a raincoat.
[ Explore Packages to Plan your Trip to Karnataka ]
3. Alleppey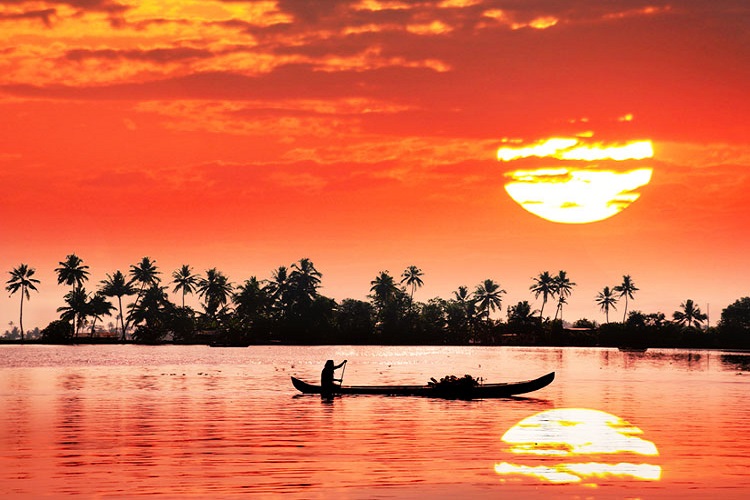 Outdo a Venetian experience by staying in a houseboat in Alleppey. This town of Kerala is one of the best places to visit in India in August for a honeymoon. 
Couples will get a good sensation in their lungs. The grid canals clubbed with winding streets give you the impression that you are in Venice, which is why Alleppey is called India's Venice of the East.
Greenery unfolds at its best, and rain washes away the heat in Alleppey. The average high is 28°C (approx.). With a multitude of traditional houseboats and canals to cruise, the backwaters of Alleppey are world-famous for its tranquility.
Witness the sunset setting behind the palm-fringed trees while you sail through Vembanad Lake and the backwaters of Alleppey.
Playing the indoor game in the houseboat is a unique thing. Alleppey houseboats are comfortable and spacious enough to come with an attached private bathroom, kitchen, and a room with a window to overlook the rustic village life while gliding through the canals.
The chef on the boat can cook Malayali dishes for you! Apart from the houseboats, the alluring beaches in Alleppey are another highlight. But you can't enjoy water sports because of the strong tides. Switch the beach life in Alleppey with a birdwatching adventure on the banks of the Vembanad Lake.
Rejuvenate your body with a couples spa treatment in Alleppey because the Ayurveda massages in Kerala are notch and are based on traditional Indian practices.
Also read:
Top Tourist Places to Visit in Kerala
Kerala Tours – What to Do and See in Kerala
Top 15 Luxury Beach Resorts in Kerala
Top Wildlife Sanctuaries in Kerala
5 Best Luxury Hotels in Kerala
5 Great Ideas for Honeymoon and Romance in Kerala
Monsoon Holidays in Kerala
[ Explore Packages to Plan your Trip to Kerala ]
4. Goa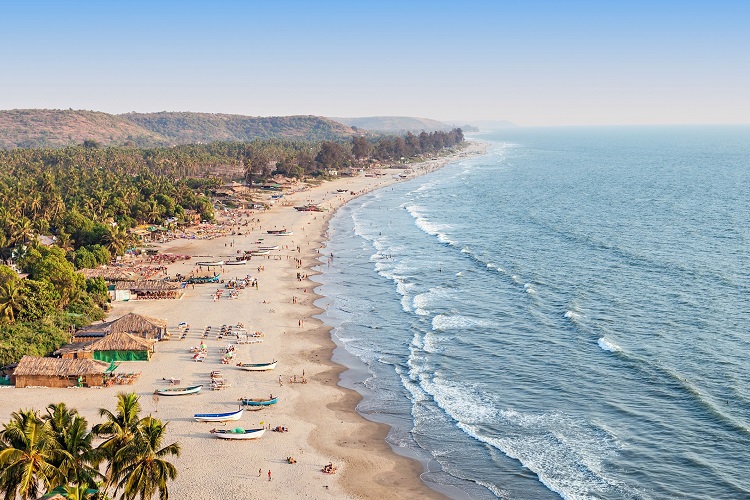 The land of sunbed, sea, and sand – Goa is one of the cheap places to visit in India in August. You should treat yourself to a monsoon trip to Goa from Mumbai or Pune with your friends.
Goa in August is a great deal to make if you want to explore the places where crowds don't throng much. Unfortunately, since Goa is a coastal town, most of the beaches don't entertain with watersports.
But that is not a problem because even the watersports in Goa in August are subject to the tidal conditions in the sea. So you can still practice beach life in Goa in August at the beach shacks and wait for the experts on the beach to decide if the tides are fine for easy watersports.
Enjoy solitary walks on the coasts and treat your eyes to the breathtaking sunset. If you are a couple, make South Goa your base camp because it is ahh-mazing for couples. While North Goa is a paradise for party lovers. Although both have beaches in common, tranquillity is a thin line between North and South Goa.
Goa in August is a good time for turtle spotting at Agonda, Galgibaga, and Mandrem Beach. Enjoy a day trip to the hills of South Goa, and wildlife sanctuaries get ambushed by wildflowers and greenery in its most vivid hues.
5. Lonavala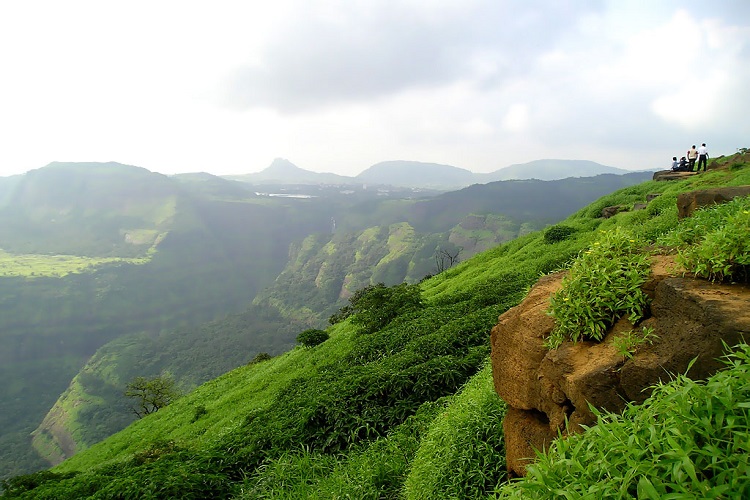 Mumbaikars and Punekars, what have you been up to if you haven't visited Lonavala in August? Cherish the bountiful greenery at an elevation of 624 m (approx.) above sea level and feel lush greenery kissed by the Western Ghats.
Lonavala is a good place to visit in India for a honeymoon in August to explore the pristine waterfalls, beautiful lakes, and lush green vantage points.
Adventure seekers will love trekking to the Rajmachi Fort. While leisure travelers can wake up with the views of the Sahyadri Range, lakes, and waterfalls at Lonavala resorts that are destinations in themselves.
In August, camping, trekking, horse riding, and boating under the  27°C (approx.) temperature is the best thing to do in Lonavala in the monsoon.
[ Explore Packages to Plan your Trip to Maharashtra ]
6. Cherrapunjee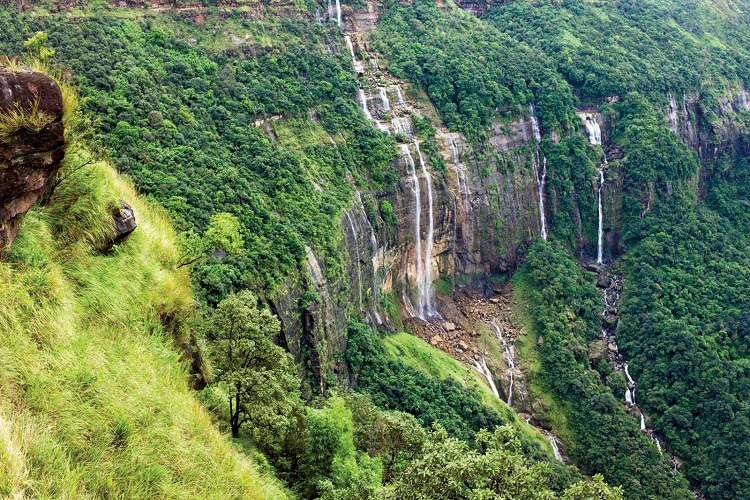 Get enamored to watch Cherrapunji glisten and reveal its true beauty under the fluffy clouds. This place in Meghalaya has earned the title of the wettest place on the earth, and what's a better time to explore Cherrapunji in August?
The 'Mausam of Cherrapunjee is awesome in August, and the deep gorges, roaring waterfalls, living bridges, and outrageously friendly people will welcome you with open hands.
Go on an easy waterfall trek to Krang Suri Waterfalls, explore caves in Meghalaya, and meet the locals to enjoy the warm hospitality.
7. Kodaikanal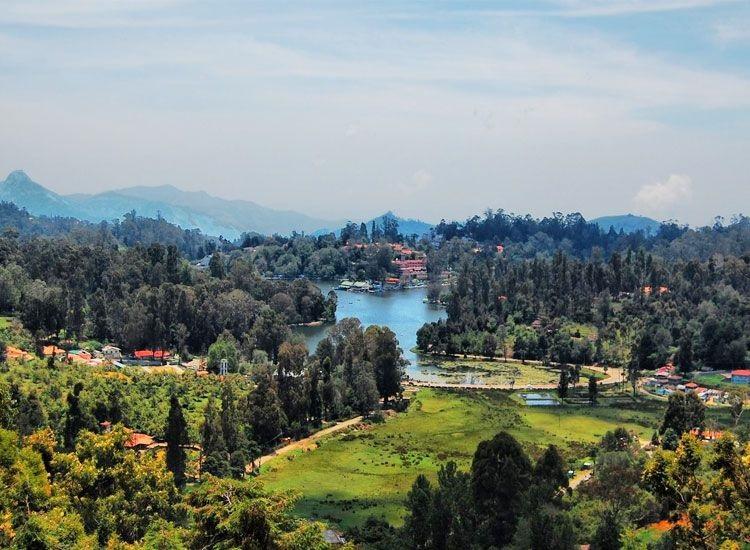 Bangaloreans, imagine the delightful scent of the rain-drenched mud and the mist-covered hills and verdant landscapes calling you! If this is what you are missing in the monsoon, plan a trip to Kodaikanal, one of the best places to visit near Bangalore in August and India.
Nestled at an elevation of 2,000 m (approx.) above sea level, Kodaikanal has mist-covered manicured cliffs that are perfect for trekking. Moreover, it has blue water lakes for boating and camping on its banks. Plus, the presence of roaring waterfalls and the Pine Forests to stroll adds beauty to the princess of the hill station, Kodaikanal.
Chennaikars also visit Kodaikanal and bask under the rainbow and fluffy clouds with a maximum high up to 25.4°C (approx.).
8. Udaipur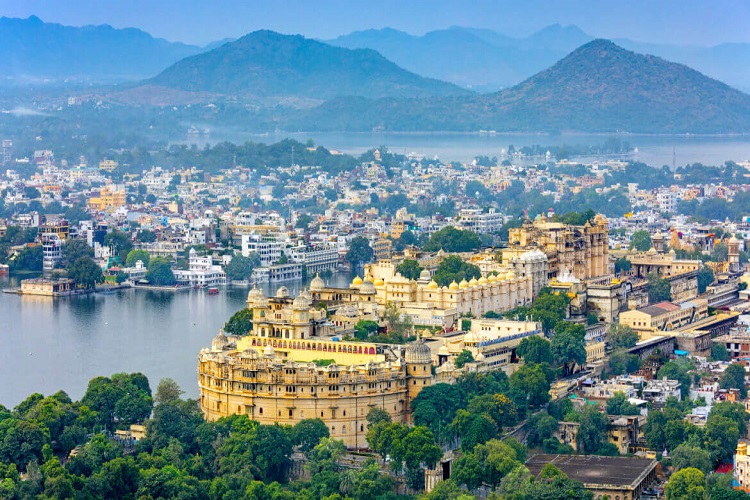 Udaipur in Rajasthan will help you win your Lady's heart in August for sure! Here you can romance like a royal king in Taj Lake Palace in the middle of the lake and watch the sunset at the Sajjangarh Palace or Monsoon Palace, where kings and queens used to romance during a downpour.
Udaipur is Rajasthan's romantic playground, but it is one of the best destinations to visit in India in August for a honeymoon.
Make your love chuckle with delight on a visit to the Saheliyon ki Bali to soak in lush greenery and stand by the fountains.
Take the evening boat ride in the glistening Pichola Lake to watch the sunset folding behind Aravali Hills.
End your evening by savoring the lake dinner at the Raj Bagh Restaurant to deepen your romance like never before!
If weather permits, a hot air balloon ride in Udaipur in August will surely help you express romance on soaring heights.
9. Delhi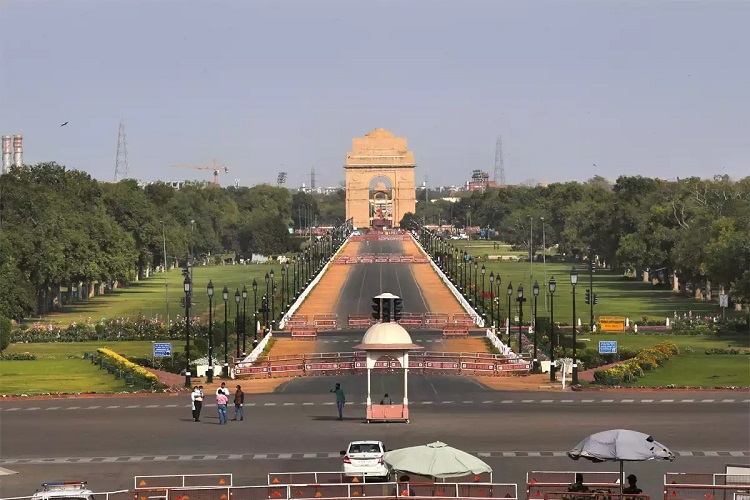 The rooftop restaurants in Delhi are not fully open, so they offer great views of pouring rain while having food. August is one of the best times to visit Delhi because every kind of adventure sport is accessible in the capital town, from boating and water zorbing in Purana Quila to exploring the history of the heritage sites like Red Fort Qutub Minar.
When in Delhi in August, explore Connaught Place in the evening or afternoon and savor crisply hot bhutta and kadak chai with your near or dear ones. Go on a short trip to Murthal with friends to relish the lip-smacking snacks.
Delhi in August experiences an average high of 32°C (approx.) with surprising rain showers anytime.
If you are looking to impress your date, take her to the monsoon-friendly cafes in Delhi, from South Delhi to West Delhi, and relish good food with good views.
Also read:
Top Places to Visit in Delhi
A Guide to Street Food in Delhi
Getting Around in Delhi by Metro Rail
Best Park for Couple to Romance in Delhi
Dilli Darshan by HOHO Bus
Best Places for Bargain Shopping in Delhi
Complete Delhi Travel Guide
10. Nainital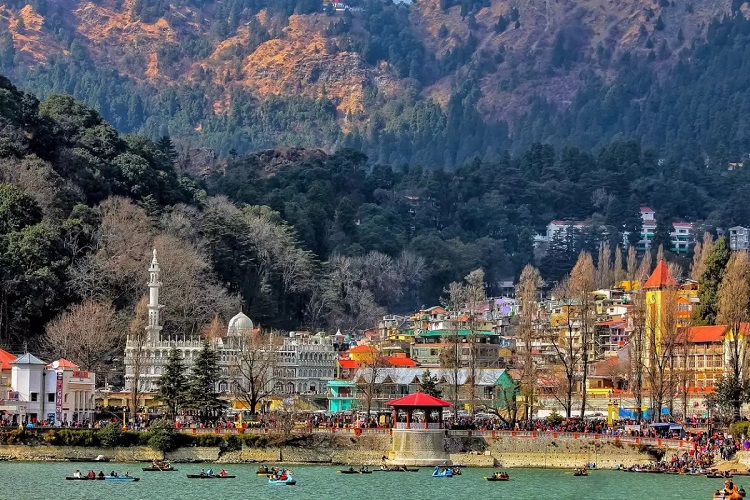 Sitting at an elevation of 2,084 m (approx.) sea level, Nainital is a hit Himalayan resort in the Kumaon region and is one of the nearest places to visit in India in August from Delhi. There hasn't been a single case of cloudburst in Nainital, and that is why Nainital is a great place to visit in August.
With the average high of  26°C (approx.), no activities in Nainital get affected during monsoon right from the ropeway to boating in Naini Lake. Couples of backpackers will love strolling the lakefront area, dotted with shops, cafes, and restaurants.
Trekking, horse riding, and temple hopping are other activities to enjoy in Nainital in the monsoon without any risk.
Wrapping Up
Where to go on a holiday in August in India depends a lot on your travel companion. India is geographically blessed with many factors, and rain is one of them.
Still, the geography of India is affected by rain patterns, which is why different regions of India, from north to south, from east to west, experience different amounts of rainfall as per their elevation.
But one thing is guaranteed during August exploration in India you will encounter phenomenal luscious greenery wherever you look.
Which of these places to visit in August in India are you gonna visit and with whom?
Related Post:
Best Places to Visit in India in March
Best Places to Visit in India in April
Best Places to Visit in India in May
Best Places to visit in India in July
Best Places to Visit in India in December
Best Places to Visit in India in Winter