Winter is getting closer and everyone is abiding to celebrate Christmas. Most of the people love to celebrate the feast at home. But do you know? The upcoming Christmas can be more exciting if you wish to make it. There are many engaging places in India where one can enjoy this festival with great enthusiasm.
However, we Indians celebrate Christmas differently as compared to the international rituals. But it doesn't mean we do not celebrate this festival with zeal and zest. During the festival, you can visit several states to be a part of the festivities, where you can appreciate the excellence of Christmas celebrations. So where should you be at this time when the clock tongs 12 on 24th December midnight? Here is the list of the best places to celebrate Christmas this winter in India.
10 Places to visit in India During Christmas
Daman and Diu
Delhi
Goa
Kerala
Kolkata
Manali
Mumbai
Pondicherry
Shimla
Northeast
1. Daman and Diu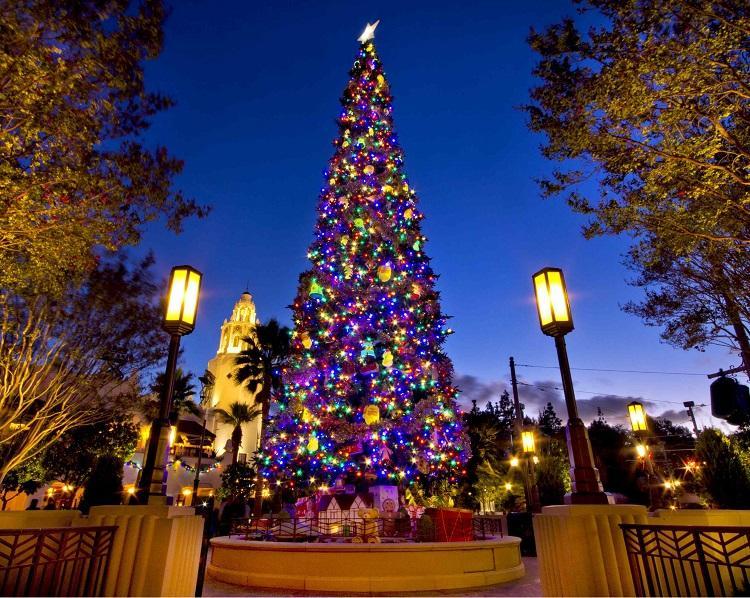 This union territory of India is a peaceful place, but it is a sight to behold on Christmas. Here, every church is decorated with vivid artificial lights. At the same time, you can enjoy Portuguese folk dance, Corridinho. Roam around the city and shop for souvenirs from the local market. You can admire the beauty of the church of Jesus. Be a part of midnight mass in the churches. Treat your eyes to millions of lanterns brightening the skies.
Major Attractions:
Portuguese dance in Daman
St. Paul's Church, Diu for a famous midnight mass
 Public Fair in Diu
Churches to Visit:
Cathedral of Bom Jesus
St.Paul's Church
2. Delhi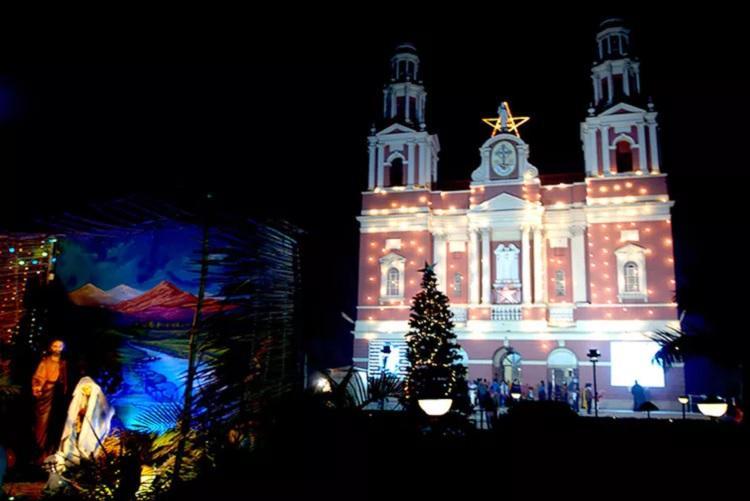 Christmas in Delhi can be exciting. Several churches in Delhi are decorated beautifully with sweet-smelling flowers that look even better with the tune of Jingle Bells. Apart from this, there are many big malls here whose decorations deliver you the perfect Christmas feeling. Santa Claus in a red cap outside the shops and mall attracts kids. Christmas trees, colorful balloons decorated in malls, hotels, and restaurants make it even more attractive and offer a great Christmas ambiance to unwind. You can soak in the atmosphere of churches gathering together, lighting candles, and praying.
Major Attractions:
The Sacred Heart Cathedral and the Capital City Minstrel choir concert
Churches to Visit:
St. James' Church
Sacred Heart Cathedral Church
St. Alphonsa's Church
Read More:
Most Romantic Restaurants in Delhi
Best Places to Visit in Delhi
Best Luxury Hotels in Delhi
3. Goa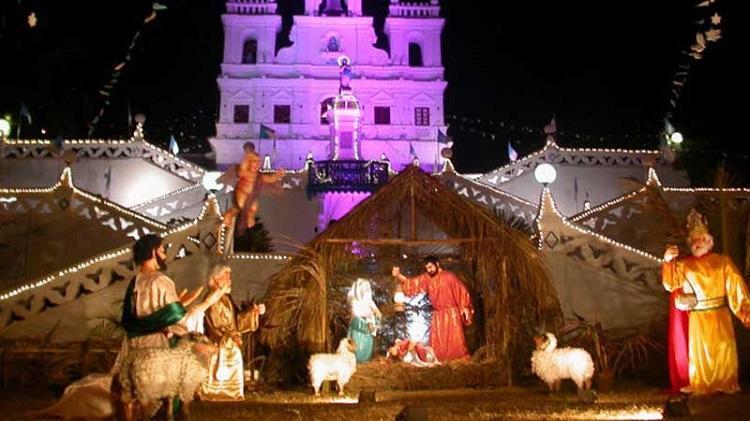 Pearl of the Orient – Goa, famous for its wonderful beaches and nightlife, is one of the best places in India to celebrate Christmas. With its Portuguese heritage and Catholic population, Goa celebrates Christmas with vim and vigor. Churches and houses in Goa are decorated with beautiful lights and flowers, and children sing Christmas carols till late night.
Christmas is very famous in Goa, which attracts thousands of tourists from different parts of the country and abroad. You can also have fun at clubs, pubs, and bars. The celebrations continue till New Year with several carnivals, feasts, and festivities.
Major Attractions:
Attend the Mass at Missa De Galo
Enjoy the fireworks show
Dance with the locals on Christmas eve
Participate in the crib-making and star-making competitions
Savor Christmas feast
Take a tour of the beautifully lit Goa
Party like there is no tomorrow with Sunburn Festival
Churches to Visit:
Bom Jesus Basilica
Se Cathedral
Church of St Francis of Assisi
Church of Our Lady of Miracles
Read More:
Goa Fiesta: Christmas and New Year Vacation Ideas
Why is tour to Goa so Popular among tourists?
Tours to Goa: A Slice of Sun and Sand
Best Beach Huts in Goa
4. Kerala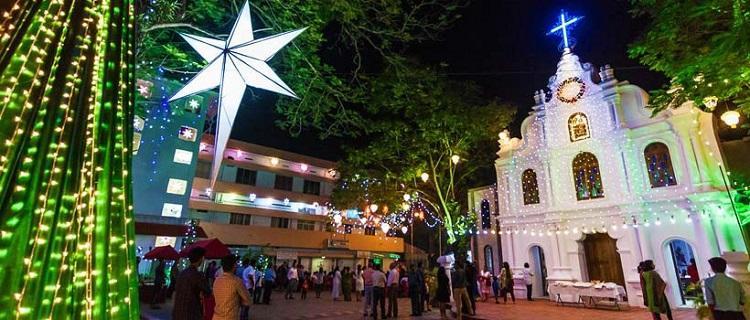 God's Own Country, Kerala is one of the best and popular places to celebrate Christmas in South India. It remains a center of attraction for a large number of tourists. Due to the maximum Christian population and myriad churches, God's Own Country celebrates Christmas in an unbeatable zing. The decorated homes, churches, and streets with lights and other materials offer an amazing visual treat.
During Christmas, the hotels offer great discounts to their visitors. You can even enjoy this feast in the backwaters of Kerala. If you are looking for a happening place to celebrate Christmas in India, then must visit Kerala.
Major Attractions:
Shopping festival – Kochi Muziris Biennale
Cochin Carnival
Indira Gandhi Boat Race
L.M.S. compound – Trivandrum
Churches to Visit:
Holy Koonan Cross Church, St.Francis Church, Koonankurishu Church, Malayattoor, St. George Ferona Church – Kochi
St. Mary's Cathedral, Madre de Deus Church, St. Joseph's Cathedral – Trivandrum
Christ Church, Christian Shree – Munnar
Read More:
Top Tourist Places to Visit in Kerala
What to Do and See in Kerala?
5 Great Ideas for Honeymoon and Romance in Kerala
Best Beach Resorts in Kerala
5. Kolkata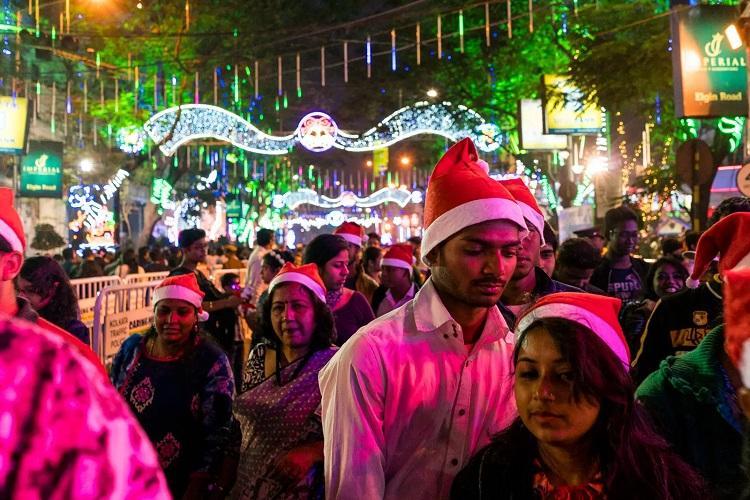 Anglo-Indian Barracks around Kolkata are decked with Christmas delight. Strings of lights weave a wonderful web throughout the city. Christmas is truly a delight in this holiday melting pot!
The City of Joy during Christmas is even more joyous. Kolkata is one of the best places to celebrate the Christmas holidays in India. Magnificent decorations and huge discounts on the merchandise make Christmas merrier in Kolkata. Party all night with friends at the pubs and bars, which remains open all night long during this festival. Hop around the stress of Kolkata to enjoy mouth-watering-cuisines and desserts.
Major Attractions:
Light and sound exhibitions
Rock band performances
Midnight mass organized by St Paul's Cathedral
Churches to Visit:
Christ the King Church
 Mar Thomas Syrian Church
Armenian Church of the Holy Nazareth
6. Manali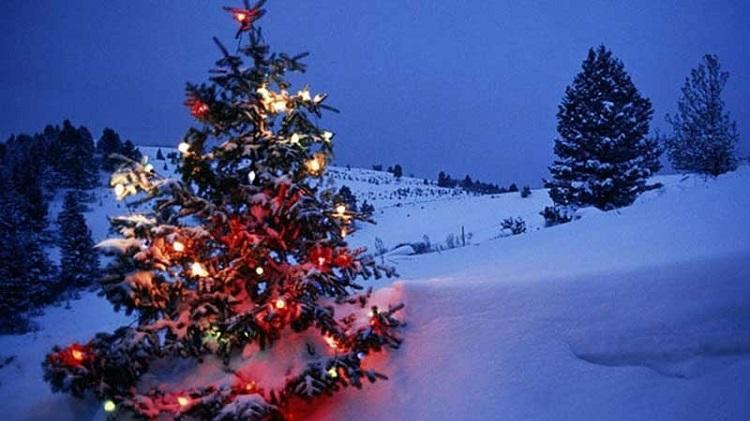 Christmas in Manali is something exceptional as it presents a beautiful combination of snow and Christmas. Tourists from various places celebrate White Christmas along the surrounding areas covered in layers of snow. A potpourri of colors created by the shimmering Christmas lights against the white snow presents a delicious visual treat.
The fragrant pine trees all around decorated with lights and accessories add more charm to the Christmas celebrations. Visit the famous cafes of Manali and soak in the Christmas vibes. The local market of Manali is also decorated with light and offers a great discount on souvenirs. Undoubtedly, Manali is one of the most attractive places in India to celebrate the Christmas holidays.
Major Attractions:
Fairs
Christmas decor items making workshops
Christmas brunches and dinners
Santa Claus gift distribution
Churches to Visit:
Arcot Lutheran Church
Gilgal Prayer House Church
Read More:
Best Winter Honeymoon Destinations in India
7. Mumbai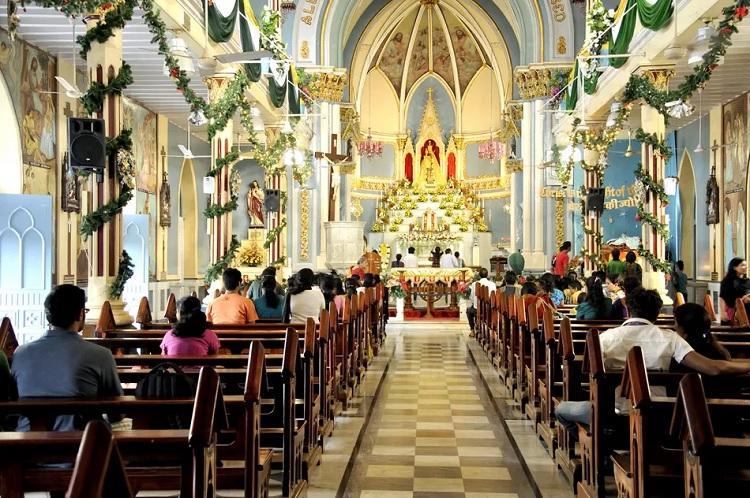 The city of dreams is quite popular for celebrating the Christmas holidays in India. Especially the western suburb of Bandra is a place worth visiting in Mumbai during Christmas. Mumbai is also renowned for its Catholic population. On the eve of Christmas, the churches and hill road of the city are adorned with flowers and light.
Church Gate is also one of the popular destinations in Mumbai where Christmas is celebrated with great enthusiasm. Famous malls, cafes, and restaurants around the city are also decorated well and set the Christmas mood. Almost all churches around the city organize a midnight mass.
Major Attractions:
Christmas street shopping
Christmas eve parties
Christmas dinners
Churches to Visit:
Holy Name Cathedral, Colaba
Gloria Church, Byculla
Mount Mary's Basilica, Bandra
Lady of Immaculate Conception, Borivali
Read More:
Everything you need to know about Mumbai
8. Pondicherry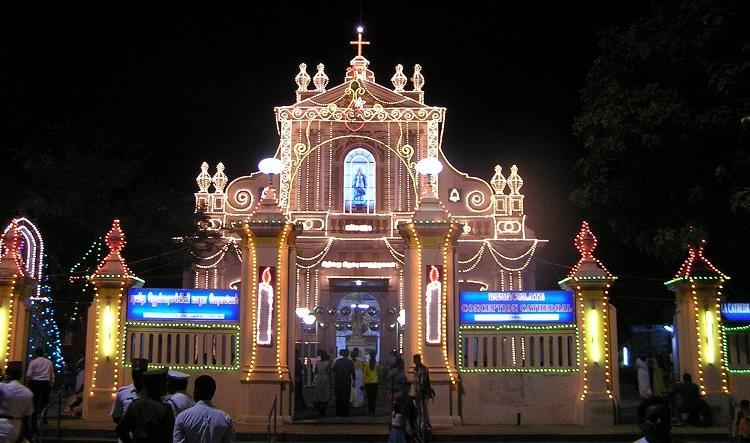 Pondicherry is renowned for its excellent French tradition. It is also known as "Little France" due to the beautiful architecture, stunning beaches, and overwhelming French cuisine. The tranquil beaches of Pondicherry are just perfect for spending the day time of Christmas.
During Christmas Eve the Gothic cathedrals are beautifully adorned with flowers and accessories. People here celebrate Christmas with great enthusiasm. There are many Christians here who celebrate Christmas with all traditional rituals and merry-making.
Major Attractions:
Midnight mass
Christmas markets
Christmas meals
Churches to Visit:
Basilica of the Sacred Heart of Jesus
Immaculate Conception Cathedral
St Andrew's Church
9. Shimla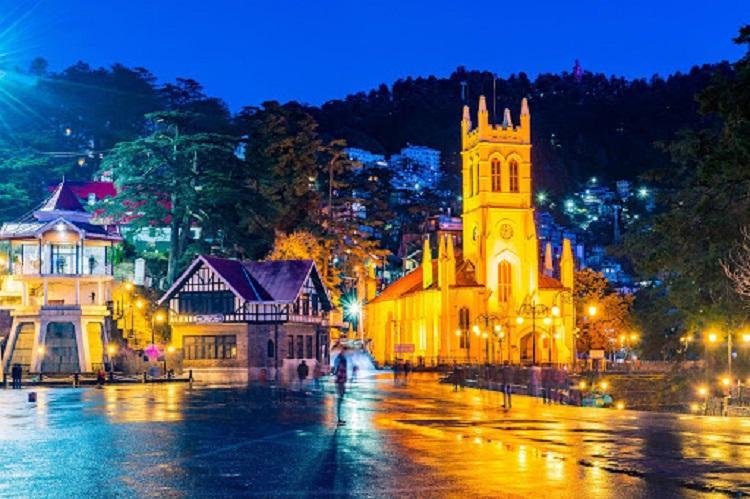 Celebrate your Christmas amidst the beautiful snow-capped hills, then Shimla is one of the best destinations in India to enjoy the Christmas celebration. On the eve, the streets of Shimla, churches, and houses are beautifully adorned with lights and sweet-smelling flowers. You can feel the excitement of Christmas in the air. Local people of Shimla prepare traditional cuisine and also sing carols and hymns in the evening to celebrate that festive mood. Shimla is undoubtedly one of the best places to celebrate the Christmas holidays in India.
Major Attractions:
Christmas parties
A walk through the Mall Road to admire the decor
Churches to Visit:
 St. Michael's Cathedral Catholic Church
Christ Church Shimla
10. Northeast
The northeast regions of India also celebrate Christmas with great enthusiasm. The chilling climate and decorated streets of the region set a perfect mood for the Christmas carnival. There are several famous markets in the northeast regions where you can shop for your loved ones during the eve. Also, do not forget to try the local delicacies. Several churches of northeast regions organize midnight mass. Among many churches visit any one of them and soak in the Christmas vibes. Shillong is the most happening place to visit in Northeast India for Christmas celebrations.
Major Attractions:
Traditional Christmas treats
Midnight mass
Churches to Visit:
Cathedral Church, Shillong
So which of these, according to you, is the best place to rejoice Christmas in India. Being a part of midnight mass, playing with snow, rocking at a concert, or shopping for your loved ones? Whatever you decide, make sure to get the most out of this Christmas. Mark any of the states and make this upcoming Christmas memorable.
Related Post:
Christmas and New Year Vacation Ideas in India