The devotees of Lord Rama can pack their bags as IRCTC has re-launched the 'Ramayana Yatra' for 2019. After the great response to Ramayana Yatra in 2018, the Indian railway has again launched the journey on the Ramayana circuit.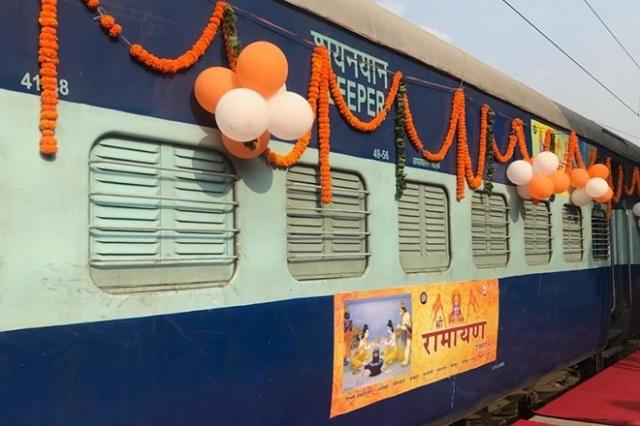 In 2018, IRCTC launched four special tourist trains for travelers to visit the famous places mentioned in the Epic Ramayana. The places on the Ramayana circuit starts from northern India and extends to South India and Sri Lanka. 
In 2019, there are two trains to be run by the IRCTC on the Ramayana circuit. The tour will be commenced in November and the interested travelers can also visit the Ramayana-famed places in Sri Lanka. 
The tour covers the famous destinations connected to the life of Lord Rama as mentioned in the Ramayana. As a significant part of the Ramayana is known to be taken place in Sri Lanka, the IRCTC also has included the Sri Lankan sites in the itinerary. As per IRCTC, the sites on the Indian soil will be covered by a train while the travelers will fly from Chennai to Colombo to visit the Sri Lankan sites.
The first train named 'Shri Ramayana Yatra' is scheduled to depart on November 3 from Jaipur in Rajasthan via Delhi. The train will have its stops at Alwar, Rewari, Delhi Safdarjung, Ghaziabad, Moradabad, Bareilly, and Lucknow. 
The second train named as 'Ramayana Express' will start on November 18, 2019, from Indore in Madhya Pradesh. The train will travel via Varanasi in Uttar Pradesh with stops at Dewas, Ujjain, Maksi, Shujalpur, Sehore, Bairagarh (Bhopal), Vidisha, Ganj Basoda, Bina, Lalitpur, and Jhansi.
This is a 16 days tour that costs the travelers INR 16,065 per person if limited to the Indian sites. While the travelers interested to visit the Sri Lankan sites have to pay an amount of INR 36,950 per person.
The Indian part of the Ramayana Circuit covers Uttar Pradesh, Bihar, Maharashtra, Tamil Nadu and also Nepal. In Uttar Pradesh, the travelers will visit Rama Janmabhoomi and Hanuman Garhi at Ayodhya, Bharat Mandir at Nandigram, Tulsi Manas Mandir and Sankat Mochan Mandir at Varanasi and Sita Samahit Sthal at Sitamarhi. The travelers will also visit Triveni Sangam, Hanuman Mandir and Bhardwaj Ashram at Prayag. The places to be traveled in Bihar is Sita Mata Mandir at Sitamarhi. The other places to be covered are Shringi Rishi Mandir at Shringverpur, Ramghat and Sati Anusuiya Mandir at Chitrakoot, Panchvati at Nasik, Anjanadri Hill and Hanuman Janm Sthal at Hampi, and Jyotirlinga Shiva Mandir at Rameshwaram.  Besides, Sri Lanka, the tour takes the travelers to outside India at Janakpur in Nepal. Both the special trains will cover all these places.  
In Sri Lanka, the travelers will visit Sita Mata Mandir, Ashok Vatika, Vibhishana Temple, and Shiva Temple that spread between Munneshwaram and Munnavari.