Luxury trains in India have redefined the meaning of traveling. These luxury trains are renowned worldwide for their Indian royal hospitality, elegant interior, and exquisite dining services. These super luxurious trains have been designed primarily to provide a comfortable and luxurious ride to guests from every corner of the world.
The culture and traditions of incredible India are truly reflected by these trains. Every luxury train ensures its travelers enjoy their holidays to the fullest by offering state-of-the-art facilities and services. Indulge in spectacular attractions of different destinations by sitting in the lap of luxury and enjoying a variety of cuisines, comfort, and recreational activities.
The top luxury trains of India
Palace on Wheels
Maharajas' Express
The Golden Chariot
Deccan Odyssey
Palace on Wheels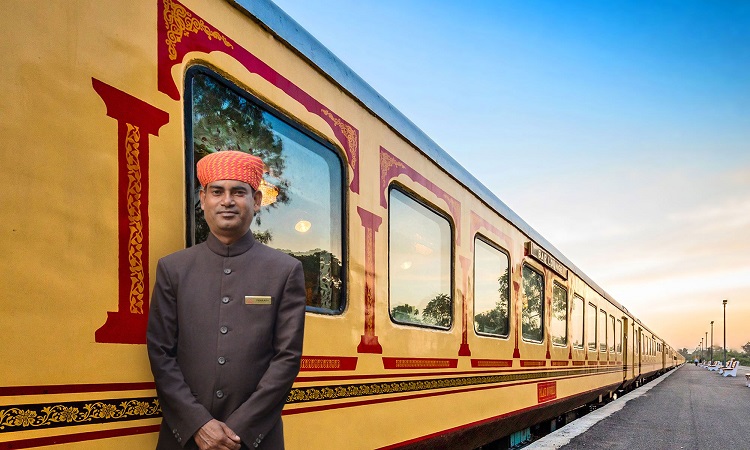 Palace on Wheels is the oldest luxury train in India. One of the most lavish trains in the world, Palace on Wheels was introduced in 1947. This luxurious train has impressive table settings, breathtaking interiors, and opulent lights. Travelers can experience the aura of erstwhile Indian Maharajas as the interiors are entirely done in Maharaja Style.
The train offers 14 grand carriages, a huge library, an exquisite dining area, and a bedecked lounge area. Apart from lavish carriages, there are two dining cars- Ruchi and Nala offering Indian as well as Continental delicacies. Madira is a well-stocked bar offering an array of aperitifs. Delhi, Jodhpur, Ranthambore, Udaipur, Agra, Ranthambore National Park, Jaisalmer, Bharatpur, and Chittorgarh are some of the popular destinations covered by this train.
Price Starting from: USD 750
Palace On Wheels Route (7 Nights / 8 Days): Delhi – Jaipur – Sawai Madhopur – Chittorgarh – Udaipur – Jaisalmer – Jodhpur – Bharatpur – Agra – Delhi
Maharajas Express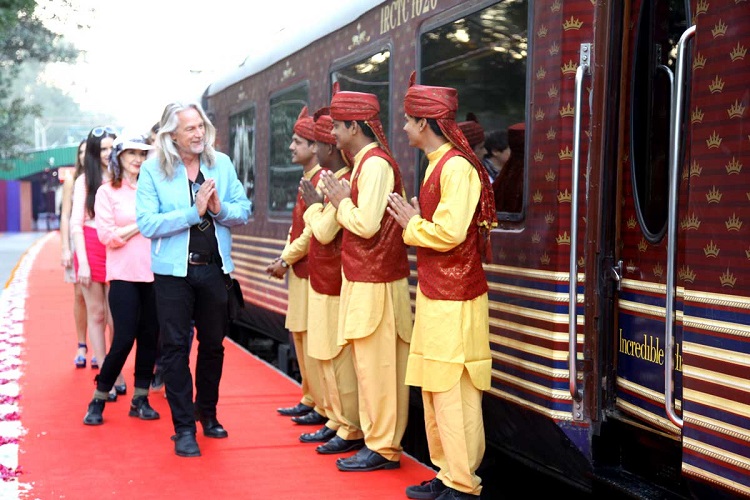 Maharajas' Express, owned by IRCTC, is said to be on par with Europe's Orient Express, which is considered one of the world's top luxury trains. Along with a royal ride, the train features modern-day amenities like individual climate control, Plasma TVs, Wi-Fi internet, DVD players, and so on. Thus, step onto the world royals and observe the bygone era of opulence, romance, and elegance.
Flagged off in 2010, Maharajas' Express offers 4 itineraries covering some of India's most prominent tourist destinations. The luxury train can carry a total of 84 passengers in well-furnished cabins. In addition, there are two restaurants, a lounge bar with a library, and a souvenir shop, offering the guests an experience like no other.
Price Starting from: USD 3850
Maharajas' Express Journeys & Route:
Golden Chariot
The luxury ride of the Golden Chariot was first launched in 2008, exploring the Southern regions of India. The luxury train offers five train journeys for exploring some of the alluring attractions of India. Bandipur, Mysuru, Hassan, Gadag, Hospet, and Goa are some destinations this train covers.
All the itineraries commence and end in Bangalore except one. Golden Chariot offers 11 super luxurious and fully air-conditioned saloons of four sleeping cabins, an Ayurvedic Spa, two dining cars, a business center, one bar lounge, a mini gymnasium, and two dining cars.
Starting from:  USD 657
The Golden Chariot Journeys & Route:
Deccan Odyssey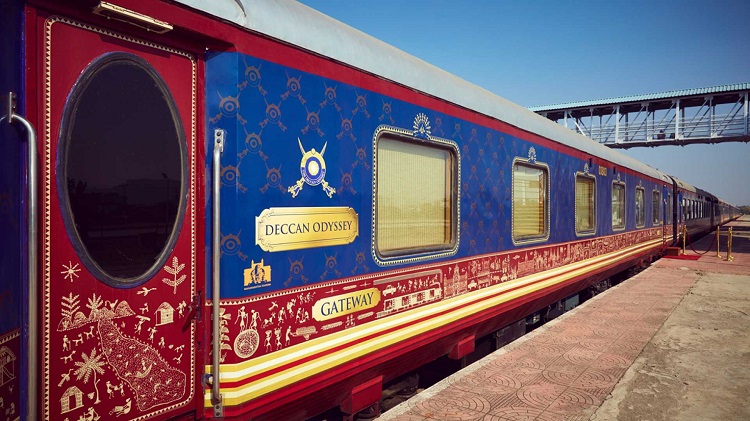 Deccan Odyssey was launched in 2002 and provided a glimpse of traditional Indian hospitality. The train offers 11 air-conditioned deluxe saloons, two cabins housing the in-house restaurants known as Peshwa I and Peshwa II, separate conference and gym cabins, and a well-appointed cabin are some of the facilities that make a luxury train travel tour complete.
The train can accommodate 96 passengers at one time and provides personalized attention to everyone. The traveling is mainly done at night, while the days are exclusively reserved for sightseeing. The eight-day journey explores some exotic destinations like Mumbai, Sindhudurg, Jaigadh, Ratnagiri, and more.
Price Starting from: USD 7320
Deccan Odyssey Journeys & Route:
Luxury train traveling in India is an experience of a lifetime. So before you bid farewell to the world, come and enjoy this royal voyage with your loved ones. For luxury train bookings, contact the Indian Luxury Trains team. The team of professionals will guide you with the details and confirm your booking on a beautiful journey in India.