What comes into your mind when you hear words like clear blue sky, azure verdant sea waters, serene ambiance and coconut palms swirling in the cool breeze? Visualize yourself as soaking-in the sun, digging your feet in the sand and drinking your favorite spirit or exploring the colorful underwater world. You can do this and much more by visiting some of the most beautiful islands in India. These islands never fail to impress their visitors, while offering a rejuvenating vacation.
Visit to an island means different things to different people. While for some, it is just lazing around reading an interesting book, but others it can be beach parties and water adventures. For even other people, an island visit would mean just admiring the tranquility and the stunning scenery. Here are some of the most beautiful islands in India that are a must-visit:
Island of Divar — Close to the Goan Coast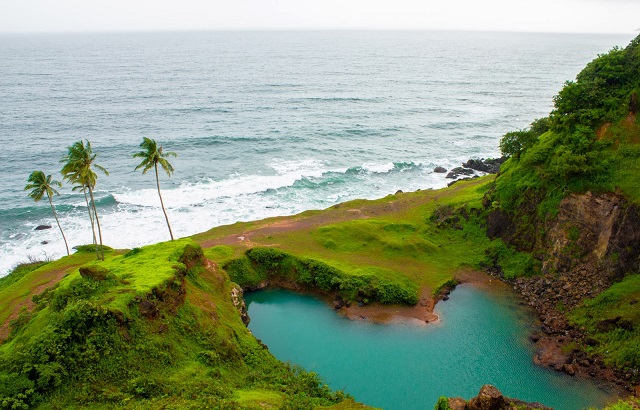 Enclosed by marshy waters, located onto a beautiful little riverine settlement, Divar Island lies just across the Mandovi River near Panjim. Boasting of rustic countryside feel, the island has a lively culture just like the other parts of Goa. A number of scenes of Bollywood blockbuster 'Dil Chahta Hai' were shot here. This seaside destination is a refreshing break.
Attractions: Portuguese structures, the Church of Our Lady of Compassion, European Houses, Piedade village, and Shree Ganesh Sateri Temple.
Activities: Leisure activities, Sightseeing
Accessibility: 10 -min ferry ride in Old Goa from Viceroy's Arch (between 07:00 AM to 08:00 PM), and a ferry Naroa village in the Bicholim subdivision, connecting to the northern side of the island.
Best time to visit: November – February
Diu Island — Amalgam of Gujarati and Portuguese Culture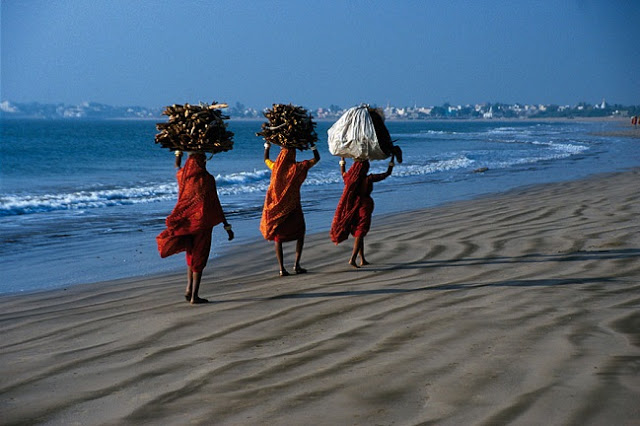 Still clinging to its Portuguese charm, Diu Island boasts of heavenly beauty that charms travelers from all across the globe. Chakratirth Beach, Jallandhar Beach, Nagoa Beach and Ghogla beach are some of the superb island of this exotic island. Nowhere else will you get a chance to savor sumptuous tropical seafood delicacies with a hint of Gujarati flavors. And yes, you can enjoy a glass of your favorite spirit as alcohol is legal here.
Attractions: St Paul's Church, Diu Fort, Naida caves, Shell Museum, Fortim-do-Mar and Gangeshwar Temple
Activities: Beach visit, Sunset viewing, and sightseeing by renting a bike or scooter
Accessibility: Accessible by air (airport) and road
Best time to visit: October – January
See More:
Top Places to Visit in Gujarat
Rann Mahotsav: Desert Festival of Gujarat
International Kite Festival in Gujarat
Majuli Island – Largest freshwater Island in the World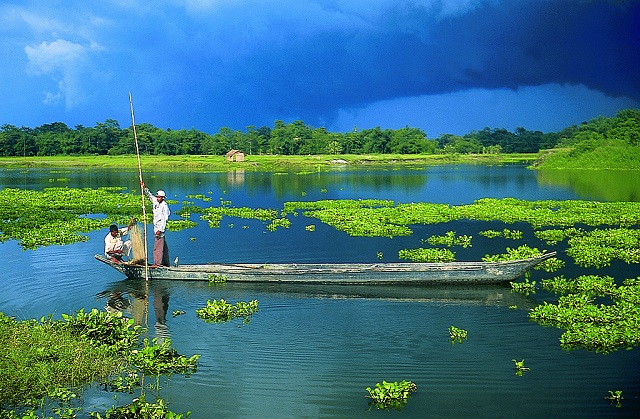 Arguably the largest freshwater island in the world, Majoli or Majuli Island lies in Brahmaputra River. It is also known as the cultural capital of the Assamese civilization from the 16th century. Unlike other islands of India, visitors find ochre and moss on its coast instead of sand. Relishing northeastern delicacies is a must. Rent a bike/cycle to explore this island, which is home to colorful birds.
Attractions: Mishing, Kamalabari and Garamur Village, and 22 Satras
Activities: Viewing Sunset and Sunrise. Enjoy mask making and meshing. Birdwatching.
Accessibility: Ferry ride from Jorhat, which is connected to the Guwahati airport. There are two boats- 10:00 AM and 03:00 PM
Best time to visit: October – December
St Mary's Islands — The Basalt Marvel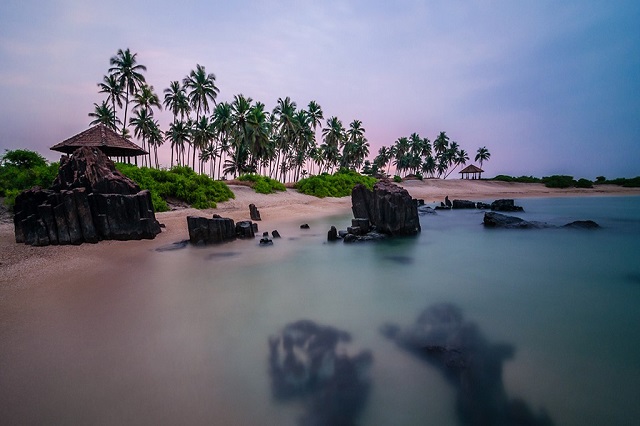 Also known as Thonsepar and Coconut Island, St Mary's island is a collection of 4 tiny islands off the coast of Malpe in Udupi, Karnataka. One of the distinct features of these islands is the basaltic rock formations that are in hexagon shape and look quite unique. The clean blue waters at the beach are going to charm you. It is believed that Vasco da Gama landed on these islands during his expedition to Calicut.
Attractions: Basaltic rock formations at the beach and the Coconut gardens (Carry packed food during your visit to this island)
Activities: Beach visit, Sightseeing, Shell Collection and Bird Watching
Accessibility: A 20-min boat ride from Malpe
Best time to visit: December – January
Lakshadweep Islands — Honeymooners Paradise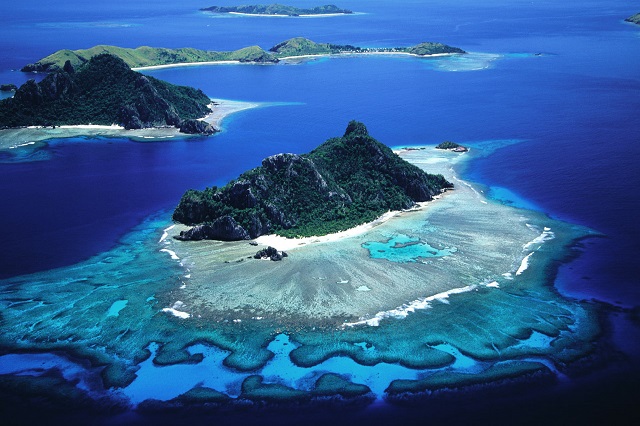 A collection of 36 coral islands with white sand and palm trees, Lakshadweep is one of the most popular honeymoon destinations of Indian, which is 300 km off the coast of Kerala. Boasting of unmatched natural beauty, these smallest islands in India, have unspoilt beaches and blue waters.
Attractions: Agatti Island, Minicoy Island, Bangaram Island and Kavaratti Island Marine Aquarium.
Activities: Scuba Diving in Kalpeni Island, Canoeing at Minicoy Island and snorkeling at Kavaratti, Kite surfing at Kadmat.<
Accessibility: Connected to India through sea and air (Agatti Island Airport)
Best time to visit: October – May
Little Andaman Island — Home of rare marine turtles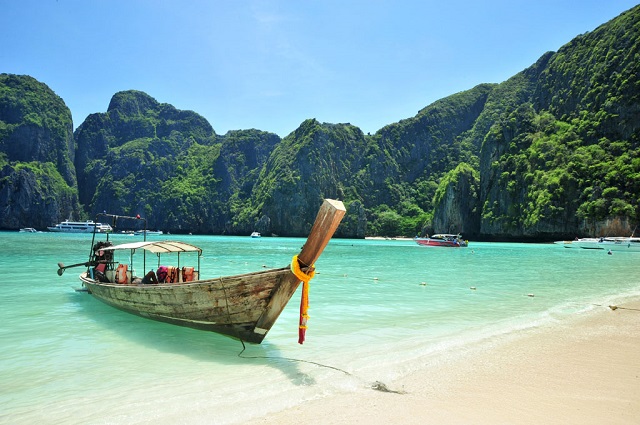 An offbeat destination in Andaman Island, Little Andaman Island is an ideal place for you if you do not like being in a crowd. One of the most beautiful islands in India, it has mesmerizing beaches with clean sands and turquoise waters. One can also spot the rare marine turtles. The island lies 120 km southwards of Port Blair. Enjoy tranquil beaches, sumptuous food and drinks, and accommodation at pocket-friendly rates. This island has evergreen rainforest and has a rich biodiversity.
Attractions: Hut bay, Waterfall, Butler Bay beach and colorful Coral reefs.
Activities: Elephant calves training, Elephant Safari, Boating through the creeks and Surfing.
Accessibility: Go on-board a ship from Port Blair, which will take you to this place in a day's time.
Best time to visit: December – February
See More:
Andaman and Nicobar Islands: Rejoicing in Nature's Treasure Trove
Best Luxury Hotels in Andaman and Nicobar Island
Barren Island — A secluded paradise in the Andaman Islands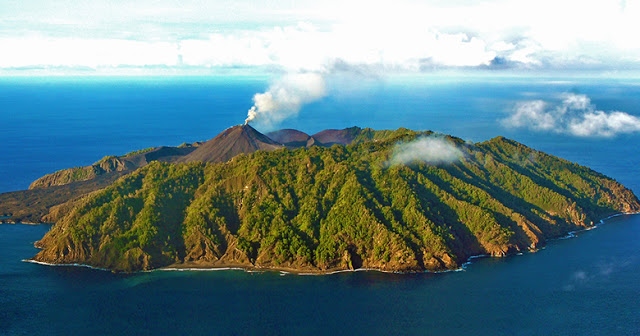 Owning the only confirmed active volcano in South Asia, Barren Island is the most easterly island in the Andaman chain. As there are no accommodation options here, you can book accommodation in Port Blair. Landing on the shores is prohibited so you can travel around the island in a vessel and indulge in sightseeing as well as water sports. It truly is one of the most mesmerizing islands.
Attractions: Barren Island Volcano, and Colorful Marine Life.
Activities: Scuba diving and Boat Tour.
Accessibility: You can go on-board ships that cruise from Port Blair every Tuesday, Thursday, and Saturday. The other option is to take a seaplane from Port Blair but at least 7 passengers are required for it.
Best time to visit: February – May
Great Nicobar Island — the largest island of the Nicobar Islands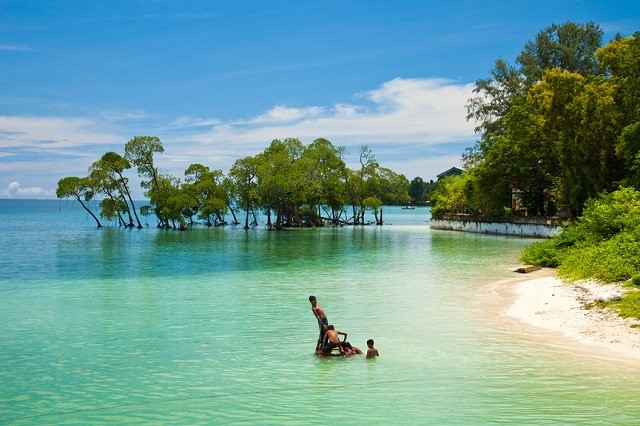 The largest island in India, Great Nicobar Island has crystal clear sea waters so that you can enjoy a dip here. The exotic flora and fauna are a treat for the eyes of the on-looker. This place is perfect for both, honeymooning as well as a family vacation. This island is home to the Shompen tribe, which is one of the oldest tribes in the world.
Attractions: Great Nicobar Biosphere Reserve, Campbell Bay for wildlife photography, and Indira Point.
Activities: Wildlife Viewing, Sightseeing, and Water Sports.
Accessibility: Helicopters and boats are available from Port Blair.
Best time to visit: February – June
Grand Island — Go snorkeling and diving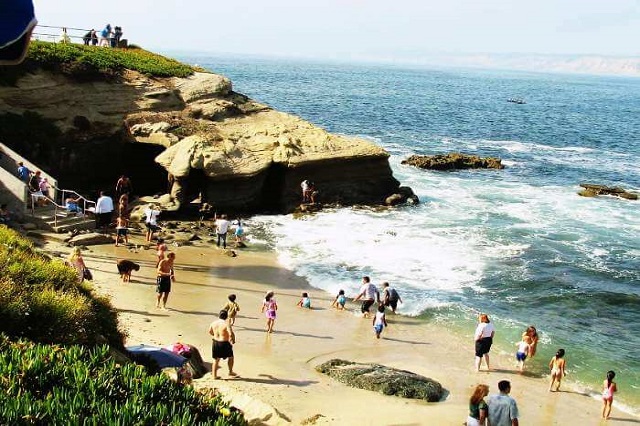 One of the places for snorkeling and diving near Goa, Grand Island is an amazing place with super clean pristine beaches and heavenly natural beauty. The beaches are clean and have clean waters. Please take note that the Indian Navy uses this island as their base for training exercises. You must check about the same before planning a visit. Savor special barbecue lunch and unlimited drinks.
Attractions: Shelter Cove dive, Dolphin points, Uma Guma Reef, Suzy's Wreck dive, Bounty Bay Dive, and Spice plantation.
Activities: Bait fishing, snorkeling, dolphin-viewing, plantation visit, and scuba diving.
Accessibility: Hop into a ferry from Goa to arrive at the island. The time taken is 20-40 minutes, as per the point of departure of the ferry.
Best time to visit: October – May
See More
Best Luxury Hotels in Goa
Tours to Goa: A Slice of Sun and Sand
Best Beach Huts in Goa
Netrani Island – A beautiful coral island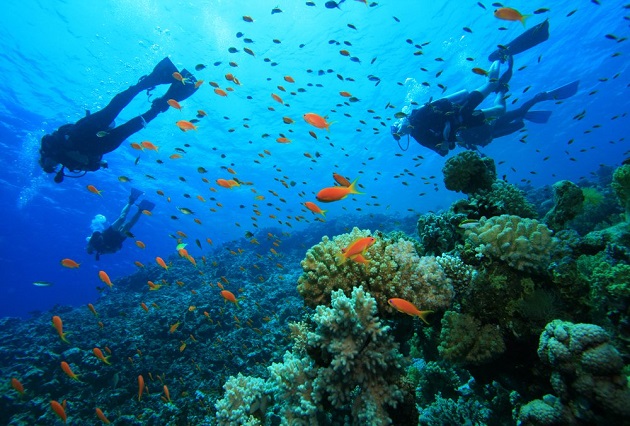 Also known as Pigeon Island, Netrani is a beautiful coral island that is placed off the coast of Karnataka. This beautiful coral island is quite popular amid professional scuba divers. Though the island is not populated it is called home by a decent number of wild goats and pigeons. This island is easily accessible from Karnataka, Mumbai, and Goa.
Attractions: Exotic species of wild goat and pigeons, water sports; Varieties of fishes, shrimps, eels, and coral; and Murudeshwar temple.
Activities: Diving, Snorkeling, and Wildlife viewing.
Accessibility:  An hour's boat ride from Murudeshwara Beach at around 08.30 AM
Best time to visit: November to January
Related Post:
World's Most Beautiful Islands
Top 10 Most Romantic Islands in the World
Most Stunning Infinity Edge Pools in the World
7 Natural Wonders of the World