The Golden Chariot, South India's own Palace on Wheels, offers two distinct itineraries lasting up to 8 days traversing the enchanting landscapes of the southern part of India. Named after the famous Stone Chariots in Hampi, the train replicates the art, culture, and heritage of the south Indian dynasties. Equipped with state-of-the-art amenities, this Indian luxury train offers a sumptuous ride akin to the pampering of 5-star hotels on wheels in its suave interiors.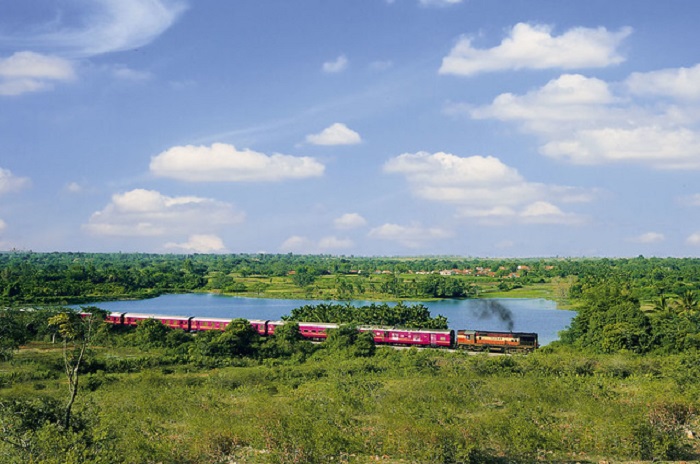 The Golden Chariot comprises 19 rail cars, each named after a ruling dynasty of South India in the days of yore such as Karnataka, Hoysala, Rastrakota, Chaulakya, and Vijayanagar. Intricately carved ceilings, wall panels, and furniture in the cabins are all reminiscent of the architectural traditions of Hoysala and Mysore. The cabins come equipped with high-tech facilities such as Wi-Fi internet, LCD Television with satellite channels, DVDs, and an attached bathroom.
The Golden Chariot train doesn't disappoint on the dining front either. There are two elegantly appointed restaurants on the train, Nala and Ruchi, inspired by the architectural styles of Halebid and Hampi. These restaurants serve a spread of vegetarian and non-vegetarian cuisines in numerous small bowls on individual large silver plates. Besides quaint interiors and exquisite crockery, the restaurants have 2-seater and 4-seater facilities with comfortable sofas and chairs.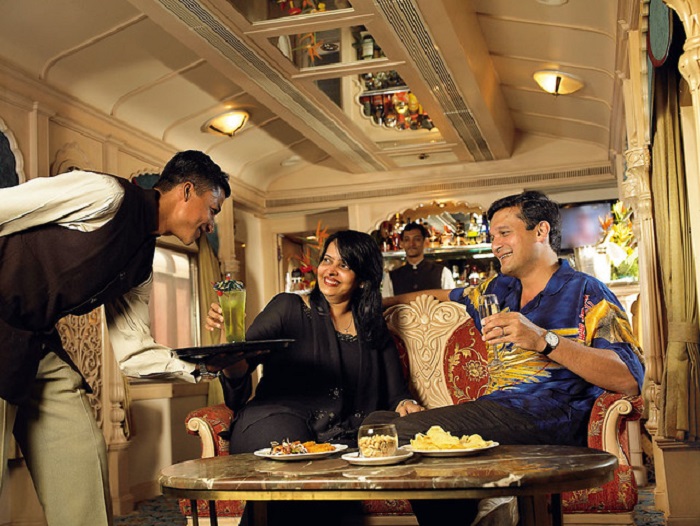 Also included in the facilities of Golden chariot train is a lounge bar Madira, literally meaning the mythical drink of the Gods, with the finest selection of wines and spirits. With its elegant seating arrangements and unruffled ambiance, the lounge bar is an ideal place to unwind in perfect nonchalance.
The Golden Chariot facilities also include a business coach designed to serve the corporate endeavors of the guests traveling on board this luxury train. Besides the conference coach, the train also comes equipped with a gym coach for fitness freaks and an Ayurveda spa center to rejuvenate your mind, body, and soul.
To say that luxury train traveling has achieved a new dimension with the arrival of the Golden Chariot will not be an exaggeration. Adding to the modern facilities and ethnic décor of the train is the traditional Indian hospitality by the trained staff which is like icing on the cake and ensures that you never feel incongruous during this elegant and opulent ride across mesmerizing landscapes and attractions in South India.
To get a peek into the elegant interiors of the train, feel free to visit the Flickr photostream of the Indian Luxury Trains. For more information on the schedule, tariff, itinerary, and train booking, you would like to visit the website of the Golden Chariot Train.