Rajasthan, the land of Rajput warrior princes is dotted with numerous forts, palaces and havelis. The kingship was abolished soon after India gained independence. Maintaining these properties got rather very expensive and untenable for the royalty. To sustain themselves and maintain these expensive properties, many a maharajas and nobles have converted these into heritage hotel or boutique experiences.    
These boutique luxury hotels are specifically meant to cater to the exclusive clientele from the West looking for off the beaten path experiences and cultural interactions to discover the essence of Rajputana and royal Rajasthan.  
Here we have listed 5 boutique luxury hotels in Rajasthan. Most of these are only talked about only in elite circles. There elegance and opulence passed mostly by word of mouth. These luxury heritage hotels in Rajasthan are the havelis, forts, hunting lodges and palaces of the erstwhile maharajas and their powerful noblemen.  
Stay in these boutique luxury hotels not only offer a sybaritic stay in painstakingly restored interiors to offer a glimpse into the opulent era of the Rajput princes. It include an array of insider experiences and cultural interactions to offer a glimpse into the village life and culture of the royal Rajasthan.
Rohet Garh, Near Jodhpur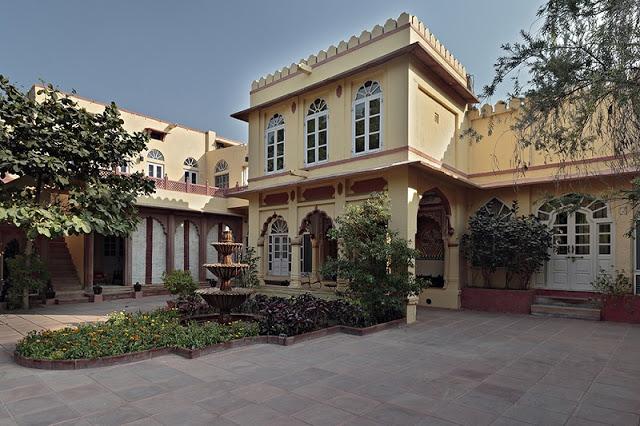 Meticulously restores Rohetgarh is an award winning boutique luxury hotel in Rajasthan. The entire hotel is the redesigned old property – a 375 year old home of the Rathores – without adding any new edifice to maintain the original charm. Accommodation is available in two categories: Super Deluxe Rooms and Suites. Wi-Fi is free in the property and handicapped facility is also available. Elegantly done frescoes, traditional furnishings and modern amenities make the rooms very authentic and appealing.  
Besides the well-appointed accommodation and interiors, there are several trademark Rohet Experiences to offer the guests a peek into the rural life and local culture of the area. Village safari, equestrian program, culinary workshops and royal picnics offer a glimpse into the local culture to name a few.  
Recommended: Jeep Safari to Bishnoi Village and the dinner with folk music performance.  
Also Read:Best Luxury Hotels in Jodhpur
Top 20 Things to do in Jodhpur
Ranvas, Nagaur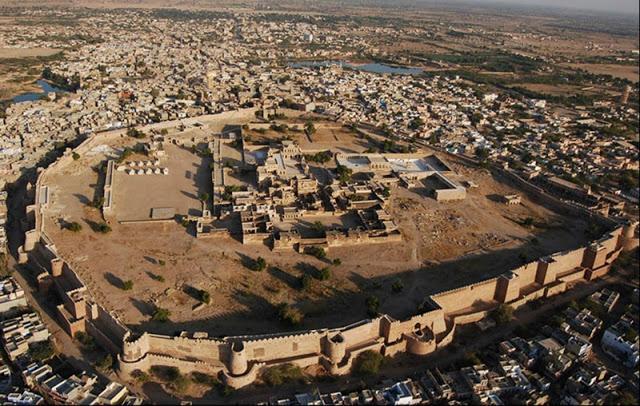 Tucked within the 12th century Ahhichatragarh Fort in Nagaur, Ranvas is a collection of carefully restored 18th century havelis meant for the queens of Jodhpur. There are a total of 10 elegant and opulently furnished havelis replete with state of the art facilities and private courtyards. The common central courtyard is a walk down the history lane reminiscent of the idiosyncrasy as well as the refined taste of the erstwhile royalty. There are fountains, ponds, pomegranate trees and yes peacocks too and a pool so tempting that you rather won't like to venture out.
Recommended: Romantic alfresco dinners in the courtyard or terraces and high tea in the sand dunes in Thar Desert
Chhatra Sagar, Nimaj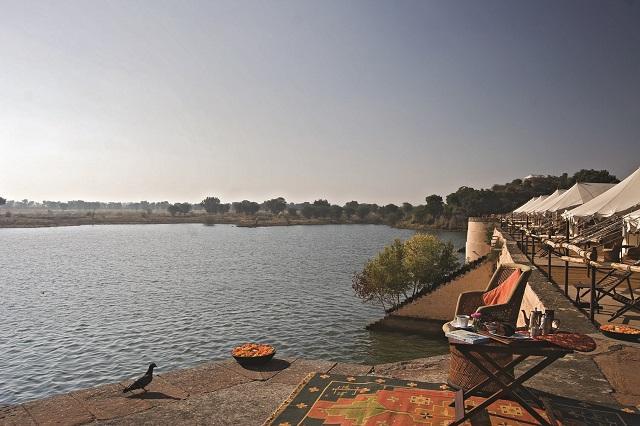 In the late 19th century, Thakur Chhatra Singh a powerful noble of Nimaj build a dam to create a reservoir for irrigation of his sprawling farmlands. Later he also hosted a safari here and tents were pitched on the dam overlooking the reservoir. In the 20th century, the reservoir was named Chhatra Sagar in the lord's memory and the sporting parties continued to visit Chhatra Sagar for the picturesque view and bird sightings amidst the desert hinterland. Today Chhatrasagar Nimaj is a collection of hand stiched luxury camps pitched every year to entertain intrepid travelers looking to go offbeat in Rajasthan. Modern construction are remarkably absent and the serenity and peace is unlike any you confront in most of India.  
Recommended: Alfresco dinner under the canopy of millions of stars and over 200 species of birds in the lake  
Also Read:
Top 20 Tourist Attractions in Jaisalmer
3 Best Luxury Hotels in JaisalmerJaisalmer Travel Tips
Rawla Narlai near Ranakpur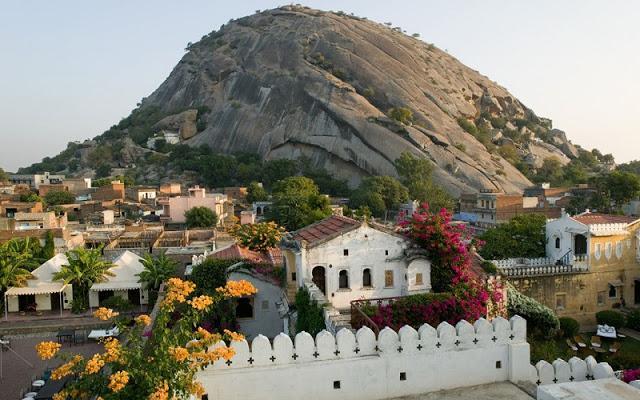 A carefully restored 17th century hunting lodge of the maharajas of Jodhpur, Rawla Narlai is a quaint yet spectacular boutique heritage hotel in Rajasthan. The original character of the property is retained in the restored buildings whereas as a new wing is also constructed to recreate the charm of a bygone era and to suite the taste of the modern travelers. The furnishings including draperies are vintage and hand stitched with traditional block printing. One of the highlights of the stay at Rawla Narlai is an array of insider experiences which include tea by the lake, horse riding, countryside safaris, village walks, leopard sightings and cave temple visits.  
Recommended: Lamp lit dinner inside a 16th century baori (stepwell) where you are carried on a bullock cart where you are entertained by folk song performance by a local jogi.
The Serai, Near Jaisalmer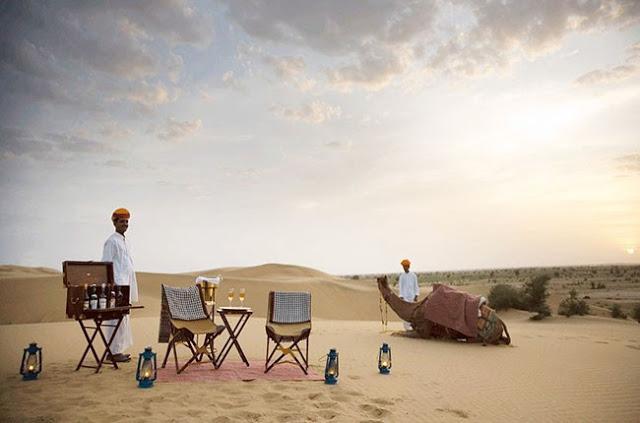 Comprising of 21 elegant and luxurious tented suites, The Serai by Sujan Luxury is set amidst the peaceful sand dunes in the Thar Desert. The pure white lavish tents are set upon sandstone and each come equipped with modern amenities which one could expect in a upscale luxury hotel. An infinity pool with lounge is one of the highlights of the Serai. Leopard sighting safaris and village walk are some of the cultural experiences a discerning traveler should give a try. Sundowner cocktail and dinner amidst the sand dunes makes for an unparalleled romantic experience in India. Camel safaris and guided excursions to Jaisalmer fort is available on request.  
Recommended: Hear the Manganiyar folk musicians play songs and music for you in their own village
Mihirgarh, Near Jodhpur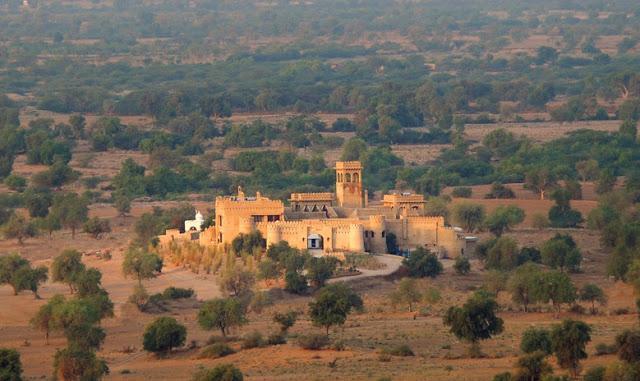 Yet another property of the owners of Rohetgarh, this opulent boutique hotel in Rajasthan is like a castle of gold amidst the desert straight out of the tales of the Arabian Nights. This hotel has been named the Most Extraordinary Hotel by Lonely Planet and has been voted Best Boutique Hotel in the World in 2013. Mihirgarh (The castle of the sun) is a tastefully crafted hotel that appeals to the discerning traveler with its majestic design, legendary hospitality and distinct cultural experiences & a peek into the rural life. Whereas the ground floor suites come equipped with personal courtyard and plunge pool, the suites on the first floor also come equipped with open air Jacuzzi and private terraces. The Lonely Planet writer aptly described this boutique hotel in Jodhpur as "a shrine to the artistic and architectural traditions of Rajasthan in general and Jodhpur in particular."
Bhainsrorgarh, near Kota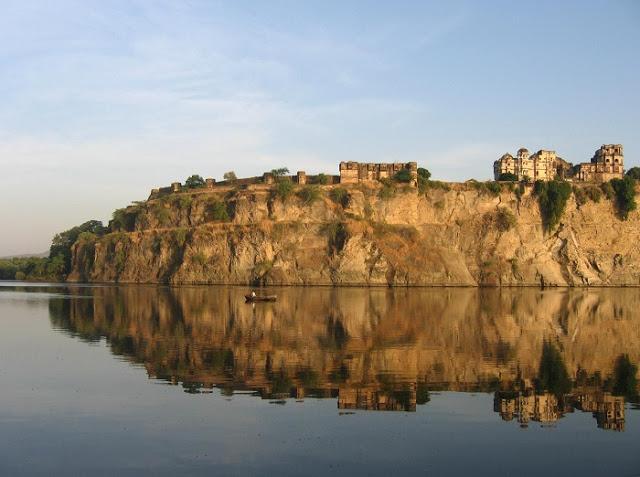 Nestled on the banks of the placid Chambal River near Kota, Bhainsrorgarh has been voted Best Heritage Hotel in India by Tatler Travel Guide twice. Bhainsrorgarh was granted as a fiefdom to Rawats in 1781 by then maharana of Mewar Jagat Singh II. Built by Rawat Lal Singh, Bhainsrorgarh features onsite restaurant that serves signature recipes, free Wi Fi and free parking. Some of the cultural experiences during a stay at Bhainsrorgarh include visit to Badoli Temple complex, Hinglajgarh Fort and Mukundara Hill National Park. For connoisseurs of food, cooking sessions are also arranged at this heritage property on extra charges.  
Related Post:
Top 10 Heritage Hotels in India
Best Places to Visit in Rajasthan