Experience the true form of royalty in the beautifully furnished cabins of Palace on Wheels. The 14 air-conditioned cabins on this luxury train are unique with decor that reflects the Rajputana lifestyle. The names of all cabins were taken from the royal provinces of Rajasthan. The Palace on Wheels cabins are not just well-decorated to fit the royalty but also provides a great, comfortable, and luxurious stay. The rich silk fabrics and antique art decor ooze luxury and take you back in time. These cabins are specially designed to make you feel supreme.
This luxury train pampers its guests with all modern amenities. Deluxe toilets, attached bathrooms, great internet connection, temperature control, and safety lockers are some of the luxuries you can relish on the train. Not only this, each cabin is provided with an individual attendant called a Khidmatgar to cater to your needs.
Features:
39 Deluxe Cabins
2 Super Deluxe Cabins
Restaurant Cars with Lounge Bar
1 Spa Car
Complimentary Wi-Fi
Private Butler
DELUXE CABIN
Palace on wheels has 13 beautifully designed carriages. Each of these carries three deluxe cabins that can accommodate up to two people. These luxury cabins are named after precious gems – Pearl, Sapphire, and Ruby,. These cabins are also decorated as per the respective gem's color. The luxury you get at these deluxe cabins consists of a large comfy bed, sitting area, a writing desk, and access to the exclusive butler. Guests also have the facility to combine the bed as a double or twin bed, on request. These air-conditioned cabins are perfect to relax and enjoy the lavish amenities you are provided with.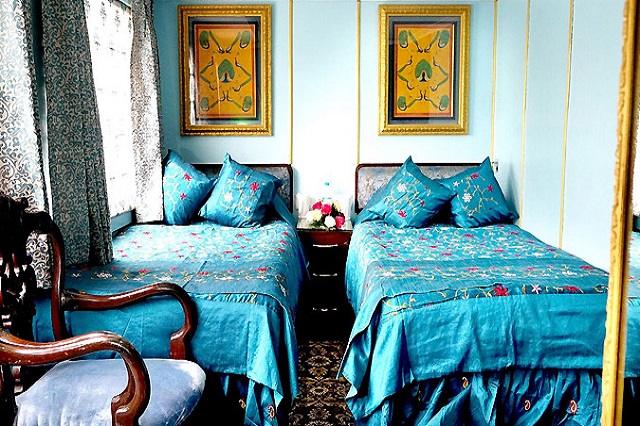 The extravagance of Palace on Wheels deluxe cabins can be seen through its superior services. This luxury train provides a personal attendant, which is available at all times to fulfill your every requirement. The luggage you bring is taken care of by these cordial attendants throughout your train journey. The opulent setting of the Palace of Wheels deluxe cabins exhibits the royal grandeur that once ruled India.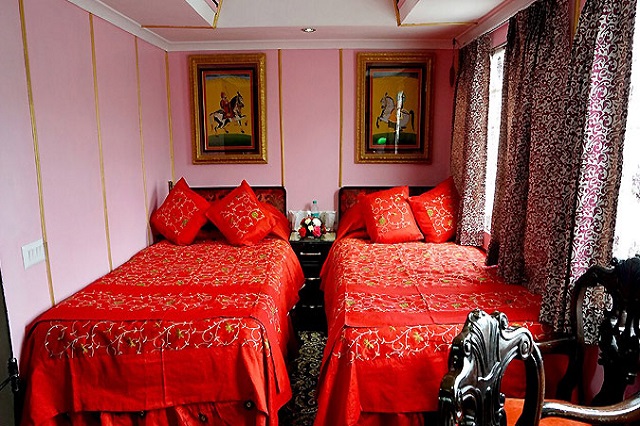 PALACE ON WHEELS DELUXE CABINS
| ROOM CATEGORY | TOTAL / CABIN / SUITE | PASSENGER CAPACITY |
| --- | --- | --- |
| TWIN | 39 | 78 |
| TOTAL | 39 | 78 |
Palace on Wheels Deluxe Cabin Area
Cabin Area : 12.6 x 7.7 Feet
Twin Bed Dimensions: 6.6 x 3 feet
Bathroom Area : 7.7 x 7.7 Feet
Twin Bedded cabins can be combined and converted into a double bedded Cabin on request.
SUPER DELUXE (SUITE)
Palace on Wheels consists of two Super Deluxe suites, named Diamond and Emerald. Each of them are equipped with double queen-size beds that offer a comfortable stay to the guests. These opulent suites offer the most luxurious amenities on Palace on Wheels. Guests can relax and relish the royal treatment offered at this luxury train. The Khidmatgar is always present to cater to your needs and attends you to your suite. They also take good care of your luggage and help you with every little need onboard.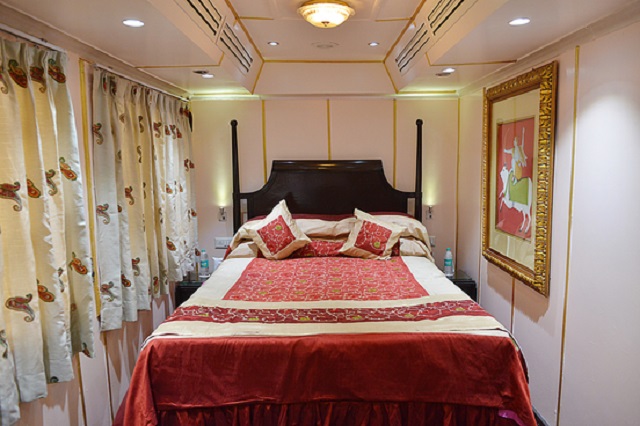 The intricate designs of these Super Deluxe suites are out of this world. Also, the interiors are something you would have never seen before. The ambiance of Palace on Wheels Super deluxe suites makes you feel like royalty throughout your entire stay. Before you step into this lap of luxury, be prepared to be blown away by the extensive use of luxury materials and fabrics like silk and velvet used for the furnishing that are majorly inspired by the royalty of the region.
These stunning suites are fitted with air-conditions that provide a pleasant stay along with comfortable sightseeing trips. These suites come with air-conditioning controls, an attached bathroom and toilet with hot/cold water facility.
PALACE ON WHEELS SUPER DELUXE CABINS
| ROOM CATEGORY | TOTAL / CABIN / SUITE | PASSENGER CAPACITY |
| --- | --- | --- |
| TWIN | 2 | 4 |
| TOTAL | 2 | 4 |
Palace on Wheels Super Deluxe Cabin Area
Super Deluxe Cabin Area : 18 x 7.7 Feet
Double Bed Dimensions: 6.6 x 6 feet
Bathroom Area : 7.7 x 4.6 Feet
Super Deluxe Lounge :8.6 x 7.7 Feet
Palace on Wheels Amenities