Jaisalmer received a large number of tourists during the occasion of the New Year, with the crowd-puller being the wonderful Sand Dunes. According to various sources of information, more than 20,000 vehicles made their way to Sam Sand Dunes along with almost one lakh tourists, besides the two lakh tourists that enjoyed the New Year in Jaisalmer. This major increase in tourist arrivals in Jaisalmer can be attributed to the air service that is enjoyed by this city, thereby making it highly convenient for tourists.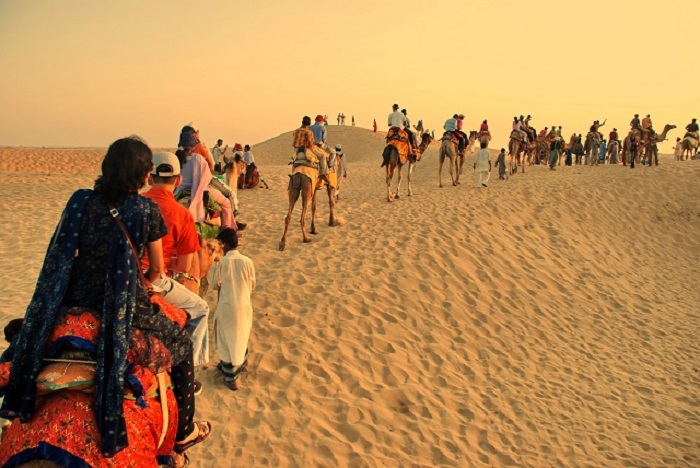 On this occasion, the Palace on Wheels also received around 70 tourists, out of which 42 were Americans. Palace on Wheels GM Pradeep Bohra said that the train reached Jaisalmer on Sunday from Udaipur and the guests were welcomed in a traditional manner, by applying tikka and garlanding them. What enhanced the entire experience was the performance of lively dance performers by the Manganiyar and Langa communities, both exclusively hereditary communities who make their living as dance performers.
Everybody welcomed the New Year with lots of singing, dancing, and partying. Palace on Wheels was adorned with lights, and the tourists onboard were served various delicacies, including Indian and continental dishes. All the 70 guests onboard danced late till night and were thrilled with various cultural performances. They also enjoyed dinner along with the cutting of the New Year cake. A glass of champagne was also served on this occasion.
One of the couples on the Palace on Wheels, Kristshtan Thoumas and Victoria Thoumas from Britain, said that this was a very memorable and unique experience for them, and they loved celebrating New Year's Day in such a unique way. They were very impressed with the royal treatment meted out to him and commented that they felt like Maharaja and Maharani. The staff, food, and other services were extraordinary and they enjoyed every moment of their stay on the train.
Related Post:
Romance of the Rail: Palace on Wheels Luxury Train Travel
Palace on Wheels – The Initiator of Luxury Travel In India
Palace on Wheels – Luxury Rail Journeys
Palace on Wheels: Rediscovering Lost Romance
Palace on Wheels – A Matchless Journey Experience Onboard
Five Things You Should Know about Palace on Wheels