The invention of the steam engine by James Watt immensely fascinated the erstwhile maharajas of India. Born and brought up in an environment where royalty was a tradition and opulence was an afterthought, the erstwhile maharajas of India are better known even today for their royal lifestyle and elegance. Each maharaja vied for the possession of the most luxurious rail carriage. Palace on Wheels when launched in 1982 was composed entirely of the personal carriages used by the former maharajas of various princely states of India.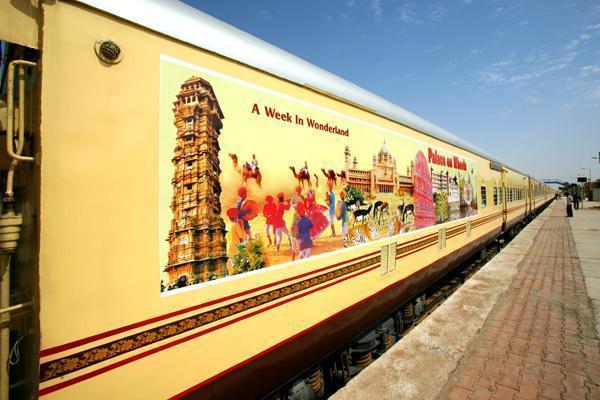 The revival of that art of opulent traveling in India began with the introduction of Palace on Wheels to promote tourism in Rajasthan. Composed of the refurbished coaches of erstwhile maharajas, Palace on Wheels was flagged off on its maiden voyage on 26th January 1982. The train was refurbished again to ply on the broad gauge with replica carriages of the original coaches to accommodate the modern amenities and technological advancements.
Palace on Wheels comprises of 14 luxurious coaches, each of which is named after an erstwhile princely state of Rajasthan. These cabins offer a seamless blend of high-end amenities with ethnic décor to recreate the opulence and elegance of the days of yore. Modern amenities such as channel music, intercom, and satellite phones are also provided within the cabins.
Dining facilities on board the train have also come of age with a variety of cuisines from around the world available for the platter of the guests. To pamper the taste buds of guests, there are two restaurants available on board namely Maharaja and Maharani which offer an array of gastronomic cuisines which include Indian, Chinese, Continental, and traditional Rajasthani cuisines. A well-stocked bar is also available on board which houses international brands of wines and spirits. Guests can choose to relax and unwind in the elegant lounges situated at the end of all carriages.
With a meticulously crafted itinerary, Palace on Wheels offers a majestic ride across some of the most enchanting destinations in Rajasthan along with a halt in Agra. This luxury train in India covers various destinations which include Delhi, Jaipur, Ranthambore National Park, Chittorgarh, Udaipur, Jaisalmer, Jodhpur, Keoladeo Bird sanctuary in Bharatpur, and Agra.
A journey on board the Palace on Wheels is reminiscent of a royal era of Indian Maharajas known for their opulence and indulgence. With gracious hospitality, vibrant destinations, and pampering facilities, Palace on Wheels is arguably one of the most special luxury trains in the world. It is no wonder that this Indian luxury train was voted as the 4th best luxury train in the world. Foray into a week-long journey reverberating of romance and grandeur into the 'land of maharajas' Rajasthan on board the Palace on Wheels.
Related Post:
Romance of the Rail: Palace on Wheels Luxury Train Travel
Palace on Wheels – The Initiator of Luxury Travel In India
Palace on Wheels – Luxury Rail Journeys
Palace on Wheels: Rediscovering Lost Romance
Palace on Wheels – A Matchless Journey Experience Onboard
Five Things You Should Know about Palace on Wheels