Known as the 'Palace on Wheels' of Maharashtra, the Deccan Odyssey is truly as regal as it the first luxury train of India is. This train has now launched wildlife tours to allure tourists to explore the rich natural past of the state, offering wildlife spotting experiences, just like the erstwhile royalty.
One of the senior officials of the Maharashtra Tourism Development Corporation (MTDC) said, "Introduced this year itself, the tour is called Maharashtra Wild Trail and will be conducted every year on designated days. The present tour covers the Pench Tiger Reserve on Tuesday and the Tadoba National Park on Wednesday. From there, the luxury train will go to the Ajanta Caves and Nashik, before concluding in Mumbai."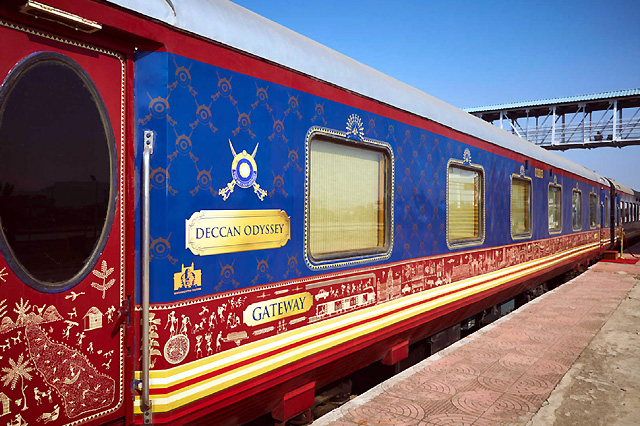 The tourists on-board the train also included a delegation of officials from the Ministry of External Affairs (MEA). Another official added, "The delegation of foreign tourists is part of MEA's 35th Know India Programme (KIP). This tour has been organized to create awareness about the country's culture, heritage and various other attractions in co-ordination with MTDC. The total duration of the programme is 25 days, out of which they will be hosted by partner state Maharashtra for 10 days. This has been arranged in a bid for international exposure to the state's natural heritage sites."
Though the management had stopped running the train back in the year 2004 due to not so exciting response but the services of Deccan Odyssey were restored in 2010. The train is not a regular one as it does not only takes its guests to their destinations but is a complete 5-star hotel rolling on wheels, featuring bar, plush restaurants and other world-class facilities. The prime aim of the train is to target the luxury audiences so that they can offer them the best of Indian railway services and assist them in admiring the environment and the heritage of the Maharashtra state. The journey includes wildlife safaris the Pench and Tadoba along with religious experiences at Nashik. Another highlight of this tour is visit to the vineyards of Nashik, famed for producing some of world's best-quality wines.
Adding details, Chief Conservator of Pench Tiger Reserve, MS Reddy said, "For the first time since the re-launch, Deccan Odyssey, owned by the state government and operated by MTDC through its channel partners, touched base at this wildlife destination. It's an exclusive nature trail that commenced from Mumbai two days ago, with 80 tourists of which nearly half were foreign nationals from countries like Australia, UK, Fiji, Mauritius, Netherlands, Trinidad and Tobago, Myanmar, Sri Lanka, Malaysia and so on. The tourists arrived at Chorbahuli gate of Mansingdeo Wildlife Sanctuary (Pench) by 8 am. In the two hours of the morning safari, they managed to spot almost all the herbivores as well as the Indian jackal and wild dogs. Lunch was arranged at the train, which was just a 30-minute drive from Chorbahuli gate. Returning to Sillari gate by 3 pm, the tourists were taken on a round of the nature interpretation centre, Tiger Tale, and given an interactive insight into the world of animals and birds in the beautiful forests of Pench."
Adding to the information Joint Secretary and Spoksperson MEA, Vikas Swarup said, "It's a three-week orientation programme for diaspora youth, conducted with a view to promote awareness on different facets of life in India and the progress made by the country in various fields like economy, industry, education, science and technology, IT and communication and culture among others. KIP provides a unique forum for students and young professionals of Indian origin to visit India, share their views, expectations and experiences and develop closer bonds with contemporary India. Around 4-5 such programmes are conducted every year in partnership with one or two state governments. About 35 Indian Diaspora youth in the age group of 18-26 years are selected for each programme and are provided with full hospitality in India. Ninety per cent of the total cost of their air tickets is refundable on successful completion of the programme."