Top 5 The World's Best Luxury Train Rides

The rise in the popularity of train trips suggests, luxury rail tourism could be a significant drawcard in 2014. Richly furnished interiors, excellent dining options, luxury accommodations and local art performances to keep you entertained. And if that isn't sufficient, a constantly changing panorama as landscape spool by add to the magical journeys on board luxury trains operating across the globe.
Maharajas' Express, India
It's no surprise that one of the latest luxury trains to be introduced in 2010 in India tops this list. Within 2 years of its operation and notwithstanding the fact that Cox and Kings is no longer in charge, this luxury train now solely operated by IRCTC went on to win World's Leading Luxury Train at World Travel Awards 2012 and 2013. Watch out for new experiences on board Maharajas' Express.We have also featured Maharaja Express as one of the top 10 luxury train journeys in the world.
Rocky Mountaineer, Canad
Rocky Mountaineer offers over 45 Canadian vacation packages and four unique rail routes. With packages including the new coastal passage route connecting Seattle to Canadian Rockies, Rail & Alaskan cruise vacations the amazing Silver Leaf Experience, the New Single-Level dome service, this one is definitely high on the list of the luxury train to watch out for in 2014.
Rovos Rail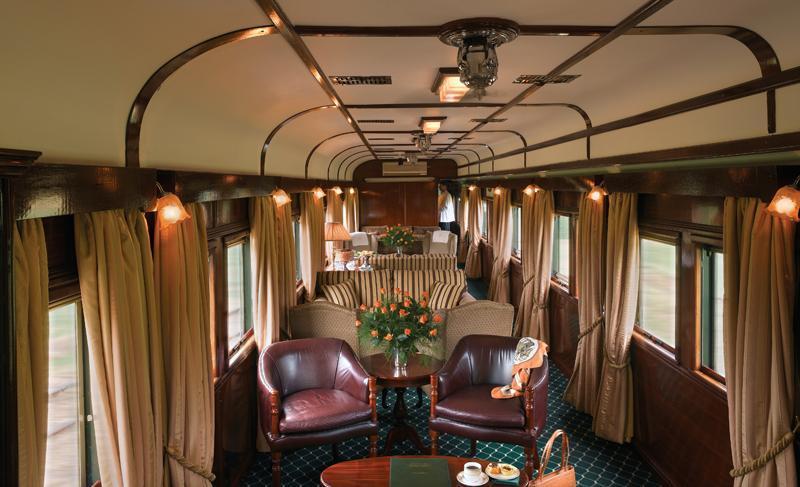 Although there's some hue and cry over the refurbishment of wood paneled carriages of this luxury train travel in South Africa, Rovos Rail with its pan-African itineraries is quite an experience. Add to this the rich tapestry of African Continent, vintage carriages, state of the art amenities and impeccable service and a memorable rail tour is guaranteed.
Eastern & Oriental Express
As more and more tourists are looking East (Asia) when making their vacation plans, this train offering ride across some of the most pristine and scenic destinations in South East Asia is definitely one of the trains to watch out for this year. The fact that it is from the colt of the legendary Orient Express only augment its position.
Royal Rajasthan on Wheels
This train is all poised to take over the Blue Train tag from its Maharashtra's counterpart Deccan Odyssey. All dressed up in royal blue livery this modern version of the Palace on Wheels tastefully adds Varanasi and Khajuraho to offer an exclusive rail tour in North India. It is these carefully picked cultural hot spots and upgraded train amenities which will add to the maharaja life aboard this royal Rajasthan train.