Ever fancied traveling on luxury trains in India? This is your chance to live a Maharaja life on board Royal Rajasthan on Wheels.
Now the journey aboard the royal train of Rajasthan will cost 10% less. Indian Holiday Pvt. Ltd., the leading consolidators of Royal Rajasthan on Wheels have announced 10% or more flat discount on the fare of Royal Rajasthan on Wheels.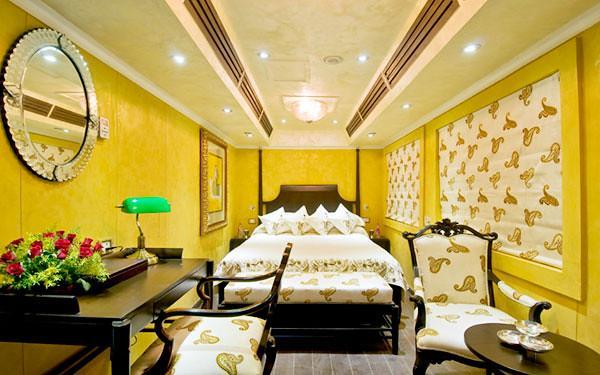 The discount offer on Royal Rajasthan on Wheels is available on 3 select departures of the train. Book before 10th September and you will get 10% or more off on the quoted price of the Royal Rajasthan on Wheels.
The discount is applicable on the train tariff for departures dated November 10, 2013, November 24, 2013 and February 9, 2014.
Introduced to emulate the success of Palace on Wheels, Royal Rajasthan on Wheels offers 7 nights and 8 days royal ride across destinations in Rajasthan and its vicinity. The journey starting from New Delhi covers Jaipur, Udaipur and Ranthambore along with visits to Agra, Varanasi and Khajuraho.
Royal Rajasthan on Wheels has been designed to recreate the ethos of the bygone era of Rajputana, The past fuses seamlessly with the modern as evident in its tasteful decorated interiors and state of the art amenities like Wi-Fi internet, individual climate control, electronic safe, attached private toilets, dining & bar car and even a spa saloon.
Tariff of Royal Rajasthan on Wheels include cost of accommodation on board, sightseeing tours at the destinations, transportation cost as well as food on and off the train.