Break the monotony and gear up the limits and get ready to enjoy the historic tour of India via Indian Luxury Train. The Maharaja Express announces a great deal for luxury train. Get ready to enjoy the exquisite journey with an exciting price on the Indian Luxury Train. The Maharaja Express is offering a great offer in which you will pay for one and your companion will pay half the fare which means you can avail a discount of 50% on companion's fare on Maharajas Express Journeys.
The Maharajas' Express is a luxury tourist train owned and operated by Indian Railway Catering and Tourism Corporation. The Indian Railways has dropped the Maharajas Express Journeys tariff by 50% and offers a charming journey to five northern and north-central states of India. With The Maharajas Express train offer, on ticket booking of the first adult on twin sharing at full payment, the second adult sharing the same cabin will get a 50 percent flat discount on the adult cost. The offer is valid until the date of departure and is subject to the availability of cabins.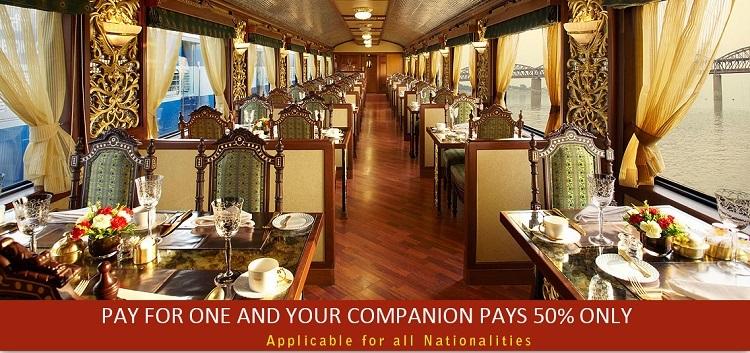 Why Maharaja Express?
The Maharajas' Express train started in March 2010 and is recognized as one of the most expensive trains in the world. The Maharajas' Express has won the World Travel Award for World's Leading Luxury consecutively in the year 2012 and 2017 some others include the Luxury Hospitality and Lifestyle Awards.
Maharaja Express has 23 carriages where tourists can travel to Rajasthan, Uttar Pradesh, Gujarat, Maharashtra, Madhya Pradesh, and Delhi in the warmth of the Maharajas' Express trains. The Maharajas' Express highlights five carriages for deluxe cabins, six for junior suites, two for suites, and one for a grand presidential suite. The train is a kilometer long with fourteen mentors, which combine lodges and suites.
The Maharajas' Express offers multiple facilities for its passengers for a comfortable and exciting journey. The train offers each passenger cabins with air conditioning, LCD televisions, DVD players, direct dial telephone, internet facilities, In-house movies and live television, Maharajas' Express is equipped with 110/230V sockets. Every cabin has a personal electronic safe deposit box, equipped water filtration plant, and large panoramic windows for striking views.
The train boasts two dining restaurants that can occupy up to 42 passengers at a time. The Safari bar of the train offers a collection of house brands of wines, beer, and spirits with snacks. This luxurious train has a lounge cum bar named as the Rajah Club that comes with a comfortable club arm-chairs. The Maharajas' Express also houses a high-end boutique featuring exquisite and unique creations. The Maharajas Express accepts credit cards, master, visa, and Amex cards on-board.
The major highlight is that the Maharaja Express offers a private butler service that assists the passenger for every need. The services included in private butler service are a personalized wake-up call, time to time bed tea, coffee, or breakfast. The butler also especially accompanies the passengers and helps carry the belongings each day when it is time to return to the train. The butler also explains what is going on during the day. Enjoy the exciting journey with this fully featured luxurious train and make your train tour unforgettable. For more details visit the website www.indianluxurytrains.com