Vacations become more enjoyable if you plan for a wildlife tour. Its charm enhances if you stay at some of the best luxury wildlife resorts in India. Leisure and luxury with adventure and all modern amenities is a great combination to enjoy a perfect wildlife tour. Exploring numerous species of flora and fauna is an experience to cherish. Various wild animals and rare birds live in distinct regions of the country.
Top Wildlife Luxury Resorts in India
If you are a wildlife and nature enthusiast, you are unquestionably going to experience the best wildlife tour ever and having an unprecedented holiday experience by staying at some of the best wildlife resorts in India that include:
1. Aman-I-Khas Resort, Rajasthan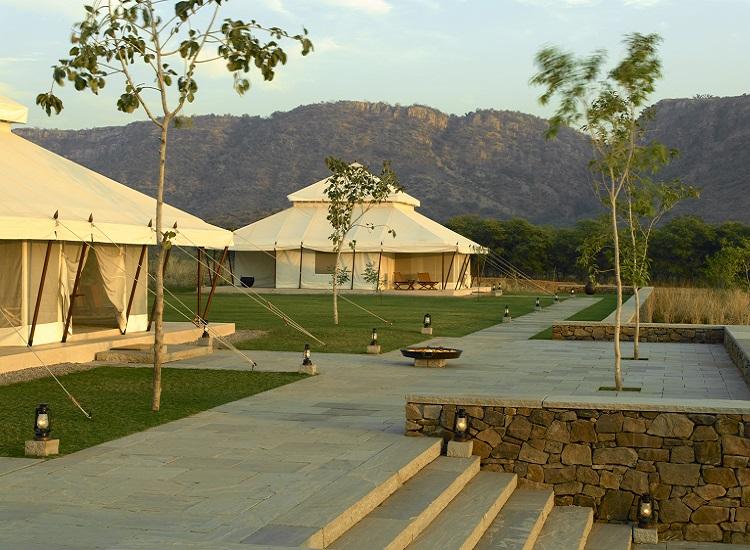 Aman-I-Khas Resort – This award-winning luxurious resort offers excellent accommodation to its guests to enjoy the best wildlife tour. This is a dignified self-contained retreat, set in 10 acres of land surrounded by the natural wilderness of the Aravalli Hills. It offers a cozy stay in 10 luxurious guest tents with airy living, sleeping, and bathing areas.
Enjoy unique access to nature and a campfire at its heart, or savor sumptuous Indian and Western cuisines grown in the camp's organic garden. The calm spa tent and an outdoor swimming pool add more comfort to your stay. You can also book guided jeep safaris to observe the wildlife closely at the Ranthambore National Park.
Address: Village- Sherpur Khiljipur, near Ranthambore National Park, Sawai Madhopur, Rajasthan 322001
Best time to visit: October to May
2. The Oberoi Vanyavilas, Rajasthan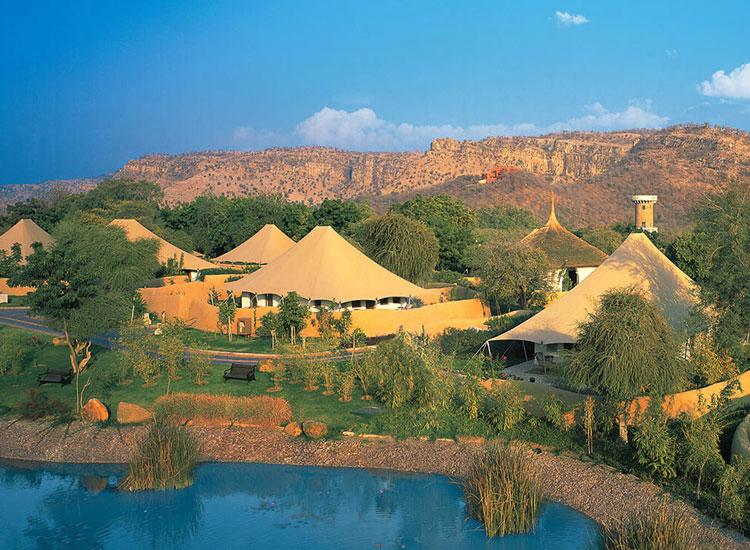 One more magical masterpiece, located at the border of Ranthambhore Tiger Reserve is the Oberoi Vanyavilas. Facilities such as a spa, outdoor pool, fitness center, restaurant, and bars allow its guests to stay in style. Rooms of this luxury wildlife retreat in India feature a four-poster bed, en suite bathroom with a freestanding bathtub, wooden flooring, free Wi-Fi, and a personal safe for the extra comfort.
Get indulged in an early morning private jungle safari for some tiger spotting and amazing photography. Return to the hotel for a handcrafted al fresco breakfast beside the mango orchard and lily pond or get indulged in the various recreational activities such as yoga, spa treatments, and many more.
Address: Ranthambhore Road, Sawai Madhopur, Rajasthan 322001
Best time to visit: October to May
3. Kanha Earth Lodge, Kanha National Park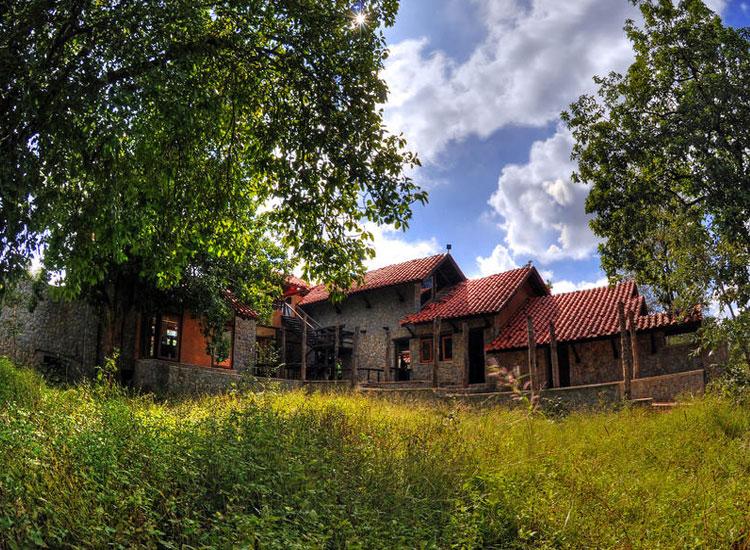 Kanha Earth Lodge is an award-winning resort adjoining Kanha's buffer zone. The resort is also one of the ideal choices for India's best wildlife stay. The resort is spread amidst 16 acres of natural forest. Facilities offered here include an infinity pool, outdoor portico and sit-out for stargazing, an organic garden, library, jungle safaris, walking trails, biking trails, outdoor barbeque, and bush dinner areas for the convenience of its guests.
The hotel offers a choice of 12 elegantly designed and decorated open bungalows. Enjoy a memorable wildlife tour vacation by staying at this luxury resort.
Address: Village Narna Tehsil Baihar District – Balaghat, 445205 Mandla
Best time to visit:  November to March
4. Corbett the Baagh Spa and Resort, Uttarakhand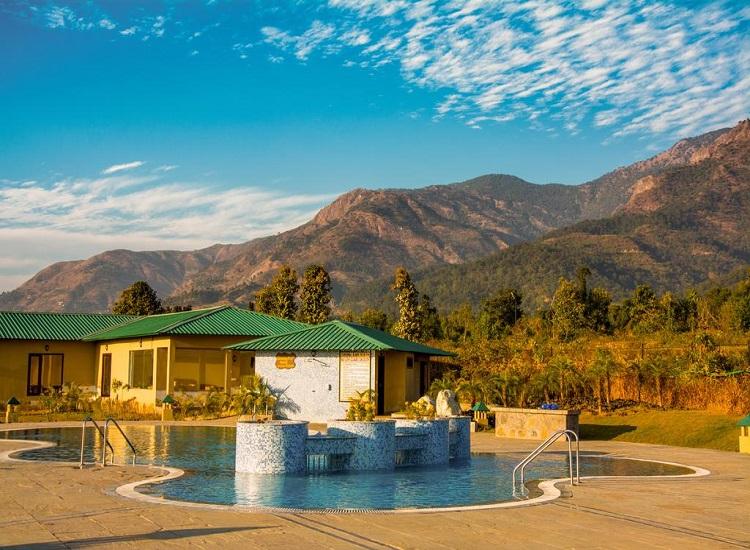 Enjoy the best stay at the Corbett the Baagh Spa and Resort. It is located at the crossroads of the Jim Corbett National Park, into the valley of Nainital Hills, and surrounded by the beautiful forest of Jim Corbett National Park. The resort has beautiful lush green sprawling gardens that offer stunning mountain views.
The major highlight of this resort is that it is the unique and the only retreat in the Village Patkot that faces the tourism zone of the Pawalgarh bird century forest area in Jim Corbett Tiger Reserve. Corbett the Baagh boasts of a superb balance of luxury amidst the wilderness. The resort offers facilities such as a restaurant, fitness center, a shared lounge, kids' club, concierge service, a 24-hour front desk, airport transfers, room service, and free Wi-Fi.
The resort boasts about 52 well-appointed rooms, suites, and cottages spread across 15 acres of landscaped gardens. Each of the rooms offers panoramic views of the Himalayas. Observe the wildlife closely by opting for an adventurous Jungle Safari.
Address: Near Government School, Village Patkot, Tehsil, Ramnagar, Uttarakhand 244715
Best time to visit:  November to February
5. Sher Bagh, Rajasthan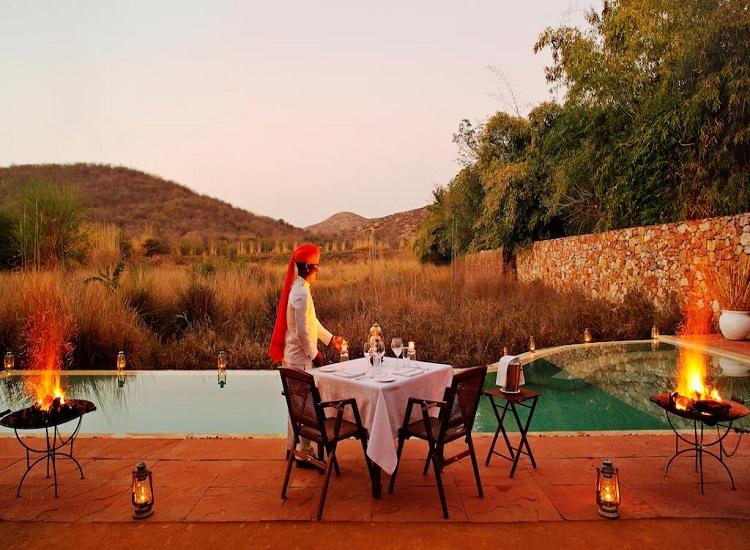 Located a few miles away from the famous Ranthambore National Park and Ranthambore Fort, Sher Bagh is an excellent base for wildlife enthusiasts. Standing for over 40 years, the resort is among the best jungle resorts in India. You can enjoy the best wildlife safari here with the highly-trained field team and guides. Enjoy the best stay at any one of the 12 hand-stitched canvas tents, kitted out with custom-made campaign furniture and accouterments, including two premium suites.
The resort boasts about an outdoor swimming pool, a spa-wellness center, massage parlor, special facilities for differently-abled guests, and free parking. Sher Bagh evokes nostalgic sensibilities of life on safari during the heydays of an era celebrated for its art de Vivre, living elegantly under canvas, whilst on safari.
With crackling campfires under the starlit sky, sumptuous Anglo-Indian repasts using homegrown organic produce, coupled with old-world service; the camp epitomizes life on safari as it ought to be lived.
Address: Sherpur, KHILJIPUR, Sawai Madhopur, Rajasthan 322001
Best time to visit:  April to June
6. Ken River Lodge, Madhya Pradesh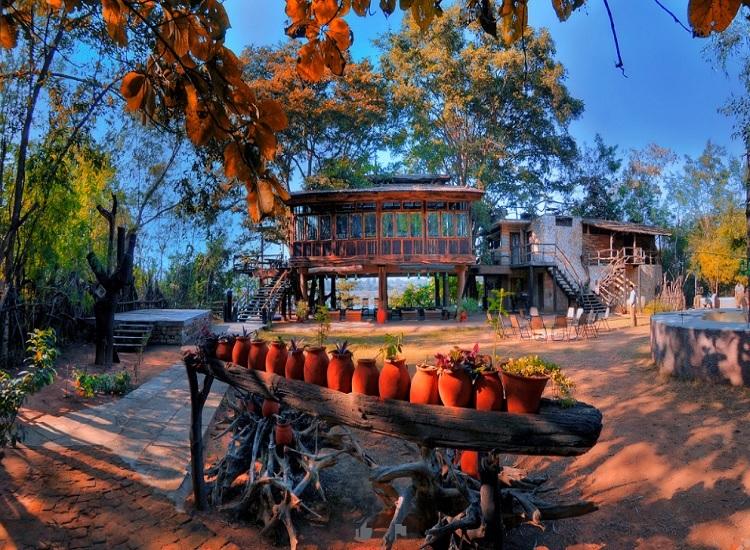 With a location on the outskirts of the city, Ken River Lodge is an ideal base for wildlife lovers. Guests staying at the hotel enjoy access to on-site facilities such as a garden, meeting and banquet facilities, a restaurant, a 24-hour front desk, library, 3000 square feet-Machaan, car rental, room service, 24-hour security, and a team of well-trained local staff, naturalists, and boatmen. Attractions such as Pandav Fall, Padmavati Devi Temple, Shri Yugal Kishor Ji Mandir, and The Panna Tiger Reserve are within easy reach.
The nearest Khajuraho Airport is at a distance of 24 km and can be easily accessed. The resort's guestrooms are categorized as huts. There are 8 village-style huts available at the resort. All rooms are beautifully furnished and equipped with amenities such as air-conditioned, modern bathrooms, hot and cold water, dressing room, sit-out, living room, kitchenette, and open deck.
Address: Near the Ken River Bridge, Panna Tiger Reserve 488333 Rajgarh, India
Best time to visit: November to May
7. Mahua Kothi, A Taj Safari – Bandhavgarh National Park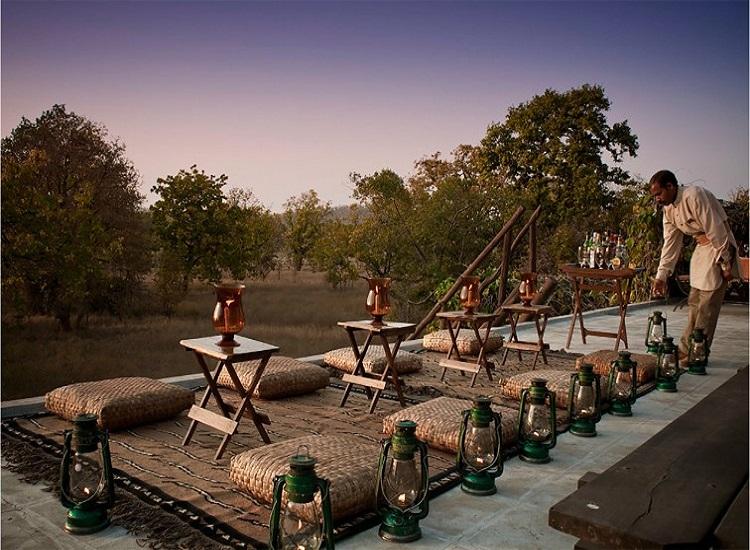 Enjoy the most satisfying stay at the resort with 12 standalone luxury cottages mingled into a 45-acre private forest on the boundary of the national park. The rooms accommodate facilities such as air conditioning, bath, and indoor shower, mosquito protection, and many more. The en-suite bathroom is stocked with essential toiletries and grooming products from the Taj Spa. Mahua Kothi offers mud cottages also known as Kutiyas, which are built in the local style of architecture.
Enjoy the splendid views of the grassland from the guest area where you will observe monkeys and birds or get indulged in the jungle safaris with trained naturalists. The guest area also includes a large brick building with deep verandas overlooking a grassland ringed by a forest patch.
Take a blissful plunge into the bean-shaped pool screened by a bamboo thicket and shaded by Mahua trees. The meals prepared from the resort's private organic gardens are delicious and healthy.  The Mahua Kothi, Bandhavgarh offers amazing wildlife safari for an ultimate experience to its guests.
Address: Bandhavgarh National Park, Madhya Pradesh 484661
Best time to visit: November to February
8. Samode Safari Lodge & Spa, Madhya Pradesh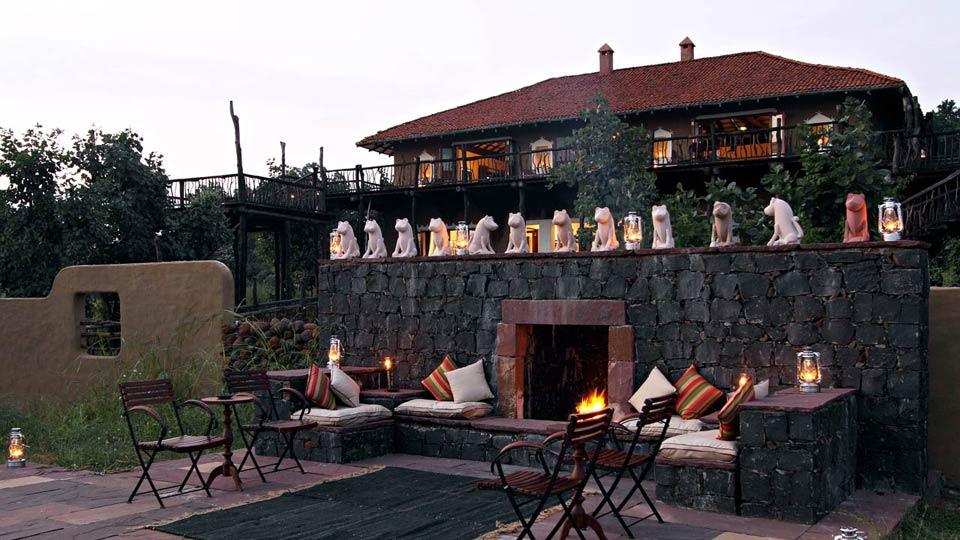 Enjoy a perfect stay at the Samode Safari Lodge & Spa. Located adjacent to the jungles of the Bandhavgarh National Park. This traditionally designed retreat offers vivid interiors and Indian decor. Located on the first floor of the main building, the main lounge is the heart of the lodge. It has a wooden floor and two large fireplaces. The lounge reveals into a large wooden open-air deck from which the entire property can be observed.
A well-stocked library is also available at the property where you can unwind with some favorite beverages. Samode Safari Lodge offers an extensive range of outdoor activities that will keep you close to nature and at the same time are very entertaining too. The well-equipped gymnasium attracts the health-conscious and so does the spa.
You can enjoy nature walks, jog along the trails that are located near the lodge, go cycling, or even visit the nearby Mardari village. There are ample of world-class amenities and facilities available here which ensure that you will have a wonderful time in Bandhavgarh.
Address: Village Mardhari, Post, Dhamokhar, Madhya Pradesh 484661
Best time to visit: November to February
9. Ranthambore Forest Resort, Ranthambore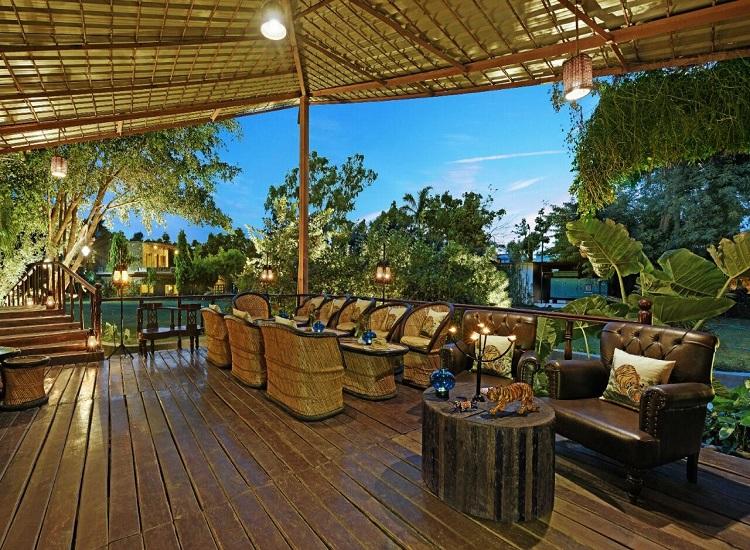 Nestled amidst acres of landscaped greenery, with the Aravallis at its backdrop, the Ranthambore Forest Resort is a perfect destination of nature lovers for a peaceful wildlife retreat. It is one of the best budget class hotels where one can stay. Boasting a spectacular setting village and good convenience from all the most adjacent cities. Spread in over 5 acres of land, the Resort adjoins the lush green forest and offers a panoramic view of nature in all its signs of flora and fauna.
Enjoy the scene of the wildlife sanctuary with the amazing jungle safari or play outdoor games like volleyball, badminton on the resort's courts. You can also take a blissful plunge at the pool in the shade of the trees in stylish lawns. Wake up with the chirping of birds and renew yourself amidst the greenery of the Ranthambore Wildlife in Sawai Madhopur. The 20 spacious and well-furnished rooms in Ranthambore Forest Resort offer air-conditioned rooms that overlook the beautifully landscaped greenery all around.
From golf courses to sprawling lawns, the resort is the ideal getaway amidst the serenity of wildlife. Ranthambore has now become a leading destination as a wildlife sanctuary of India. The Tiger Reserve of Ranthambore attracts a large number of tourists to this famous wildlife destination.
Address: Ranthambhore Road Sawai Madhopur- 322001 India
Best time to visit: October to May
10. The Serai Kabini, Karnataka
Located on the banks of Kabini River, the resort enjoys a location close to Nagarhole National, and Bandipur National Park. Kabini is an adobe to one of the largest numbers of elephants in Asia. The Serai Kabini offers an excellent gallery for observing wildlife; it is said that over 300 species of birds are spotted throughout the year.
The hotel offers a choice of Waterfront Verandah, Waterfront Villa, and The Residence. All rooms feature amenities such as air-conditioning, tea/coffee maker, mini-refrigerator, LCD TV, spacious bathroom with essential bathroom amenities.
The hotel offers facilities such as a spa, swimming pool, babysitting, parking, taxi hire, on-call doctor, conference hall, library, and airport/railway station shuttle for the convenience of its guests. You can enjoy the best excursions with the guidance of the travel desk. Guests can also do activities such as jungle safari, trekking, cycling, and bird watching. The nearest Mysore airport is located 75 km away from the property.
[ More information about The Serai Kabini, Karnataka ]
Address: No – 60/1, Nishana, Karapura Taluk Antarasante, Uttarahalli Hobli, Heggadadevankote, Karnataka 571114
Best time to visit: October to March Enjoy the best time and amazing holiday experience with family, friends, or even solo with this handy list of the luxurious resorts. You can explore and observe the wildlife closely by taking full advantage of the wildlife safari provided by these resorts. Select your best and enjoy the magical wildlife tour of India without a miss.
[ Browse Wildlife Resorts in India at Indianholiday.com ]
Related Post:
Luxury Holiday in India
Best Luxury Beach Resort in Kerala
Best Luxury Wildlife Resorts in Ranthambore
Top Luxury Golf Resort in India