It will not be a wrong thing to say that the journey on the Maharajas Express is filled with princely pampering which gives the travel a 'never-before' kind of experience. The ride on this one of the luxury trains of the country will take you on a ride that you have never experienced where you will be offered such a lifestyle that the kings and queens used to live in the olden times. This train is a perfect amalgamation of comfort, old-world luxury and the most modern hospitality amenities.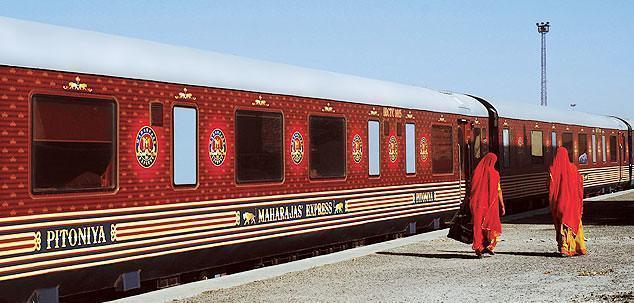 The Maharajas Express has to offer 5 Pan-India Journeys, namely, the Indian Splendor, Treasures of India, The Heritage of India, the Indian Panorama, and The Gems of India. Each journey has a list of its own destinations. The Indian Splendor (7 nights/8 days)covers Delhi, Agra, Ranthambore, Jaipur, Bikaner, Jodhpur, Udaipur, Balasinor, and Mumbai. If on Treasures of India (4 days/ 3 nights), you will be covering Delhi, Agra, Ranthambore, and Jaipur. The Indian Panorama Journey of 7 nights/8 days will take you through Delhi-Jaipur, Ranthambore, Fatehpur Sikri, Agra, Gwalior, Orchha, Khajuraho, Varanasi, and Lucknow.  The Heritage of India which is again 7 nights/8-day journey, will take you through Mumbai, Ajanta, Udaipur, Jodhpur, Bikaner, Jaipur, Ranthambore, Agra, and Delhi. Lastly, 3 days/4 nights Gems of India are inclusive of Delhi, Agra,  Ranthambore, and Jaipur. All these journeys are a mix of culture and historical marvels which gives a complete insight to the traveler.
In all,
Maharajas Express
has 14 carriages which have the capacity to accommodate 88 guests. The rooms can be categorized into one Presidential Suite, 20 Deluxe Cabins, 4 suites, and  18 junior suites. The guests can experience all 5-star facilities here such as a personal attendant, known as a Khidmatgar, spacious bathrooms, private butler, AC, Wi-Fi connection, LCD TV with satellite connection, comfortable padded beds, writing desk, electronic safe, and a direct dial phone. The tapestry and the other things made use of in the interior decoration are eye-candy and are of world-class quality. The décor of the train draws its inspiration from the interior decoration of the forts and palaces in the royal bygone era.
There are two restaurants, namely, Rang Mahal and Mayur Mahal, Both having a seating capacity of 42 guests at a time. Each of these restaurants has to offer some of the most sumptuous dishes from various cuisines all around the world which are cooked by an expert chef. Even the variety of alcoholic (domestic and international) and non-alcoholic beverages are huge. The guests experience everything which is the best in the world.