Design, décor, amenities, services, or hospitality, the match of Maharajas Express is hard to find. Crafted for people who want to live life 'king size', this Indian luxury train has elevated the standards of luxury train traveling in the country.
Giving strong competition to the most fabulous luxury trains of the world like Venice Simplon Orient Express, Blue Train, or Royal Scotsman, this royal Indian train makes a rail tour to India all the more bewitching and mesmerizing.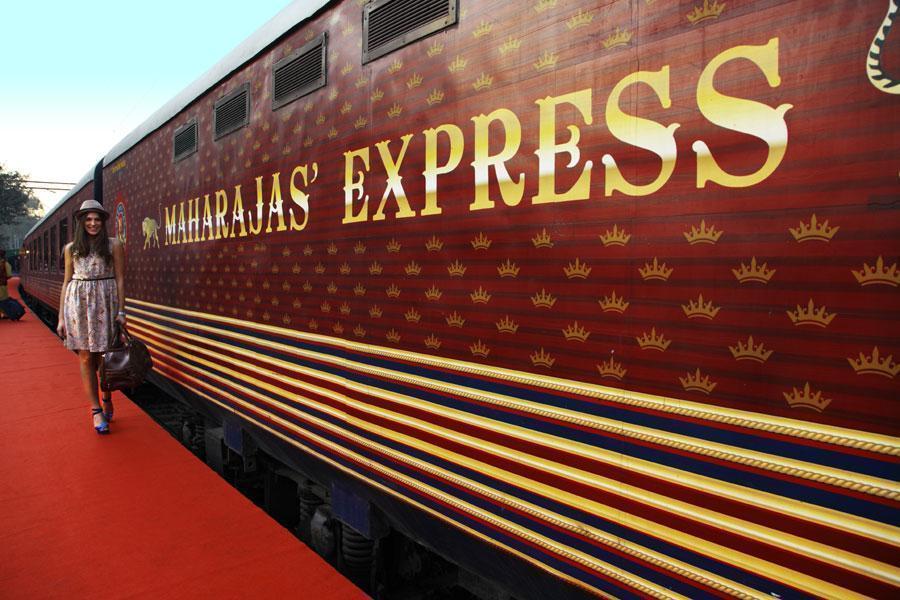 It's All About Luxury Train Maharaja Express
It is of no wonder if you suddenly ask your partner to give you a pinch after getting a glimpse of the Maharajas' Express train from a distance; colored in cherry red with golden lining, the outer look of the train present the idea of a valorous king in his royal attire.
The inner world of the train is a completely different cosmos in itself which perk up the royal past of India before the eyes of the travelers. The splendor of the inside décor can be well compared with the heavenly beauty of Helen of Troy.
Drenched in complete luxury, the private cabins for the guests are well-appointed with a padded bed, writing desk, LCD television, Wi-Fi connectivity, an electronic safe, air conditioning, and a modern en-suite bathroom. There are 20 Deluxe Cabins, 18 Junior Suites, 4 Suites, and a plush Presidential Suite which can accommodate up to 88 passengers.
The private butler and round-the-clock room service well present the luxury statement onboard Maharajas' Express. The Presidential Suite, spanning over an entire carriage, is the brand ambassador of luxury accommodation onboard.
Though the hypnotic train journey won't let you feel bored, you can also relish some moments of ultimate seclusion either in the regally decorated cabins or in the lounge bar of the train. Savor the constantly changing views of the outside world from the huge window pane while taking sips of your best-chosen wine or spirit.
There is also a boutique in this Indian luxury train that gives a chance to the travelers to bag pack some beautiful memories of the journey with them.
The dining experience onboard Maharajas' Express train is also majestic not only because of the luxurious setting of the restaurants but for the variety of foods catered in the most delicate manner. The seductive aroma of the cooked foods will surely turn you into a little more gastronome during your journey.
The restaurant stewards, all in formal attire, when serve your chosen food on the gold-plated platter, and you feel special even in the crowd.
Is it said that beauty always has an appeal, and in the case of Maharajas' Express, it never misses to touch the soul of travelers. Juxtaposing beauty with that luxury, this Indian luxury train can well be said to be India's answer to the Orient Express of Europe.