"It's not the destination, but the journey that matters". Ralph Waldo Emerson said that right! And it is true in the case of the Golden Chariot train. This is a luxury tourist train journeying to some of the most significant destinations in South India. With five distinct itineraries, the Golden Chariot acquaints you with the fascinating aspects of South India.
The train with its eleven plush guest carriages, each of which is a walking gallery of grandeur, endeavors to imbibe the most subtle and mesmerizing aspects of Hoysala and Mysore architecture. With 2 refined restaurants, a lounge, bar, fitness center, and a well-stocked bar, this luxury train in India offers great rail journeys in the southern part of the country in sheer opulence.
Table of Content
About Train
The Journeys
Facilities
Accommodation
Dining & Bar
Business & Recreation
The Golden Chariot Photo Gallery
The Golden Chariot Booking
About Golden Chariot Train
Golden Chariot is designed along the lines of the more popular Palace On Wheels with accommodations, spa treatments, and dining. The train is operated by the Karnataka State Tourism Development Corporation and marketed by The Luxury Trains, whereas The Maple Group handles the hospitality services on the train.
From Bangalore to Goa and from Tamil Nadu to Kerala, the train will let you experience the charismatic beauty of some of the country's most visited destinations. Named after the World Heritage Stone Chariot in Hampi, the Golden Chariot luxury train has been designed and operated in a manner to recreate the romance of a bygone era. With a total of 26 twin beds with architecture depicting the design sentiments of the state, the Golden Chariot can accommodate up to 88 guests on one of the best rail journeys in the world.
The Golden Chariot Rail Journeys
Initially, this luxury train offered three royal journeys – Pride of the South, Jewels of the South, and Glimpses of Karnataka, covering prominent South Indian destinations. Two more journeys, namely, Sojourn of India and Majestic Karnataka, have recently been added.
These itineraries allow the travelers to discover the charm of the bygone era while visiting the historically and culturally rich places along the journey. The Golden Chariot covers the states of Karnataka, Kerala, Goa, and Tamil Nadu. The journeys take you to the majestic forts, temples, and palaces in cities like Hampi, Halebidu, Pattadakal, Badami, and other famous cities.
Take a look at the the Golden Chariot Rail Journeys –
This itinerary runs for 6 nights and 7 days, starting from Bengaluru, covering Bandipur, Mysuru, Halebidu, Chikmagalur, Hampi, Badami, Goa, and ends in Bengaluru.
This itinerary runs for 6 nights and 7 days, starting from Bengaluru, covering Mysuru, Hampi, Mahabalipuram, Thanjavur, Chettinad, Kanyakumari, Kumarakom, Cochin, and ends in Bengaluru.
This itinerary runs for 3 nights and 4 days, starting from Bengaluru, covering Bandipur, Mysuru, Hampi, and ends in Bengaluru.
This itinerary runs for 3 nights and 4 days, starting from Goa, covering Hampi, Chikmagalur, Mysuru, and ends in Bengaluru.
This itinerary runs for 2 nights and 3 days, starting from Bengaluru, covering Mysuru, Hampi, and ends in Goa.
The Golden Chariot Facilities
Blending seamlessly the classical elegance and modern refinement, the interiors of the Golden Chariot train offers pampering and comfort which is at par with the 5-star hotels. Impeccable hospitality and contemporary amenities on board this luxury train ensure that guests have an exclusive travel experience.
On this luxury train of India, guests can enjoy staying in the elegant cabins and savor sumptuous meals at multi-cuisine restaurants. The train also offers a relaxing lounge area, a conference car, and a health spa.
Other facilities of the Golden Chariot include –
Centrally air-conditioning
Writing Desk
Private Bath
LCD TV with satellite connection
Butler service
Padded beds
Interiors displaying essence of Karnataka
One cabin for the specially-abled aboard the train
Golden Chariot Accommodation
Golden Chariot accommodates 88 guests in its 26 twin bed cabins, 17 double bed cabins and 1 cabin for specially-abled. Each Golden Chariot cabin has been named after the dynasties that ruled South India over centuries.
Hi-tech coaches ensure that guests don't suffer any hassle usually associated with normal train journeys. The guest cabin facilities of the Golden Chariot include air-conditioning, a Wi-Fi system, LCD television with satellite television DVD, a vanity/writing desk, and attached bathrooms with a range of toiletries.
All cabins are intricately designed and reflect the rich heritage of the erstwhile Dravidian era. Imbibing Hoysala and Mysore architecture, all cabins offer a relaxing stay to the guests in their cozy and quaint interiors.
Dining & Wining
There are two elegantly appointed restaurants onboard the Golden Chariot train offering gourmet dining experiences to the guests. The restaurants have been named Nala and Ruchi. Interestingly Nala was a king of Nishadas who is mentioned in the ancient Indian epic Mahabharata. He had a great knowledge of horses and was a celebrated chef regarded as one of the greatest in Indian mythology. The other restaurant named Ruchi translates to fine taste in Sanskrit.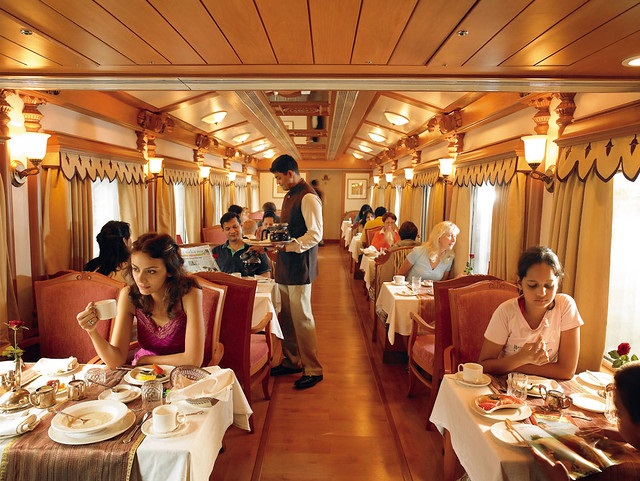 An array of cuisines both Indian and international are served to tantalize the taste buds of the guest in a refined ambiance. Traditional Indian dining with an assortment of inventive chutneys, rice, and curries are the most sought-after food in the Golden Chariot. The food is prepared by skilled chefs and uses minimum spices to suit the palate of international guests. Both table d'hôte and a la carte menus are available to suit your mood.
Bar
A well-stocked bar named Madira is also there to fit the occasion should you need to wind up in just the calmness you require. There is nothing better than to sip your drink and engage in light conversations and recuperate after an exhaustive day of sightseeing in a laid-back ambiance.
Business & Recreation
A conference coach with a seating capacity of 30 persons and facilities such as Wi-Fi internet and LCD television redefines the art of business dealings in sheer luxury. Secretarial service on request is also available for the discerning corporate high fliers to meet their needs. Reshape the future of your business in interiors characterized by the splendor of the yore on board the Golden Chariot.
For recreation and wellness, a fitness center and a spa named Arogya with a selection of therapeutic massages are offered on the Golden Chariot. Various invigorating massages from around the world and Ayurvedic massages suffused with wisdom of ancient Indian healing are offered to the guests to revive their energy chakras and help attain a state of pure bliss in the pampering ambiance of the spa center.
General information
You can book the Golden Chariot luxury train tour from indianluxurytrain.com. It is an IRCTC Affiliate and ideal for booking train tickets. Just click this link, and fill the form. An expert from our team will contact you and confirm your train booking.
There is a doctor available 24×7 on the luxury train. The doctor also attends the excursions so that if a guest gets sick, they are able to give them immediate help.
If you are visiting a national park or a wildlife sanctuary during the royal voyage, wear light-hued clothes and comfortable walking shoes. Do not get down from the vehicle as it is not safe during the safari.
You can have as many drinks as you want, your cost covers it. It includes dining, soft drinks, House brands of alcoholic beverages, butler service, and accommodation. Long distance calling charges are not covered in the cost of The Golden Chariot journey.
There are limited laundry services and are only available at selected destinations. Therefore, it is advisable that you pack accordingly.
All the entrance fees of parks, monuments, camera feed, transport, complimentary tea, and porter charges at stations are covered in the cost of the journey. That said, the price of professional video and still cameras are not included and have to be paid additionally.
If you have any special dietary needs, notify/specify at the time of booking.
No special vaccinations are required for travelling to and across India. However, it is advisable to get a Yellow Fever Vaccination certificate that follows international health regulations.
The flights are not included in the Golden Chariot tour cost and have to be booked separately.
We recommend you to have enough travel insurance that covers for injury, illness, death, accident, loss of effects or luggage, and holiday cancellation. Kindly refer to the Cancellation Policy mentioned on the Booking Terms & Condition page.
Half fare for children between 5 and 12 years, subject to sharing a double bed with parents. That being said, parents should take care of the sophisticated adult atmosphere maintained on board.
Your passport must have a validity of at least six months for entry into India.
As per the itineraries, the Golden Chariot journeys mostly start and end in Bengaluru, which has an international airport. It connects to various countries across the world. So taking a flight back home won't be any hassle for you.
For more information about the Golden Chariot train or any other luxury trains, visit the website of Indian Luxury Trains.
Related Post :
Golden Chariot – Pride of the South
Golden Chariot – Splendor of the South