Buddhist Pilgrim Train Mahaparinirvan Express will add new Destinations to its Buddhist Pilgrim Tour Itinerary this Season
Indian Luxury Trains, a venture of National Tourism Award winning company Indian Holiday Pvt. Ltd. has added yet another special tourist train to its portfolio. The newest addition on this luxury train travel portal is none other than Mahaparinirvana Express.
Buddhist pilgrimage train, the Mahaparinirvana Express is now all set to expand its itinerary. As opposed to the earlier 8 days pilgrim program which included Bodh Gaya, Rajgir, Nalanda, Varanasi, Sarnath, Gorakhpur, Kushinagar, Lumbini and Sravasti, the train will now run 21 days itinerary with new spotlight being Orissa.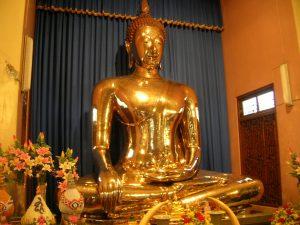 According to the official sources, this move has been taken to accommodate the rush of Buddhist pilgrim tourists from Sri Lanka. Whereas earlier, the majority of pilgrims arrived mostly from China, Thailand and other East Asian countries, the rush of tourists from Sri Lanka is a new boom.
Talking to press Sreenivas Rao, managing director of Rao Travels said that there are nearly 400 million people around the world who are Buddhist of which only 200,000 (2007 figure) to 500,000 people come to India. As the only palace place where these visitors can trace the footsteps of Buddha and progress of their faith, we "We should look to at least two million," he added.
This Buddhist tourist train is the latest addition on the website of the Indian Luxury Trains. Details of tariff, schedule and itineraries along with booking and cancellation policy are mentioned in details on Luxury Train Travel website.